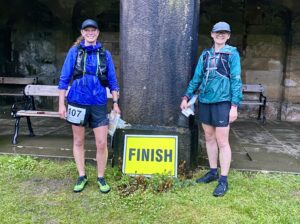 Race date: Saturday 8 May 2021
Race report by Jennie Stevens
One of the best things to come out of an otherwise difficult 2020 for me has been the opportunity to get to know fellow tough-cookie and girl-of-the-fells – Alison Barrett.  We've been running together early on Saturday mornings for some time now, and have dragged each other round some tough runs in some tough conditions.
Quite honestly it was a rocky start to our relationship.  I met her at GoBigMoor in 2019 and she came in as 1st FV40 to steal a bottle of wine right from under my nose.  From that moment, it was Game On.  She was better than me, but I could catch her if I worked hard.  And I vowed to one day swipe a bottle of wine right back (yet to happen, not giving up…)!
Other than fell running we have quite a lot in common, one of those things being the way we used to enjoy a Saturday night out back in the 90s.  And last Saturday night, over 20 years later, we enjoyed our first Saturday night out together.  But this time it was not in a dark club next to a thumping sound system, it was on the hills in and around the Manifold Valley, in the wind and rain, doing the grown-up treasure hunt that they call a Mountain Marathon – a mini one, in this case.
The Evening Mini-Mountain Marathon was a 2 hour event staged by Kong and took place on 8th May, from Ilam Hall in Dovedale.  Essentially you are given a map with control points (CP) marked on it and you have to decide your route and find as many CPs as possible within the 2 hours, with time penalties for being late.
After one of the driest Aprils on record, the weather had turned and Saturday was to be the wettest and windiest day in a long time.  But of course, this all adds to the fun!
We did our kit check, all very Covid secure, then used our compasses to orientate ourselves, dibbed in, and off we went.  As Joe Buckman told me on my very first such event 'when you start – stop!'.  So we stopped.   It's always a panicky moment – 'where are we?', 'which way shall we go?', 'what does that symbol mean?' – when all the time the clock is ticking.  Before long we were off.
It was a good start – nice flat running to find our first control point (CP) fairly quickly and agree on our next course of action.  After 45 minutes we'd covered 5 miles and scooped up a fair few CPs – we were feeling good and were working well together, game faces on.
It was when we turned to head back down the Manifold valley that things went wrong.  Taking the low path instead of staying high had us doing our first hand and knee ascent up a short muddy bank.  Thank goodness I wore the MudClaws!  We found a couple of CPs and then needed to nip over the river to get number 6.  It was tantalisingly close, but the river was in spate from the heavy rain and there was no getting across it.  Damn!  And lots of other swear words.  We had to leave it and press on.
So, we headed up an extremely steep path which on the map was dead straight and fairly short, and the CP description was 'bend in path'.  Well, there were lots of bends in the path and no CP in sight, and it seemed to go on forever!  We went up and up, calves threatening to explode, stopping to question ourselves and get our breath, and then finally it was there!  Phew.
By now our earlier confidence was waning.  We legged it back down as fast as we could and headed up the valley.  We needed to get across and we knew we had to find a bridge, but our knowledge of these Harvey maps was not good and we just weren't sure.  Thankfully, before long we came to a bridge and punched the air with a 'woohoo!'.   We were back on.
Things then got worse again.  We were looking for, and found, a track up to the other side of the valley to find a CP(2) called 'wall at base of crag'.  The ascent was mad – up steep and slippy limestone rock.  I was in the fortunate position of being in front, with Alison shouting nervously from behind 'try and give me some notice if you're going to fall!'.  I grabbed a clump of moss to steady myself and it came off in my hand.  Up and up we went.  The limestone changed to mud, then scree, it was difficult to keep moving upwards, when each footfall slid back down.  There were crags everywhere, but no walls. We spent far too much time looking for it – unsuccessfully.  We weren't the only ones up there.  It's so frustrating when this happens.
Dejected, and knowing we were now going to be late, we moved on.  Found the next one fairly easily and headed towards another.  In my mind it was in reach, but Alison made a good call and told me to leave it.  She was right.  I reluctantly agreed and we headed down a steep hill and back to the river as fast as we could.
The stepping stones were on the map so we knew where to cross.  Only when we got to them, there was no way.  They were barely visible and the river was raging and wide at that point.  Aarrgh!  Not again!  So we continued back in the direction of Ilam Hall, but on the wrong side of the river.  A bit further up, a figure in black was almost waist-deep in the middle of the river.  She looked round, and it was none other than the incredible Fran Cummins, former Strider and now Team Captain at HRRC.  Her brave and reckless action left us in no doubt – if she could, so could we!  So off we went across the fast flowing river that was, for me, up to the top of my legs!  Brilliant – we were across and running on a good flat path now.
A small diversion up an energy sapping muddy path secured us one more CP before we started fast down the final steady descent to Ilam Hall.
We dibbed in 9 minutes late, but happy.  People at the finish were discussing the elusive CP2.  Apparently only 5 people had found it so far.
The printout of results informed us that we were currently 1st FV40 and 10/87 overall.  Wow – we were on such a high after that – it was already getting dark, so not many more results to come in.   Best Saturday night out since 1995 eh Alison?  😉
Early the following morning, a quick check on Facebook confirmed our finishing position as 1st ladies, and 10/90 overall.  Woohoo!  Bring on the next one!
The race was won by Keith Morgan of Ashbourne Running Club