Race Date: Tuesday 31st August 2021
There's an old adage that says 'cheats don't prosper'. Nigel Barnes might need to think about that next time he cuts corners and undertakes people in his own hurry as not only does he appear as a DNS in the results but he slipped on a cop pat and below is the result – ouch! 😉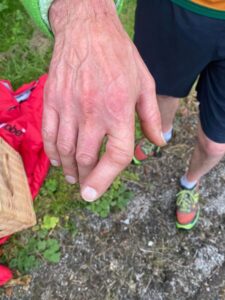 Whilst this is one of my favourite fell races of the summer season I always have a feeling of sadness. Bamford Carnival fell race is also one of my favourites and afterwards I always have a feeling of ecstasy – one represents the beginning of the summer holidays and one represents the end.
However, the best way to remove the end of summer holiday blues is to torture oneself up a huge hill, run along a stony road, through a meadow, up another hill with purple heather blooming everywhere, across a meadow, down a road, down through some dark woods, laugh at those who don't know about the sting in the tail, get beaten by said person who struggled up (and down) said sting in the tail, get a PB by over a minute, chat with and cheer in fellow Striders and other runners, go for a post race beer, celebrate with club (and non club trophy winners) and therefore forget all about the horrors of returning to school 🙁
I do love this race and it was a great return after a long absence from racing. If you've never done this race, I can't recommend it enough.
Men's race winner (by 5 minutes!!) was Andy Heyes of DPFR in 37.42. Women's winner was Strider Caroline Brock in 46.50. Nigel Barnes is missing from the results but was 2nd Strider home, despite his injury and first male Strider. Well done to all the Striders who took part.
Striders Results:
| | | | |
| --- | --- | --- | --- |
| Pos | Name | Cat | Time |
| 10 | Caroline Brock | Open | 0:46:50 |
| | Nigel Barnes | V40 | |
| 42 | Michael Timm | V50 | 0:52:43 |
| 45 | Warren Brown | V50 | 0:53:01 |
| 46 | Nick Burns | V50 | 0:53:05 |
| 49 | Mark Platton | V50 | 0:53:26 |
| 56 | Paul Stuart | V50 | 0:54:32 |
| 62 | Ian Stinson | V50 | 0:55:10 |
| 106 | Neal Pates | V50 | 0:59:42 |
| 109 | Will Day | V50 | 0:59:51 |
| 125 | Lee Mills | V40 | 1:01:48 |
| 137 | Tom Nuttgens | V50 | 1:03:01 |
| 159 | Crispin Jones | V50 | 1:06:38 |
Full results: