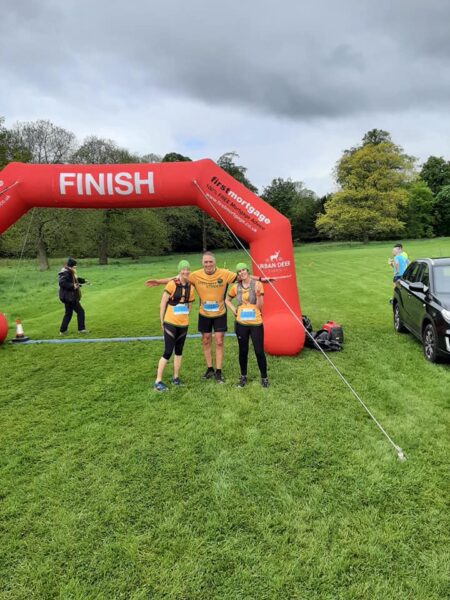 Race Report by Christine Booth
Race date: 22 May 2021
This race took place at Harewood House in Leeds, a lovely setting for a morning of racing once we got there! We were advised by Wild Deer Events that there would be roadworks on the approach to the event and diversions in place so set off in what we thought was plenty of time. We were grouped in sixes and started at 1 minute intervals with Half Marathon, 10k and 5k races, a two lap course for those of us doing the half.
I only just got there at my allotted time and literally sorted my watch and music on the run!
This was my first official Half Marathon so I was quite nervous as trail running is nothing like road running something that I'd not contemplated when signing up, so off I went with my hydration pack on and haribo's in my pocket, listening to cheesy pop.
There had been a lot of rain the week before the race so you can imagine there was a lot of puddles and lots of glorious mud to run through so it was a hard slog in parts and really quite hilly. One lap down, only one more to go, this seemed to take forever I'm sure the hills got steeper 2nd time around, just when I was starting to flag I heard Sarah encouraging me on as she went flying past and a little later Clive. Eventually the finish was in sight I just had to get up the very boggy shoe sucking field to the end, cheered on and encouraged by Sarah and Clive I made it and managed a sprint finish too!
All the effort is worth it once you've crossed that finish line, the pain just seems to disappear and its never as bad as it felt whilst running, photo's taken, medals and T shirts collected a sandwich and a cuppa and back to Sheffield we went.
The race was won by Julian Hood of Barlick Fell Runners. First woman was Eve Pannone of Eden Runners, in 1:31:42.
Results for Striders\