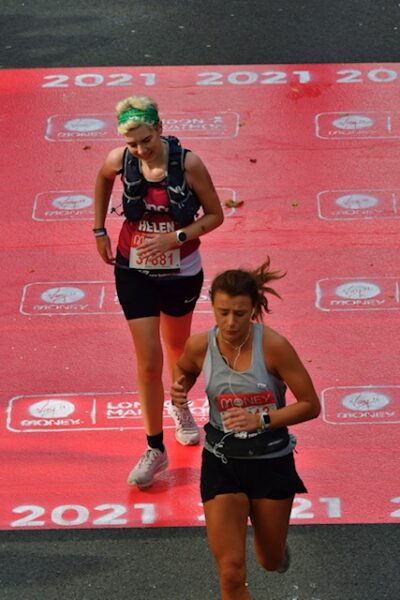 Race date: 3 October 2021
After going virtual last year, the Virgin Money London Marathon was back and it didn't disappoint!
Thousands of spectators lined the streets from Greenwich Park to St James' Park for the official 41st London Marathon and they didn't stop cheering.
The weather conditions were good for most of the race, dry and mild although it was a little warm in the sunshine and there was a fairly keen headwind around Canary Wharf.
Personally this was my second time running the marathon distance, although it was my first 'real' marathon, having completed the virtual VLM on the streets of Sheffield last year.
The organisation, from pre-race day bag drop at the Excel Centre to the starting waves at Greenwich was superb in typical VLM fashion. Just before they called for the runners in start wave 'Red 5', the TV helicopter was right above us and we waved at it furiously. It wasn't long before we were being marshalled forwards from the field on to the tarmac where we walked on nervously. Around a corner we turned and there it was – the start line! Before we knew it the horn sounded and off we went.
The first hour disappeared so quickly. I remember large parts of Greenwich and Deptford but from there it was a blur for quite a while as I ran through places I'd never heard of. I do clearly recall a man with a balcony and a microphone shouting that he had missed his 30,000 marathon friends.
Of course I recognised when we were nearing the Cutty Sark as the volume of the already fairly committed crowds increased significantly and I waved frantically at a cameraman surrounded by 'Flora' boards. A bit more blur and with the legs starting to tire a little, the next hurdle was to reach halfway. The atmosphere on Tower Bridge was electric and I was waved on by the Mencap cheer squad who had a prime spot on the bridge.
After that, things started to get very tough. I passed halfway in 01:56:35, a decent overall pace and looking good for sub-4, however I started to feel dizzy and lightheaded. After 2 Weetabix, 2 bagels and 2 bananas pre-race, I couldn't comprehend how I could possibly be feeling hungry and think I probably had a sugar crash.
The next 7 miles dragged whilst I tried to consume even more sugar and water whilst maintaining pace. I started to feel more 'with it' again around mile 20 but by then it was too late to make up lost time and I had to accept that this wasn't a sub-4 day. People around me were by now walking in significant numbers and my mind was telling me to do the same. Nevertheless, I resisted the temptation to walk and carried on, spurred on by seeing a navy HRRC runner just ahead of me in the tunnel – of course I had to pass him! 🙂
Eventually we were reaching the perimeter of St James' Park. The trees were glorious green, the road was impeccably smooth and the crowds were now turned up to 11. Only 385 yards to go!  One more corner to go to hit The Mall where I could finally stop moving my legs, which was all I could think about by then. My finish line photo sums it up perfectly and I crossed the line in 04:04:44. Outside of the sub-4 target but also so agonisingly close I'm already working out when I can do this relentless yet perfect distance again.
An excellent performance by those representing SCS, including an astounding sub-3 for Abbie Pearse, finishing in the top 100, along with a 37th category place for Helen Eberlin in the F70-74 category. I hope you got your blue and silver age championship medal Helen!
Striders Results
| | | | | | |
| --- | --- | --- | --- | --- | --- |
| P | Name | Category | Time | Place (gender) | Place (category) |
| 391 | Luke Tipping | M18-39 | 02:40:03 | 389 | 255 |
| 1997 | Abbie Pearse | F18-39 | 02:59:15 | 97 | 65 |
| 2261 | Paul Middlemas | M40-44 | 03:01:24 | 2138 | 484 |
| 2853 | Frances Roberts | F18-39 | 03:07:12 | 201 | 118 |
| 6225 | Lucy Broom | FV 45-49 | 03.31.45 | 1070 | 196 |
| 6701 | Bethan Varney | F18-39 | 03:34:19 | 1239 | 605 |
| 11255 | Philip Swirles | F40-44 | 03:55:14 | 8518 | 1599 |
| 13657 | Helen Royles-Jones | F18-39 | 04:04:44 | 3551 | 1676 |
| 18062 | Doug Banks | M40-44 | 04:24:44 | 12842 | 2298 |
| 22999 | Matthew Crowther | M18-39 | 04:47:02 | 15705 | 7199 |
| 26512 | Clive Downing | M55-59 | 05:04:25 | 17522 | 26512 |
| 27178 | Rosie Smith | M18-39 | 05:08:52 | 9328 | 4308 |
| 32331 | Helen Eberlin | F70-74 | 05:52:01 | 12168 | 37 |
Full results: https://results.virginmoneylondonmarathon.com/2021/