Race Date: Saturday 4th September 2021
I can't remember when I entered this race, as with a lot of multiple re-scheduled races recently, but I remember a few Striders running it in 2019 and thinking it looked a lot of fun. It's still a fairly new race having been started in 2018 following a popular format of racing against a train. The race starts at the Peak Rail station in Rowsley, Derbyshire. You then run an out and back route totalling 7 miles to Matlock, alongside the railway line, racing to beat the train back to Rowsley!
The race is organised by Matlock AC and their organisation is always fantastic, the marshals are always supportive and enthusiastic and the prizes are great too.
I hadn't looked at the race route in advance, assuming it was mostly trail-like and straight similar to the Monsal trail. Luckily I spoke to a few runners at the start who gave me some intel that there were steps up over bridges and a particular 'knobbly' bridge that wasn't the nicest to run on. But mostly the route is on easy trail paths and is a really nice run.
Prior to the race we were told the train would take 56 minutes, setting off 2 minutes after the runners. Supporters can buy tickets for the train and cheer runners at points along the route where the train passes the race route.
Not long after we set off I found myself in 3rd place overall, running with a man I'd never met before called Shaun. We ran together for pretty much the whole race and worked together to chase down the 1st place runner and overtake him. Not long before the finish Shaun asked me if we should cross the line together, my response was that he would be able to beat me in a sprint finish and he should go for it but he was true to his word and we did run through the finish together, hand in hand, which I've since been told by Nick Burns means disqualification…. (Edit – Please see below 🙂 )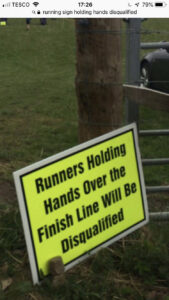 https://news.sky.com/story/british-triathletes-disqualified-in-tokyo-after-finishing-race-hand-in-hand-11785770)
thankfully we weren't disqualified and even made the local press!
Well done to all the Striders with special mention to Jacqui Herring who was 1st female V40 and together with myself (Caroline) and Rachel Thorley won the female team prize! Extra kudos to Rachel who had raced in the morning at Longshaw fell race, fantastic and madness!
Striders Results;
| | | | |
| --- | --- | --- | --- |
| Pos | Name | Cat | Time |
| 1 | Caroline Brock | FS | 43:18 |
| 7 | Lee Kenton | MS | 47:40 |
| 20 | Peter Keats | M40 | 50:30 |
| 31 | Jacqui Herring | F40 | 51:50 |
| 37 | Rachel Thorley | FS | 52:43 |
| 67 | Sarah Allcard | F40 | 55:22 |
| 117 | Caroline Brash | F40 | 1:04:49 |
| 118 | Peter Brash | M50 | 1:04:50 |
Full Results: https://www.webscorer.com/race?raceid=252472