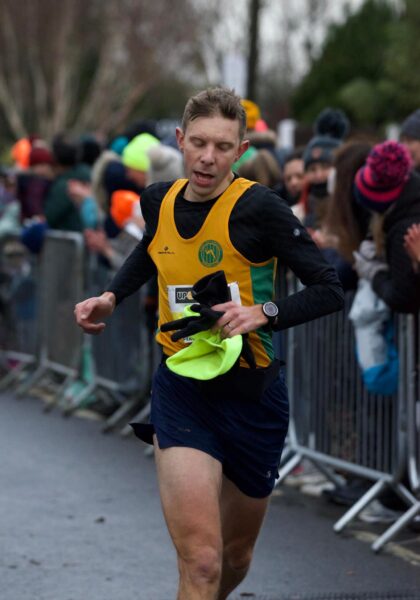 Race date: 5 December 2021
Race distance: 10km
The 2021 Percy Pud was held on a cold but almost dry day, in perfect running conditions.
It was won by Omar Ahmad, of Birchfield Harriers, in 30:05; and Sally Ratcliffe of Aldershot Farnham & District AC in 34:14 (chip). The latter, according to Sally's World Athletics profile, was a personal best.
2869 runners finished the race, of whom more than 160 were Striders, and given the number of club members volunteering as marshals, parking attendants, water and/or pudding distributors and more, over 200 club members must have been in attendance, all of which is a tribute to Rich Dunk and his team's continued success at organising a superb event.
Full results are at https://results.sporthive.com/events/6873202899267092480
Striders results (chip time – see below for gun time results)
| | | | | | |
| --- | --- | --- | --- | --- | --- |
| Chip P | Name | Chip time | Cat | Cat P (chip) | Gender P (chip) |
| 18 | Luke Tipping | 00:33:53 | MSEN | 18 | 18 |
| 25 | Richard Pearson | 00:34:23 | MSEN | 24 | 24 |
| 27 | Sam Brown | 00:34:27 | MSEN | 26 | 26 |
| 53 | Brendan Wain | 00:36:17 | MSEN | 40 | 51 |
| 66 | Luke Mair | 00:36:30 | MSEN | 48 | 63 |
| 68 | Stephen Schubeler | 00:36:37 | M40 | 10 | 65 |
| 74 | James Fulcher | 00:36:56 | MSEN | 51 | 71 |
| 76 | Abbie Pearse | 00:37:00 | FSEN | 3 | 4 |
| 87 | Adrian Fisher | 00:37:20 | M45 | 8 | 83 |
| 98 | Matt Rimmer | 00:37:41 | M45 | 11 | 93 |
| 102 | John Wilkinson | 00:37:48 | MSEN | 63 | 97 |
| 120 | Louis Wood | 00:38:08 | M40 | 19 | 114 |
| 124 | Danny Bent | 00:38:13 | M40 | 21 | 117 |
| 138 | Caroline Brock | 00:38:32 | F35 | 4 | 10 |
| 148 | Tom Bassindale | 00:38:44 | M45 | 18 | 138 |
| 179 | Sian Evans | 00:39:37 | FSEN | 8 | 12 |
| 206 | James Storey | 00:40:23 | M45 | 25 | 188 |
| 220 | Joel Kesterton | 00:40:41 | MSEN | 123 | 202 |
| 229 | Malcolm Baggaley | 00:40:57 | MSEN | 124 | 207 |
| 241 | Rebecca Pease | 00:41:03 | FSEN | 12 | 28 |
| 243 | James Hogg | 00:41:05 | MSEN | 127 | 215 |
| 286 | Marcus Dearns | 00:41:47 | MSEN | 145 | 251 |
| 292 | Adam Bishop | 00:41:55 | MSEN | 150 | 256 |
| 298 | Chris Boland | 00:41:59 | MSEN | 152 | 261 |
| 303 | Sergei Shkul | 00:42:04 | M40 | 51 | 265 |
| 306 | Peter Keats | 00:42:07 | M45 | 36 | 268 |
| 320 | Neil Schofield | 00:42:26 | M50 | 18 | 280 |
| 323 | Warren Brown | 00:42:31 | M50 | 19 | 282 |
| 326 | Oliver Carlisle | 00:42:34 | MSEN | 166 | 285 |
| 334 | Joe Howell | 00:42:41 | MSEN | 169 | 293 |
| 344 | Peter Mccoy | 00:42:47 | M40 | 54 | 303 |
| 375 | Robert Hoffmann | 00:43:14 | M45 | 45 | 331 |
| 380 | Sam Fellowes | 00:43:16 | MSEN | 188 | 334 |
| 390 | Laura Mella | 00:43:27 | F35 | 14 | 47 |
| 392 | Ben Corrigan | 00:43:30 | M45 | 49 | 345 |
| 393 | Tud Jackson | 00:43:33 | M55 | 11 | 346 |
| 397 | Angie Smith | 00:43:43 | F50 | 3 | 48 |
| 439 | Jacqui Herring | 00:44:17 | F45 | 4 | 55 |
| 473 | Emerald Hutton | 00:44:36 | FSEN | 30 | 66 |
| 477 | Fiona Jeffries | 00:44:38 | F50 | 4 | 69 |
| 486 | Sam Ainscough | 00:44:40 | MSEN | 232 | 416 |
| 498 | Martin Lane | 00:44:48 | M50 | 31 | 428 |
| 506 | Adam Brown | 00:44:51 | MSEN | 241 | 435 |
| 532 | Justin Synan | 00:45:10 | M40 | 78 | 452 |
| 534 | Rob Martin | 00:45:11 | M55 | 18 | 454 |
| 537 | Sophie Evison | 00:45:15 | F35 | 19 | 81 |
| 542 | Sophie Middleton | 00:45:22 | FSEN | 39 | 82 |
| 544 | Harriet Davies | 00:45:22 | FSEN | 40 | 84 |
| 559 | David Price | 00:45:29 | M45 | 66 | 470 |
| 560 | Hannah Holliday | 00:45:29 | F40 | 10 | 90 |
| 561 | Richard Smith | 00:45:30 | M40 | 80 | 471 |
| 565 | Sam Ramsden | 00:45:34 | M45 | 68 | 475 |
| 583 | David Bocking | 00:45:46 | M55 | 23 | 490 |
| 585 | Naomi Tuckett | 00:45:48 | FSEN | 46 | 94 |
| 595 | Lee Mills | 00:45:55 | M45 | 71 | 498 |
| 599 | Kathryn Liddiard | 00:45:58 | F35 | 23 | 99 |
| 613 | Claire Grisdale | 00:46:11 | F35 | 24 | 102 |
| 620 | Dot Kesterton | 00:46:16 | F65 | 1 | 104 |
| 621 | Matt Broadhead | 00:46:16 | M45 | 74 | 517 |
| 626 | Peter Brown | 00:46:22 | M60 | 8 | 520 |
| 631 | Michael Wu | 00:46:27 | MSEN | 279 | 524 |
| 634 | Dave Beech | 00:46:28 | M65 | 5 | 526 |
| 645 | Chris Roberts | 00:46:31 | M45 | 76 | 536 |
| 668 | Letitia Hancock | 00:46:50 | FSEN | 54 | 115 |
| 677 | Jude Stone | 00:46:56 | MSEN | 295 | 562 |
| 692 | Jim Rangeley | 00:47:06 | MSEN | 303 | 576 |
| 698 | Philip Kelly | 00:47:11 | M45 | 84 | 580 |
| 706 | Ben Singleton | 00:47:17 | MSEN | 306 | 583 |
| 712 | Shane Porteous | 00:47:19 | M45 | 85 | 589 |
| 716 | Steve Haake | 00:47:20 | M55 | 29 | 593 |
| 721 | Karl Patterson | 00:47:24 | MSEN | 310 | 597 |
| 731 | Ian Richardson | 00:47:33 | M55 | 31 | 601 |
| 742 | Chris Brown | 00:47:40 | MSEN | 315 | 606 |
| 748 | Richard Adams | 00:47:47 | MSEN | 317 | 611 |
| 763 | Jamie Smith | 00:47:55 | MSEN | 323 | 619 |
| 770 | John Armitage | 00:48:01 | M | | |
| 776 | Dean Harding | 00:48:03 | MSEN | 327 | 626 |
| 786 | Bruce Cantrill | 00:48:09 | M60 | 13 | 636 |
| 811 | Loz Harvey | 00:48:22 | M45 | 98 | 654 |
| 823 | Kev Hewitt | 00:48:26 | M45 | 100 | 663 |
| 826 | Des Ryan | 00:48:28 | M55 | 35 | 666 |
| 840 | Olivia Hoffman | 00:48:37 | FSEN | 74 | 170 |
| 841 | Lucy Berry | 00:48:38 | FSEN | 75 | 171 |
| 856 | John Walker | 00:48:44 | M60 | 17 | 678 |
| 882 | Andrew Hinchliffe | 00:48:58 | M55 | 39 | 691 |
| 886 | Ryan Talley | 00:49:02 | M50 | 59 | 694 |
| 890 | Claire Wren | 00:49:06 | F35 | 40 | 195 |
| 897 | Kevin Haighton | 00:49:11 | M60 | 19 | 700 |
| 912 | Guy Birkby | 00:49:23 | M60 | 20 | 711 |
| 927 | Helen Strong | 00:49:30 | F55 | 9 | 206 |
| 948 | Karen Clark | 00:49:41 | F55 | 10 | 216 |
| 962 | Helen Royles-Jones | 00:49:50 | FSEN | 95 | 223 |
| 968 | Stephanie Millar | 00:49:55 | FSEN | 97 | 226 |
| 993 | Tracey Davies | 00:50:08 | F50 | 18 | 242 |
| 1035 | Steve Blake | 00:50:36 | M45 | 119 | 777 |
| 1059 | Lucy Woodward | 00:50:56 | F40 | 45 | 268 |
| 1065 | Graham Hague | 00:50:59 | M70 | 7 | 794 |
| 1083 | Jack Hampson | 00:51:12 | MSEN | 382 | 804 |
| 1093 | Richard Eastall | 00:51:16 | M55 | 49 | 811 |
| 1108 | Kate Waddicor | 00:51:22 | F65 | 2 | 286 |
| 1110 | Stefan Barnett | 00:51:22 | M45 | 128 | 824 |
| 1193 | Mark Davies | 00:52:19 | M45 | 141 | 875 |
| 1204 | Ashley Carson | 00:52:26 | M60 | 28 | 881 |
| 1209 | Laura Rangeley | 00:52:30 | FSEN | 127 | 326 |
| 1235 | Christine Booth | 00:52:43 | F45 | 34 | 339 |
| | Nicola Rafferty | 00:52:49 | F55 | | |
| 1282 | Christopher Smith | 00:53:01 | M45 | 149 | 923 |
| 1301 | Mohammed Ahmed | 00:53:14 | M40 | 161 | 933 |
| 1352 | Kevin Wong | 00:53:46 | M45 | 156 | 963 |
| 1364 | Mike Heselton | 00:53:51 | M55 | 61 | 968 |
| 1371 | Joel Driver | 00:53:55 | MSEN | 440 | 973 |
| 1386 | Caroline Barnsley | 00:54:06 | F40 | 78 | 406 |
| 1426 | Elin Reeves | 00:54:33 | F40 | 82 | 430 |
| 1434 | Carole Haste | 00:54:35 | F55 | 21 | 437 |
| 1439 | Zanna Currie | 00:54:36 | F55 | 24 | 440 |
| 1449 | Emma Kingston | 00:54:42 | F50 | 33 | 447 |
| 1467 | Roger Brookes | 00:54:49 | M55 | 63 | 1011 |
| 1482 | Catriona Miller | 00:54:57 | F45 | 51 | 464 |
| 1490 | Andrew Buckley | 00:55:01 | M40 | 179 | 1022 |
| 1506 | Tristan Swain | 00:55:10 | M55 | 67 | 1035 |
| 1527 | Laura Fletcher | 00:55:19 | F35 | 92 | 484 |
| 1537 | Alexander Arblaster | 00:55:22 | M40 | 182 | 1048 |
| 1546 | James Eberlin | 00:55:31 | M50 | 111 | 1053 |
| 1600 | Fran Marshall | 00:56:00 | F50 | 41 | 528 |
| 1601 | Rosie S | 00:56:01 | F35 | 104 | 529 |
| 1614 | Nicole Nield | 00:56:12 | F65 | 4 | 537 |
| 1688 | David Rhodes | 00:56:48 | M65 | 18 | 1109 |
| 1799 | Matthew Crowther | 00:57:49 | MSEN | 493 | 1151 |
| 1810 | Guy Woodcock | 00:57:55 | M40 | 196 | 1154 |
| 1834 | Hannah Lewis | 00:58:03 | F50 | 52 | 671 |
| 1843 | Caroline Brash | 00:58:08 | F45 | 82 | 676 |
| 1850 | Victoria Johnson | 00:58:11 | FSEN | 229 | 681 |
| 1854 | Helen Smith | 00:58:12 | F40 | 134 | 683 |
| 1858 | Rowena Sharma | 00:58:15 | F40 | 135 | 686 |
| 1870 | Hayley Moore | 00:58:22 | FSEN | 232 | 694 |
| 1892 | Emily Bocking | 00:58:32 | FSEN | 236 | 707 |
| 1894 | Corinne Howse | 00:58:35 | F45 | 89 | 709 |
| 1962 | Matt Paice | 00:59:16 | M45 | 184 | 1207 |
| 1995 | Catherine Ager | 00:59:38 | F50 | 68 | 777 |
| 1998 | Niki Mills | 00:59:40 | F40 | 154 | 780 |
| 1999 | David Englert | 00:59:41 | M60 | 54 | 1219 |
| 2006 | Rachel Cholerton | 00:59:44 | FSEN | 256 | 785 |
| 2060 | Andy Telford | 01:00:25 | M45 | 188 | 1241 |
| 2179 | Paul Shelton | 01:01:54 | M70 | 13 | 1278 |
| 2200 | Timothy Fawcett | 01:02:12 | MSEN | 537 | 1282 |
| 2248 | Rahul Kacker | 01:02:47 | M50 | 155 | 1294 |
| 2278 | Nancy Stuart | 01:03:11 | F40 | 210 | 980 |
| 2292 | Angela Lester | 01:03:24 | F45 | 134 | 990 |
| 2302 | Jo Gleig | 01:03:32 | F60 | 24 | 997 |
| 2339 | Sheena Woodhead | 01:04:06 | F70 | 3 | 1026 |
| 2342 | Sarah Howson | 01:04:09 | F45 | 140 | 1028 |
| 2348 | Elisabeth Briggs | 01:04:14 | FSEN | 313 | 1032 |
| 2376 | Catherine Needham | 01:04:36 | F35 | 172 | 1054 |
| 2384 | Kerry Bean | 01:04:42 | FSEN | 321 | 1061 |
| 2389 | Richard Bailey-Jones | 01:04:43 | MSEN | 551 | 1324 |
| 2403 | Matt Williams | 01:04:52 | M45 | 200 | 1328 |
| 2497 | Phil Dooley | 01:06:34 | M45 | 204 | 1352 |
| 2521 | Tom Price | 01:06:50 | MSEN | 563 | 1356 |
| 2539 | Chris Harvey | 01:07:10 | M50 | 166 | 1359 |
| 2605 | Louise Cousins | 01:08:44 | F50 | 127 | 1233 |
| 2627 | Gary Roche | 01:09:12 | M50 | 168 | 1376 |
| 2641 | Adrian Good | 01:09:33 | M40 | 220 | 1378 |
| 2668 | Gillian Pearson | 01:10:19 | FSEN | 374 | 1283 |
| 2794 | Helen Cotton | 01:17:02 | F35 | 212 | 1381 |
| 2795 | Sophie Cooper | 01:17:04 | FSEN | 387 | 1382 |
Striders results (gun time)
| | | | | | |
| --- | --- | --- | --- | --- | --- |
| Gun P | Name | Guntime | Category | Cat P (gun) | Gender P (gun) |
| 18 | Luke Tipping | 00:33:55 | MSEN | 18 | 18 |
| 25 | Richard Pearson | 00:34:24 | MSEN | 24 | 24 |
| 27 | Sam Brown | 00:34:27 | MSEN | 26 | 26 |
| 53 | Brendan Wain | 00:36:19 | MSEN | 40 | 51 |
| 66 | Luke Mair | 00:36:33 | MSEN | 48 | 63 |
| 67 | Stephen Schubeler | 00:36:37 | M40 | 9 | 64 |
| 73 | James Fulcher | 00:36:57 | MSEN | 51 | 70 |
| 75 | Abbie Pearse | 00:37:02 | FSEN | 3 | 4 |
| 85 | Adrian Fisher | 00:37:25 | M45 | 8 | 81 |
| 97 | Matt Rimmer | 00:37:47 | M45 | 11 | 92 |
| 101 | John Wilkinson | 00:37:54 | MSEN | 63 | 96 |
| 121 | Louis Wood | 00:38:13 | M40 | 19 | 114 |
| 123 | Danny Bent | 00:38:18 | M40 | 21 | 116 |
| 134 | Caroline Brock | 00:38:35 | F35 | 4 | 9 |
| 145 | Tom Bassindale | 00:38:48 | M45 | 18 | 135 |
| 174 | Sian Evans | 00:39:42 | FSEN | 8 | 13 |
| 206 | James Storey | 00:40:38 | M45 | 26 | 188 |
| 214 | Joel Kesterton | 00:40:48 | MSEN | 119 | 196 |
| 228 | Malcolm Baggaley | 00:41:05 | MSEN | 122 | 206 |
| 237 | James Hogg | 00:41:12 | MSEN | 126 | 211 |
| 252 | Rebecca Pease | 00:41:24 | FSEN | 13 | 28 |
| 277 | Marcus Dearns | 00:41:52 | MSEN | 142 | 245 |
| 289 | Adam Bishop | 00:42:07 | MSEN | 147 | 253 |
| 291 | Sergei Shkul | 00:42:08 | M40 | 49 | 255 |
| 298 | Chris Boland | 00:42:16 | MSEN | 153 | 262 |
| 306 | Peter Keats | 00:42:24 | M45 | 37 | 270 |
| 312 | Warren Brown | 00:42:31 | M50 | 18 | 274 |
| 321 | Oliver Carlisle | 00:42:44 | MSEN | 163 | 281 |
| 322 | Neil Schofield | 00:42:46 | M50 | 19 | 282 |
| 326 | Peter Mccoy | 00:42:54 | M40 | 52 | 285 |
| 337 | Joe Howell | 00:43:00 | MSEN | 169 | 296 |
| 363 | Sam Fellowes | 00:43:21 | MSEN | 179 | 319 |
| 375 | Robert Hoffmann | 00:43:37 | M45 | 45 | 331 |
| 379 | Ben Corrigan | 00:43:44 | M45 | 47 | 334 |
| 381 | Laura Mella | 00:43:46 | F35 | 14 | 46 |
| 410 | Tud Jackson | 00:44:27 | M55 | 13 | 361 |
| 420 | Angie Smith | 00:44:37 | F50 | 3 | 50 |
| 431 | Fiona Jeffries | 00:44:44 | F50 | 4 | 53 |
| 435 | Jacqui Herring | 00:44:45 | F45 | 5 | 55 |
| 460 | Martin Lane | 00:44:56 | M50 | 28 | 400 |
| 466 | Sam Ainscough | 00:44:58 | MSEN | 221 | 405 |
| 470 | Emerald Hutton | 00:44:59 | FSEN | 28 | 64 |
| 501 | Rob Martin | 00:45:23 | M55 | 17 | 428 |
| 517 | Justin Synan | 00:45:31 | M40 | 77 | 440 |
| 521 | Adam Brown | 00:45:38 | MSEN | 242 | 444 |
| 522 | Sophie Middleton | 00:45:39 | FSEN | 35 | 78 |
| 529 | Richard Smith | 00:45:43 | M40 | 78 | 449 |
| 530 | Sophie Evison | 00:45:43 | F35 | 19 | 81 |
| 541 | David Price | 00:45:50 | M45 | 64 | 458 |
| 542 | Harriet Davies | 00:45:50 | FSEN | 39 | 84 |
| 552 | Hannah Holliday | 00:45:58 | F40 | 10 | 88 |
| 557 | Naomi Tuckett | 00:46:02 | FSEN | 43 | 89 |
| 570 | Sam Ramsden | 00:46:10 | M45 | 66 | 479 |
| 584 | Lee Mills | 00:46:20 | M45 | 70 | 491 |
| 585 | Dot Kesterton | 00:46:22 | F65 | 1 | 94 |
| 588 | Kathryn Liddiard | 00:46:26 | F35 | 23 | 96 |
| 597 | Claire Grisdale | 00:46:33 | F35 | 24 | 97 |
| 600 | Dave Beech | 00:46:38 | M65 | 5 | 502 |
| 605 | Michael Wu | 00:46:40 | MSEN | 268 | 507 |
| 617 | Peter Brown | 00:46:50 | M60 | 10 | 518 |
| 656 | Letitia Hancock | 00:47:22 | FSEN | 51 | 111 |
| 659 | Philip Kelly | 00:47:25 | M45 | 78 | 546 |
| 671 | Chris Roberts | 00:47:35 | M45 | 81 | 555 |
| 677 | Jim Rangeley | 00:47:43 | MSEN | 294 | 561 |
| 679 | Karl Patterson | 00:47:43 | MSEN | 295 | 562 |
| 680 | Jude Stone | 00:47:45 | MSEN | 296 | 563 |
| 685 | David Bocking | 00:47:47 | M55 | 27 | 568 |
| 695 | Shane Porteous | 00:47:54 | M45 | 84 | 576 |
| 715 | Bruce Cantrill | 00:48:17 | M60 | 12 | 588 |
| 733 | Chris Brown | 00:48:26 | MSEN | 308 | 598 |
| 744 | Steve Haake | 00:48:29 | M55 | 30 | 607 |
| 746 | Jamie Smith | 00:48:31 | MSEN | 315 | 609 |
| 747 | Richard Adams | 00:48:31 | MSEN | 316 | 610 |
| 759 | John Armitage | 00:48:40 | M | | |
| 764 | Matt Broadhead | 00:48:43 | M45 | 90 | 619 |
| 773 | Ian Richardson | 00:48:50 | M55 | 33 | 627 |
| 789 | Loz Harvey | 00:49:00 | M45 | 95 | 635 |
| 794 | Des Ryan | 00:49:03 | M55 | 34 | 639 |
| 799 | John Walker | 00:49:04 | M60 | 15 | 642 |
| 838 | Andrew Hinchliffe | 00:49:33 | M55 | 37 | 664 |
| 852 | Ben Singleton | 00:49:41 | MSEN | 334 | 669 |
| 857 | Ryan Talley | 00:49:45 | M50 | 55 | 674 |
| 862 | Philippa Thompson | 00:49:47 | F55 | 8 | 185 |
| 864 | Dean Harding | 00:49:50 | MSEN | 337 | 679 |
| 874 | Lucy Berry | 00:49:55 | FSEN | 79 | 188 |
| 875 | Kevin Haighton | 00:49:55 | M60 | 18 | 687 |
| 878 | Guy Birkby | 00:49:56 | M60 | 19 | 690 |
| 889 | Helen Strong | 00:50:05 | F55 | 9 | 193 |
| 910 | Kev Hewitt | 00:50:17 | M45 | 105 | 709 |
| 914 | Stephanie Millar | 00:50:21 | FSEN | 88 | 204 |
| 931 | Helen Royles-Jones | 00:50:32 | FSEN | 91 | 214 |
| 949 | Claire Wren | 00:50:49 | F35 | 44 | 225 |
| 959 | Tracey Davies | 00:50:59 | F50 | 20 | 230 |
| 969 | Karen Clark | 00:51:03 | F55 | 12 | 238 |
| 991 | Olivia Hoffman | 00:51:17 | FSEN | 98 | 246 |
| 1015 | Lucy Woodward | 00:51:37 | F40 | 41 | 254 |
| 1017 | Graham Hague | 00:51:39 | M70 | 6 | 763 |
| 1018 | Steve Blake | 00:51:39 | M45 | 118 | 764 |
| 1028 | Richard Eastall | 00:51:49 | M55 | 42 | 770 |
| 1029 | Kate Waddicor | 00:51:50 | F65 | 2 | 259 |
| 1032 | Jack Hampson | 00:51:51 | MSEN | 364 | 773 |
| 1119 | Mark Davies | 00:52:48 | M45 | 129 | 828 |
| 1171 | Laura Rangeley | 00:53:20 | FSEN | 125 | 311 |
| 1238 | Christopher Smith | 00:54:03 | M45 | 142 | 895 |
| 1241 | Stefan Barnett | 00:54:06 | M45 | 143 | 897 |
| 1275 | Ashley Carson | 00:54:25 | M60 | 31 | 913 |
| 1292 | Mohammed Ahmed | 00:54:35 | M40 | 160 | 926 |
| 1293 | Joel Driver | 00:54:36 | MSEN | 417 | 927 |
| 1307 | Kevin Wong | 00:54:45 | M45 | 151 | 935 |
| 1348 | Mike Heselton | 00:55:14 | M55 | 61 | 951 |
| 1372 | Caroline Barnsley | 00:55:30 | F40 | 78 | 407 |
| 1374 | Christine Booth | 00:55:30 | F45 | 43 | 408 |
| 1385 | Zanna Currie | 00:55:37 | F55 | 20 | 414 |
| 1393 | Roger Brookes | 00:55:40 | M55 | 62 | 973 |
| 1414 | Tristan Swain | 00:55:53 | M55 | 63 | 987 |
| 1422 | Andrew Buckley | 00:55:54 | M40 | 172 | 990 |
| 1453 | Laura Fletcher | 00:56:15 | F35 | 85 | 445 |
| 1484 | Carole Haste | 00:56:32 | F55 | 22 | 461 |
| 1486 | Alexander Arblaster | 00:56:32 | M40 | 177 | 1025 |
| 1493 | Emma Kingston | 00:56:35 | F50 | 38 | 466 |
| 1524 | Rosie S | 00:56:54 | F35 | 95 | 483 |
| 1531 | Elin Reeves | 00:57:01 | F40 | 91 | 487 |
| 1550 | Nicole Nield | 00:57:13 | F65 | 4 | 494 |
| 1589 | Catriona Miller | 00:57:30 | F45 | 58 | 520 |
| 1622 | Fran Marshall | 00:57:53 | F50 | 42 | 542 |
| 1661 | James Eberlin | 00:58:16 | M50 | 119 | 1093 |
| 1668 | David Rhodes | 00:58:20 | M65 | 17 | 1096 |
| 1728 | Guy Woodcock | 00:58:48 | M40 | 190 | 1114 |
| 1794 | Helen Smith | 00:59:16 | F40 | 132 | 653 |
| 1799 | Rowena Sharma | 00:59:20 | F40 | 134 | 657 |
| 1800 | Hannah Lewis | 00:59:20 | F50 | 53 | 658 |
| 1809 | Hayley Moore | 00:59:26 | FSEN | 221 | 662 |
| 1820 | Matthew Crowther | 00:59:33 | MSEN | 492 | 1154 |
| 1854 | Caroline Brash | 00:59:59 | F45 | 85 | 689 |
| 1856 | Victoria Johnson | 01:00:00 | FSEN | 232 | 691 |
| 1881 | Corinne Howse | 01:00:14 | F45 | 90 | 704 |
| 1946 | David Englert | 01:00:57 | M60 | 54 | 1204 |
| 1961 | Emily Bocking | 01:01:09 | FSEN | 249 | 752 |
| 1993 | Rachel Cholerton | 01:01:30 | FSEN | 258 | 771 |
| 2000 | Catherine Ager | 01:01:34 | F50 | 67 | 778 |
| 2005 | Niki Mills | 01:01:37 | F40 | 153 | 781 |
| 2030 | Matt Paice | 01:02:01 | M45 | 187 | 1228 |
| 2074 | Andy Telford | 01:02:32 | M45 | 188 | 1243 |
| 2136 | Paul Shelton | 01:03:29 | M70 | 13 | 1262 |
| 2186 | Nicola Rafferty | 01:04:07 | F55 | 47 | 911 |
| 2189 | Nancy Stuart | 01:04:07 | F40 | 196 | 912 |
| 2207 | Rahul Kacker | 01:04:21 | M50 | 154 | 1284 |
| 2233 | Angela Lester | 01:04:38 | F45 | 128 | 945 |
| 2240 | Elisabeth Briggs | 01:04:46 | FSEN | 297 | 951 |
| 2246 | Matt Williams | 01:04:52 | M45 | 194 | 1290 |
| 2250 | Timothy Fawcett | 01:04:55 | MSEN | 539 | 1292 |
| 2274 | Sarah Howson | 01:05:13 | F45 | 131 | 976 |
| 2300 | Sheena Woodhead | 01:05:30 | F70 | 3 | 994 |
| 2304 | Jo Gleig | 01:05:33 | F60 | 23 | 997 |
| 2307 | Catherine Needham | 01:05:41 | F35 | 168 | 1000 |
| 2376 | Richard Bailey-Jones | 01:06:42 | MSEN | 549 | 1324 |
| 2413 | Kerry Bean | 01:07:14 | FSEN | 326 | 1081 |
| 2432 | Phil Dooley | 01:07:30 | M45 | 202 | 1337 |
| 2469 | Chris Harvey | 01:08:17 | M50 | 164 | 1346 |
| 2529 | Tom Price | 01:09:14 | MSEN | 563 | 1358 |
| 2546 | Adrian Good | 01:09:33 | M40 | 218 | 1366 |
| 2585 | Gary Roche | 01:10:20 | M50 | 167 | 1374 |
| 2597 | Louise Cousins | 01:10:39 | F50 | 127 | 1221 |
| 2644 | Gillian Pearson | 01:11:45 | FSEN | 367 | 1264 |
| 2788 | Helen Cotton | 01:19:00 | F35 | 211 | 1377 |
| 2789 | Sophie Cooper | 01:19:02 | FSEN | 387 | 1378 |