Race date:  Saturday and Sunday 26th and 27th June 2021
Race Report by Tony Bell
Back in the dim and distant past of 1983 I was a 19 year old student at Sheffield University. This student was very overweight so I took up running and 38 years later I still haven't stopped. As a student I liked to run in Endcliffe and Bingham Parks, I would see signs for the "Round Sheffield Walk" and I thought "wouldn't it be fun to try and run all the way round this path?" Of course I never did.
I graduated in 1984 but on trips back to Sheffield for conferences and to visit my brother, when he followed me to Sheffield University, I would run down Memory Lane in Endcliffe Park. Then in 2015 I returned to Sheffield with my work, for the first few weeks l lived a mile from Endcliffe Park so I got to run there again. I then joined Steel City Striders and heard about the "Round Sheffield Run." I was intrigued about the RSR, although a race mostly off-road with steep ups and downs wasn't really my type of event. I entered the RSR in 2019 but had to withdraw due to injury. I tried again for 2021 and got a place. Finally a chance, 38 years later, run all the way round.
I live close to the RSR route in Greenhill, I frequently train with my wife on parts of the route near Beauchief Abbey. I did lots of very slow training runs up and down hills on different parts of the route.
Saturday 26th June, back to Endcliffe Park and just after 9.00am I was in a queue of socially distanced runners getting ready to start the RSR. Off I went on the running path of my youth, I felt OK on stage 1, although for some reason it was a bit steeper uphill than in my student days? Remarkably quickly to the end of stage 1 by Forge Dam. I kept running in the transition and soon onto stage 2 through the Porter Valley, this was as far as I got as a student. A much harder stage than stage 1, steeper uphill and rougher underfoot conditions, most people were walking for the last bit. A drink of water and banana at the top then jogged off through Ringinglow to start stage 3. A nice path down to Whirlowbrook Hall, I don't run very well downhill, lots of runners came zooming past and I had to be careful on the steep bits but I got down in one piece.
Over the busy road onto stage 4 into Ecclesall Woods. Tough going at first on a rough, narrow path with fell runners zooming past. It got easier further into the woods on more familiar ground and I was moving well just before the finish near Dore Station. Up the endless steps to start stage 5, tough going on the narrow path but it got easier when the path got wider. I zoomed down Beauchief Drive to the Abbey going a lot faster than I usually do in training, kept going fast on the path through the forest by the golf course. It was very hard work on stage 6 in Chancet Woods going uphill, but it got easier as the stage progressed. Over the road into Graves Park for stage 7. This was great fun, mostly uphill and fairly good underfoot, I just slogged away uphill passing loads of runners who had slowed to a walk. Very tired at the end near the Graves parkrun start.
Then, after a drink,  I jogged the long transition to stage 8. I was not looking forward to this, a long off-road descent, I really struggled on my reconnaissance training run when it was wet and muddy underfoot. I got down in one piece by sticking as far over to the left as possible to keep out of the way. Very tired on the transition to Meersbrook Park, a very slow jog. Stage 9, a fantastic view of the city and a very uncomfortable descent, my legs were very tired by now.
Jogged over Chesterfield Road and Abbeydale Road before the start of stage 10. A slog uphill on the road, off-road along Brincliffe Edge, uncomfortable downhill through Chelsea Park to the end of stage 10 (where I spent 5 hours as a volunteer the next day). Almost there, very slow jog downhill to Hunter's Bar and back into Endcliffe Park. I did speed up a little for the final stage, although describing it as a sprint would not be correct, over the line and I made it!
I was on my feet for nearly 3 hours, but my elapsed time was 2h12.14 (or 38 years). I did it, my first and last Round Sheffield Run, a great event.
Tony.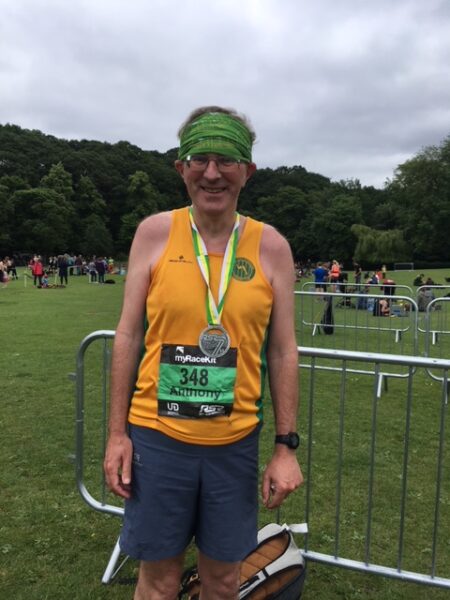 ********
The full results are here and the Striders results (in order of category placing):
Female Pair (215 pairs):
| | | | |
| --- | --- | --- | --- |
| P | Name | Club(s) | Time |
| 1 | Emma Connelly/Gillian Allen | Steel City Striders RC | 01:20:03 |
| 8 | Alison Barrett/Jennie Stevens | Steel City Striders RC | 01:40:53 |
| 9 | Alice Thomas/Aisling Redmond | Steel City Striders RC | 01:41:15 |
| 17 | Pippa Powell/Clare Gilmer | Steel City Striders RC | 01:46:23 |
| 20 | Catherine McKeown/Zoe Dickinson | Steel City Striders RC | 01:48:22 |
| 28 | Cara Hanson/Jemma Anderson | Steel City Striders RC | 01:53:04 |
| 29 | Emma Kingston/Victoria Muscroft | Steel City Striders / Macclesfield Harriers | 01:54:00 |
| 36 | Karen Gardner/Jo Gardner | Steel City Striders RC | 01:55:57 |
| 39 | Emily Armstrong/Ebony Ward | Steel City Striders RC | 01:56:36 |
| 60 | Sarah Storey/Jill Davies | Sheffield RC / Steel City Striders | 02:03:50 |
| 77 | Helen Smith/Rachel Rea | Steel City Striders RC | 02:07:38 |
| 102 | Catherine Needham/Sarah Howson | Steel City Striders RC | 02:12:48 |
| 109 | Jen Jennings/Sandie Ireland | Steel City Striders RC | 02:13:56 |
| 125 | Dawn King/Libby Kerr | Sheffield RC / Steel City Striders | 02:16:30 |
| 152 | Cath Ager/Jo Rose | Steel City Striders RC | 02:22:06 |
| 180 | Gemma Pinder/Jane Wilson | Steel City Striders RC | 02:35:06 |
| 181 | Niki Mills/Denise Adams-Jackson | Steel City Striders RC | 02:36:14 |
| 182 | Sara Copp/Christine Booth | Steel City Striders RC | 02:36:24 |
| 198 | Jane Clawson/Rebecca Robson | Sheffield RC / Steel City Striders | 02:47:59 |
| 204 | Julie Armstrong/Nicky Raeburn | Steel City Striders RC | 02:57:31 |
Male Veteran 50 category (261 runners):
| | | |
| --- | --- | --- |
| P | Name | Time |
| 2 | Paddy Treehowes | 01:19:13 |
| 3 | Alex Shepherd | 01:19:15 |
| 18 | Luke Desforges | 01:26:49 |
| 22 | Michael Slater | 01:28:11 |
| 24 | Dominic Sleath | 01:29:51 |
| 27 | Keith Tud Jackson | 01:30:26 |
| 49 | Ian Richardson | 01:37:08 |
| 55 | Roger Walters | 01:37:57 |
| 56 | James Boardwell | 01:38:01 |
| 63 | Martin Greenough | 01:38:46 |
| 64 | David Bocking | 01:38:58 |
| 67 | David Beech | 01:39:19 |
| 89 | Gary Mitchell | 01:42:32 |
| 96 | Andrew Woffindin | 01:44:13 |
| 97 | Simon Wiles | 01:44:39 |
| 106 | Crispin Jones | 01:46:07 |
| 115 | Richard Eastall | 01:48:02 |
| 132 | Andrew Glaves | 01:50:37 |
| 135 | John Nicholson | 01:51:09 |
| 138 | Trevor Cleveland | 01:51:17 |
| 157 | John Liddle | 01:54:16 |
| 168 | Kevin Haighton | 01:56:20 |
| 181 | Mark Jackson | 02:00:23 |
| 189 | Paul Shelton | 02:02:12 |
| 201 | David Shepherd | 02:06:06 |
| 211 | Ben Heller | 02:10:59 |
| 215 | Michael Ingham | 02:11:56 |
| 218 | Anthony Bell | 02:12:14 |
| 247 | Simon Gleadhall | 02:28:06 |
| 249 | David Bownes | 02:31:29 |
| 254 | Gary Roche | 02:36:19 |
Female (ie under 40) Category (243 runners):
| | | |
| --- | --- | --- |
| P | Name | Time |
| 3 | Sian Evans | 01:20:08 |
| 5 | Frances Roberts | 01:21:52 |
| 25 | Kathryn Liddiard | 01:38:14 |
| 46 | Sarah Moore | 01:44:57 |
| 52 | Harriet Davies | 01:46:00 |
| 64 | Letitia Hancock | 01:49:44 |
| 65 | Charlotte Civico | 01:49:47 |
| 66 | Emily Chaplais | 01:49:53 |
| 73 | Sally Twigg | 01:51:10 |
| 119 | Maggie Vickers | 02:00:21 |
| 140 | Laura Rangeley | 02:04:47 |
Male Veteran 40 category (312 runners):
| | | |
| --- | --- | --- |
| P | Name | Time |
| 3 | Paul Middlemas | 01:11:06 |
| 15 | Darren Barnett | 01:19:03 |
| 27 | Matt Rimmer | 01:23:16 |
| 35 | Wei Chen | 01:24:16 |
| 40 | James Storey | 01:25:49 |
| 45 | Richard Carter | 01:26:17 |
| 62 | Steve Yeoman | 01:30:18 |
| 69 | Peter Keats | 01:32:57 |
| 76 | Robin Nelson | 01:33:46 |
| 77 | Robert Hoffmann | 01:34:14 |
| 92 | Shane Porteous | 01:37:13 |
| 118 | Robert Foster | 01:41:32 |
| 167 | Nick Hails | 01:46:42 |
| 183 | Philip Swirles | 01:48:28 |
| 194 | Lee Mills | 01:50:27 |
| 211 | Ste Doherty | 01:52:40 |
| 232 | Mark Wilson | 01:55:33 |
| 234 | Matt Robinson | 01:55:48 |
| 248 | Andrew Buckley | 01:59:19 |
| 259 | Kevin Wong | 02:01:09 |
| 278 | Colin Hardy | 02:08:41 |
| 297 | Zaheer Mahmood | 02:19:23 |
| 298 | Mohammed Ahmed | 02:21:59 |
| 302 | Saleem Rafiq | 02:29:27 |
Female Veteran 40 category (276 runners):
| | | |
| --- | --- | --- |
| P | Name | Time |
| 5 | Lucy Broom | 01:25:39 |
| 15 | Sarah Allcard | 01:37:58 |
| 16 | Abigail Hickinbottom | 01:38:03 |
| 34 | Lucy Woodward | 01:45:07 |
| 39 | Sarah Percival | 01:47:44 |
| 73 | Emma Beal | 01:55:36 |
| 83 | Kirsty Denton | 01:56:37 |
| 95 | Lindsey Crowson | 01:58:11 |
| 97 | Debbie Clark | 01:58:17 |
| 155 | Heidi Hargreaves | 02:07:57 |
| 173 | Caroline Aylott | 02:11:32 |
| 180 | Alyson Evans | 02:12:53 |
| 212 | Melanie English | 02:19:42 |
| 229 | Julie Meredith | 02:24:14 |
Female Veteran 50 category (155 runners):
| | | |
| --- | --- | --- |
| P | Name | Time |
| 6 | Kate Scott | 01:42:56 |
| 13 | Dot Kesterton | 01:48:11 |
| 16 | Caroline Greenough | 01:49:26 |
| 21 | Carole Haste | 01:51:40 |
| 26 | Heather Knott | 01:55:01 |
| 37 | Nada Ross | 01:58:17 |
| 38 | Karen Clark | 01:59:02 |
| 40 | Fran Marshall | 01:59:34 |
| 58 | Katy Campbell | 02:04:51 |
| 73 | Angela Jackson | 02:12:08 |
| 102 | Rosemary Royles | 02:18:59 |
| 114 | Gaynor Hobson | 02:22:48 |
Male (ie under 40) Category (310 runners):
| | | |
| --- | --- | --- |
| P | Name | Time |
| 6 | Joe Sweetnam-Powell | 01:07:47 |
| 23 | Ben Jones | 01:16:03 |
| 35 | Stephen Schubeler | 01:18:16 |
| 45 | Daniel Cubitt | 01:19:40 |
| 48 | Robert Bishop | 01:20:13 |
| 49 | Jordan Moat | 01:20:17 |
| 64 | Adam Bishop | 01:23:33 |
| 65 | Malcolm Baggaley | 01:23:37 |
| 67 | Matthew Chappell | 01:23:58 |
| 69 | Lee Kenton | 01:24:07 |
| 80 | Stephen Davison | 01:26:14 |
| 103 | Stephen Mallon | 01:29:40 |
| 157 | Christopher Brown | 01:38:00 |
| 160 | Sam Ainscough | 01:38:10 |
| 215 | Jude Stone | 01:47:23 |
| 241 | Dean Harding | 01:53:13 |
| 246 | David Firth | 01:54:22 |
| 251 | John Atkinson-Croad | 01:55:47 |
| 288 | Matthew Bradbury | 02:11:02 |
| 295 | Muhammed Khan | 02:17:55 |
| 302 | Andrew Pembroke | 02:28:21 |
Male Pair (129 pairs):
| | | |
| --- | --- | --- |
| P | Name | Time |
| 7 | Warren Brown/Nigel Barnes | 01:21:39 |
| 56 | Philip Gelsthorpe/Jo Buckman | 01:46:08 |
| 61 | Robert Davies/Mark Platton | 01:47:33 |
| 68 | Neil Schofield/Alan Dalton | 01:49:47 |
| 96 | Roger Purkiss/Roger Brookes | 01:59:44 |
Mixed Pair (261 pairs):
| | | | |
| --- | --- | --- | --- |
| P | Name | Club(s) | Time |
| 9 | Fran Allen/Richard Smith | Steel City Striders RC | 01:32:40 |
| 13 | Nick Burns/Jenni Burns | Steel City Striders RC | 01:36:09 |
| 24 | Ben Stittle/Nicola Birch | Steel City Striders RC | 01:40:39 |
| 47 | Douglas Armstrong/Hannah Milton | Steel City Striders RC | 01:46:08 |
| 50 | Rachael Hyman/Ben Hyman | Steel City Striders RC | 01:46:39 |
| 75 | Ashley Crow/Alison Downey | Steel City Striders RC | 01:51:41 |
| 99 | Bob Hartley/Lucy Hartley | Steel City Striders / Macclesfield Harriers | 01:57:30 |
| 108 | Sam Keen/Lynsey Brookes | Steel City Striders RC | 02:00:07 |
| 139 | Dawn Short/Clive Downing | Steel City Striders RC | 02:05:36 |
| 150 | Matt Broadhead/Elin Reeves | Steel City Striders RC | 02:07:20 |
| 160 | Caroline Brash/Peter Brash | Steel City Striders RC | 02:08:53 |
| 193 | Jonathan Howse/Corinne Howse | Steel City Striders RC | 02:17:37 |
| 211 | John Bridgman/Suzan Bridgman | Steel City Striders / Hurricane Striders | 02:21:57 |
| 217 | Antony Lyell/Sarah Lyell | Steel City Striders RC | 02:23:23 |