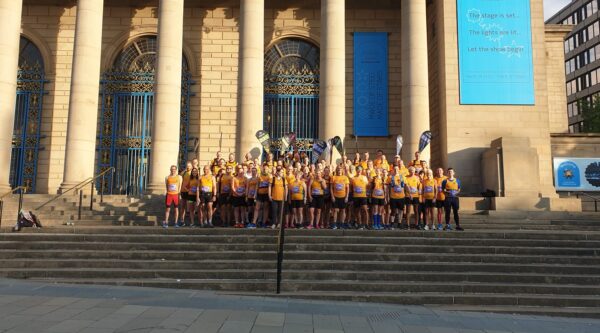 Race date: 26 September 2021
The 2020 Sheffield Half Marathon finally got under way at the fourth(?) time of asking, having been squished into the same day as the Sheffield 10K. It was just like old times as runners of all abilites lined up nervously, excitedly and dying-for-another-wee-ly on Arundel Gate, waiting to be set loose on the long climb to Ringinglow. The sun was shining, the marshals were smiling and that bit coming out of Dore was still illogically hard.
3799 people finished the race, last among whom (and first in the MV80 category) was the tireless John Burkhill with his pram. The race was won by Andrew Heyes of Hallamshire Harriers, who ran in 1:06:04 and was almost five minutes ahead of his nearest rival. First woman was Striders' own Caroline Brock, in a storming 1:23:27 that put her two-and-a-half minutes clear of second place.
Striders results
| | | | | | |
| --- | --- | --- | --- | --- | --- |
| P | Name | Time | Cat | Gen P | Cat P |
| 21 | Richard Pearson | 01:21:00 | Msen | 21 | 17 |
| 40 | Jordan Moat | 01:23:04 | Msen | 40 | 30 |
| 44 | Caroline Brock | 01:23:27 | F35 | 1 | 1 |
| 72 | Robert Bishop | 01:26:27 | M35 | 70 | 46 |
| 78 | Wei Chen | 01:27:02 | M50 | 76 | 5 |
| 94 | Paul Scott | 01:28:09 | M40 | 91 | 24 |
| 121 | Rebecca Pease | 01:29:16 | Fsen | 4 | 4 |
| 162 | Daniel Cubitt | 01:31:57 | M35 | 155 | 105 |
| 208 | Sean O'Brien | 01:33:45 | M50 | 199 | 13 |
| 216 | Richard Carter | 01:34:19 | M40 | 206 | 59 |
| 233 | David Naisbitt | 01:34:45 | M50 | 220 | 16 |
| 236 | Bill Brown | 01:35:14 | M35 | 223 | 142 |
| 291 | Nick Burns | 01:37:00 | M50 | 271 | 20 |
| 307 | Ben Corrigan | 01:36:58 | M45 | 287 | 73 |
| 308 | James Hogg | 01:37:22 | M35 | 288 | 187 |
| 320 | Marcus Dearns | 01:36:41 | MSen | 299 | 196 |
| 356 | Adam McAuley | 01:38:07 | M50 | 332 | 32 |
| 388 | Stephen Schubeler | 01:37:38 | M40 | 362 | 93 |
| 392 | Ashley Biggs | 01:38:36 | MSen | 366 | 230 |
| 402 | Oliver Carlisle | 01:38:52 | M35 | 376 | 235 |
| 406 | Martin Greenough | 01:38:43 | M50 | 380 | 38 |
| 418 | Matt Rimmer | 01:39:33 | M45 | 390 | 102 |
| 446 | Lee Kenton | 01:37:01 | M35 | 414 | 258 |
| 461 | Rachel Thorley | 01:37:18 | FSen | 33 | 26 |
| 497 | Stephen Slater | 01:41:48 | M40 | 460 | 122 |
| 558 | Graham Goff | 01:41:56 | M70 | 511 | 1 |
| 559 | Robert Hoffmann | 01:42:19 | M45 | 512 | 140 |
| 578 | Jacqui Herring | 01:41:04 | F45 | 49 | 9 |
| 606 | Craig Lucas | 01:43:50 | MSen | 555 | 329 |
| 609 | Philip Kelly | 01:43:58 | M45 | 558 | 155 |
| 666 | Ben Stittle | 01:44:10 | M35 | 604 | 358 |
| 667 | Gary Mitchell | 01:39:49 | M55 | 605 | 69 |
| 684 | Kate Scott | 01:45:07 | F55 | 65 | 2 |
| 734 | David Price | 01:46:08 | M45 | 662 | 178 |
| 741 | Martin Lane | 01:46:40 | M50 | 669 | 80 |
| 775 | Barry Gyte | 01:45:36 | M65 | 698 | 11 |
| 793 | Richard Smith | 01:47:45 | M40 | 711 | 189 |
| 817 | Karl Patterson | 01:44:47 | MSen | 729 | 430 |
| 883 | Dean Harding | 01:48:08 | M35 | 782 | 458 |
| 898 | Abigail Hickinbottom | 01:48:42 | F40 | 102 | 20 |
| 902 | Lee Mills | 01:47:32 | M45 | 798 | 217 |
| 913 | Peter Keats | 01:46:24 | M45 | 808 | 220 |
| 918 | Sam Fellowes | 01:49:28 | MSen | 813 | 473 |
| 925 | Liam Russell | 01:48:23 | M35 | 818 | 476 |
| 957 | Caroline Greenough | 01:49:56 | F50 | 112 | 5 |
| 958 | Matt Broadhead | 01:48:49 | MV40 | 844 | 233 |
| 967 | Harriet Davies | 01:50:37 | FSen | 115 | 85 |
| 979 | Stephanie Millar | 01:50:17 | FSen | 117 | 86 |
| 1006 | Emerald Hutton | 01:47:51 | FSen | 124 | 92 |
| 1043 | Kathryn Liddiard | 01:47:50 | F35 | 131 | 98 |
| 1072 | John Armitage | 01:52:52 | M50 | 934 | 115 |
| 1109 | Roger Walters | 01:51:46 | M50 | 962 | 120 |
| 1119 | Robin Nelson | 01:52:28 | M45 | 970 | 265 |
| 1126 | Paddy Treehowes | 01:52:38 | M50 | 976 | 125 |
| 1131 | Mark Wilson | 01:52:24 | M45 | 981 | 266 |
| 1153 | Andrew Rowland | 01:49:17 | M55 | 997 | 129 |
| 1279 | Karen Clark | 01:53:32 | F55 | 185 | 10 |
| 1312 | Anthony Bell | 01:54:30 | M55 | 1114 | 151 |
| 1354 | Ian Richardson | 01:51:27 | M55 | 1143 | 303 |
| 1388 | Helen Royles-Jones | 01:54:33 | FSen | 214 | 144 |
| 1390 | Kate Waddicor | 01:57:38 | F65 | 215 | 5 |
| 1402 | Andrew Glaves | 01:56:26 | M50 | 1178 | 162 |
| 1441 | Mark Wallace | 01:56:00 | M35 | 1198 | 680 |
| 1451 | Chris Rea | 01:57:00 | M45 | 1208 | 321 |
| 1471 | Lucy Woodward | 01:53:11 | F40 | 249 | 64 |
| 1549 | Jim Rangeley | 01:54:25 | MSen | 1271 | 714 |
| 1605 | Brian Jenkins | 01:56:04 | M45 | 1312 | 351 |
| 1640 | Emily Bocking | 01:57:45 | FSen | 297 | 198 |
| 1746 | Shan Oxley | 01:58:05 | M35 | 1418 | 782 |
| 1763 | Richard Eastall | 01:58:21 | M55 | 1429 | 215 |
| 1780 | David Bocking | 02:00:44 | M55 | 1443 | 217 |
| 1850 | Jamie Smith | 01:58:26 | MSen | 1491 | 815 |
| 1949 | Chris Walker | 02:23:51 | M40 | 1552 | 838 |
| 2065 | Nada Ross | 02:00:32 | F55 | 428 | 34 |
| 2068 | Nigel Barnes | 02:01:16 | M45 | 635 | 437 |
| 2081 | Jim Danson | 01:59:53 | M40 | 1646 | 443 |
| 2224 | Mark Norman | 02:04:33 | M40 | 1735 | 467 |
| 2323 | Roger Watson | 02:05:45 | M50 | 1794 | 276 |
| 2389 | Ian Blackburn | 02:04:23 | M60 | 1836 | 61 |
| 2412 | Rachel Anderson | 02:05:04 | F40 | 561 | 148 |
| 2425 | Christine Booth | 02:04:58 | F45 | 566 | 151 |
| 2475 | Steven Lewis | 02:08:47 | M45 | 1882 | 504 |
| 2476 | Helen Strong | 02:05:51 | F50 | 588 | 55 |
| 2514 | Fran Marshall | 02:07:39 | F50 | 603 | 59 |
| 2524 | Kevin Wong | 02:08:41 | M45 | 1912 | 514 |
| 2687 | Cara Hanson | 02:09:59 | F35 | 675 | 417 |
| 2688 | Jemma Anderson | 02:09:59 | F35 | 676 | 418 |
| 2695 | Phil Dooley | 02:11:09 | M40 | 2010 | 540 |
| 2734 | Matthew Bradbury | 02:09:22 | MSen | 2030 | 1082 |
| 2835 | Laura Rangeley | 02:13:28 | FSen | 741 | 450 |
| 2910 | Zoe Dickinson | 02:14:14 | F45 | 779 | 211 |
| 3072 | Jo Rose | 02:17:04 | F50 | 860 | 94 |
| 3109 | Jane Huws | 02:17:21 | F50 | 877 | 100 |
| 3133 | Emma Lewis | 02:21:53 | F50 | 893 | 103 |
| 3150 | Neil Schofield | 02:18:52 | M50 | 2238 | 351 |
| 3195 | Trevor Cleveland | 02:25:03 | M55 | 2262 | 356 |
| 3203 | Megan Ohri | 02:23:41 | F40 | 931 | 250 |
| 3206 | Sara Copp | 02:19:37 | F45 | 933 | 251 |
| 3211 | Suzi Flinders | 02:23:57 | F40 | 937 | 253 |
| 3222 | Cath Ager | 02:20:50 | F50 | 943 | 112 |
| 3256 | James Eberlin | 02:21:57 | M50 | 2290 | 360 |
| 3272 | Melanie English | 02:22:24 | F40 | 968 | 261 |
| 3299 | Neal Pates | 02:23:51 | M50 | 2306 | 361 |
| 3446 | Des Ryan | 02:30:54 | M55 | | |
| 3452 | Rahul Kacker | 02:30:05 | M50 | 2363 | 373 |
| 3454 | Chris Harvey | 02:30:59 | M50 | 2365 | 374 |
| 3455 | Laura Fletcher | 02:30:15 | F35 | 1082 | 630 |
| 3457 | Christopher Smith | 02:30:12 | M45 | 2366 | 631 |
| 3522 | Sally Lee | 02:37:13 | F50 | 1126 | 135 |
| 3525 | Jo Gleig | 02:34:57 | F60 | 1129 | 33 |
| 3550 | Caroline Barnsley | 02:37:13 | F40 | 1138 | 304 |
| 3667 | Kevin Haighton | 02:45:13 | M60 | 2453 | 106 |
| 3675 | Adrian Good | 02:46:35 | M40 | 2456 | 651 |
| 3720 | Maggie Vickers | 02:51:46 | FSen | 1238 | 711 |
| 3767 | Gary Roche | 03:04:26 | M50 | 2487 | 401 |
Full results: https://www.chiptiming.co.uk/events/asda-foundation-sheffield-half-marathon-2021/