Race Date: Sunday 16th August 2021
Racing, in slightly adjusted forms, is back, with both familiar and unfamiliar elements to events.
There was the tenuous reason for entry – my middle son and his girlfriend (and dogs) are moving to Solihull very soon.
There was the ready excuse if the race did not go as hoped – 17 months of not racing should just about cover it.
There were the other Striders (there are always other Striders!) – Malcolm Baggaley in the Half, Stephen Schubeler in the half-hour-later-starting 10km, and Andy Norton working the timing system.
Portaloo Bogs! – I got in early, and late, to use the race essential. With a town start line, these were outside House of Fraser.
Finish line – always a welcome sight, but especially so at the end of this race.
(This is my lad, Oli, finishing 7th in the 10km)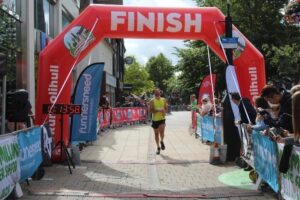 Chip timing – nothing new or fancy here, just the classic loop around the shoelaces. I fastened mine on before I left home, which is unusual, and then drove all the way south with it on which I thought was a high-risk strategy.
The 'informal' bag drop – in an abandoned HMV, which is a very useful way to use an empty shop unit, I think. Luckily, you could return to your bag before the start. (I'd forgotten the necessary anti-chafing precautions.)
An altered start procedure – familiar enough, but odd in many ways. Entry was limited to around 1,000 runners to ensure spacing at the start. No 'pens' were used – we were called forward by a too quiet pa system and then told to run up to the start line in two straight lines, following the cones. Once past we could do what we liked.
There were the usual complaints about 'hills' on the route – with only 600 feet of elevation gain is was not what any Sheffield-based runner would call 'hilly', but I saw and passed many a walker from the first upward slope onwards.
The scenic route – never have I run past so many houses I could never afford to buy. A very nice church after 200 metres (St. Alphege), a beautiful park (home to Brueton parkrun), then Knowle, Temple Balsall and a lollipop back to the start / finish line in the town centre.
Road kill makes a unique sound – you might want to look away now. Commercial Radio stations like a phone-in quiz, and the 'Guess the Noise' quiz is a classic. Everything does make a distinctive sound – wine pours differently to orange juice; pencils snap differently to sugar-snap peas; a can of Fanta makes a different 'fizz' when opened to a Guinness. Unfortunately, I have now heard the sound of a runner treading, unintentionally, on a small animal corpse, and I will be able to accurately identify it should it ever come up.
This is the moment of the 'squeeze, crack, pop!'
There was a motorway crossing – like at Liversedge Half all those years ago. It's a bit loud for a stretch is all, but this race was on fully closed roads. (The confused and entitled driver of a bit, fat Jaguar out in a country village didn't quite see why they should be closed, though. The very patient and polite Marshall explained the situation as I went past.)
Entirely new was a shirt in soft wrapping – in a few weeks, at the Sheffield Half / 10k, you will be offered a t-shirt from a mound on a trestle table. Here, in affluent Solihull, the technical t-shirts were layered in tissue, and laid flat inside a useful Ziploc bag (biodegradable at the end of its useful life).
Cowbells, headless tambourines and other percussion instruments – Marshalls and spectators enjoyed rattling, shaking and striking a range of instruments, including the classic saucepans and up-turned paint tubs from Wickes.
A goodie bag without a bag – we picked up about as many things as were ever on the Generation Game's conveyor belt; Corn, Nutrition Bar, Technical Water, homemade flapjack, T-shirt (see above), medal (of course), flyers for some other races…
The race came with no discount for EA registered athletes, so that may have put off some / a few. However, it is a PB course, I'd say. It was pretty. Parking was easy in and easy out. And the spectators could be easily whipped up into polite applause as we went past.
Results:
First male:           Jason Bennett (unattached) in 1 hour 12 minutes 25 seconds
First female:       Emma Styles (Nuneaton Harriers) in 1 hour 17 minutes 19 seconds
Striders Results:
Half
| | | | |
| --- | --- | --- | --- |
| Pos | Name | Cat | Time |
| 94 | Malcolm Baggerley | M Sen | 1.30.28 |
| 220 | Alison Barrett | FV 40 | 1.40.45 |
| 306 | Stuart Jones | MV 60 | 1.46.19 |
10K