Race Date: Sunday 24th October 2021
The Limb Valley Trail descent is one of the highlights of the now twice per year Round Sheffield Run for many runners, so why not try running down the trail twice in one race?
Heading gradually upwards along the faint paths in the woodlands above the valley allowed two descents in one 10K (or 9.85 K to be exact), and the chance to hear woodpeckers and occasionally meet the deer who live among the trees, where few humans tread.
The first official race in the Steel City Trail 10 series included much of the RSR trail descent x 2 in a 10K aiming to celebrate the green spaces of the Outdoor City  and introduce local trail runners to some of Sheffield's lesser known trails and pathways. The series will be open to all runners, and aims to offer challenging races for confident trail runners, and 'can I get round?' adventures for trail running newcomers.
The series aims to eventually host a challenging off road 10k every month alternating between four or five locations within easy reach of Sheffielders, and we've now got the go-ahead for the Whirlow circuit, with hopefully more locations to follow over the next year or so.
Since some of the trails we used at Whirlow will now be out of bounds due to tree work in November and December, after organising two trial runs before the official race on Sunday 24th, the plan is to host another official race at Whirlow in January , with hopefully a trial run or two of other circuits in November or December – see the SCS FB page for updates.
Thanks to a fabulous group of volunteers, we had great feedback on Sunday, where 40 runners took part, and hope numbers will grow as the series progresses: please spread the word!
The men's race was won by Sam Evans, unattached, in 45.12, a new course record by 12 seconds. The women's race was won by Clair Taylor of Totley AC.
Full Results:
| | | | | | |
| --- | --- | --- | --- | --- | --- |
| Pos | First Name | Second Name | Cat | Time | Club |
| 1 | Sam | Evans | Male | 45.12 | Non-affiliated |
| 2 | Matt | Rimmer | Male | 45.26 | Steel City Striders |
| 3 | Andy | Eades | Male | 48.37 | Vegan Runners UK |
| 4 | Andy | Davies | Male | 51.19 | Hillsborough & Rivelin RC |
| 5 | Chris | Deeble-Rogers | Male | 51.48 | Totley AC |
| 6 | David | Price | Male | 51.54 | Steel City Striders |
| 7 | Jack | Hetherington | Male | 52.20 | |
| 8 | Clair | Taylor | Female | 52.55 | Totley AC |
| 9 | Peter | McCoy | Male | 57.05 | Steel City Striders RC |
| 10 | Peter | Malcolm | Male | 57.13 | n/a |
| 11 | Steve | Haake | Male | 57.49 | Steel City Striders |
| 12 | Kev | Hewitt | Male | 58.26 | Steel City Striders |
| 13 | Joe | Wild | Male | 58.39 | |
| 14 | Pat | Goodall | Female | 58.42 | Totley AC |
| 15 | Andrew | Rowland | Male | 59.06 | Steel City striders |
| 16 | Matt | Dunbar | Male | 59.47 | Sheffield triathlon club |
| 17 | Anne | Hegarty | Female | 60.25 | Totley AC |
| 18 | Stephen | Reilly | Male | 60.36 | None |
| 19 | Rachel | Suddrick | Female | 62.29 | Smiley Paces |
| 20 | Kevin | Haighton | Male | 64.31 | Steel City Striders |
| 21 | Sally | Twigg | Female | 64.40 | Steel City Striders |
| 22 | Mark | Norman | Male | 64.51 | Steel City Striders |
| 23 | Chris | White | Male | 65.11 | |
| 24 | Philip | Swirles | Male | 65.12 | Steel City Striders |
| 25 | Emily | Bocking | Female | 65.16 | Steel City Striders |
| 26 | Christine | Booth | Female | 65.29 | Steel City Striders RC |
| 27 | Benjamin | Herman | Male | 68.36 | None yet |
| 28 | Tom | Cossham | Male | 68.37 | None |
| 29 | Jeremy | Brayshaw | Male | 70.04 | Totley AC |
| 30 | Alyson | Rayner | Female | 70.09 | Smiley paces |
| 31 | Caroline | Aylott | Female | 71.14 | Steel City striders |
| 32 | Nicole | Nield | Female | 77.08 | Steel City Striders |
| 33 | Lucy | Haighton | Female | 78.04 | N/a |
| 34 | Sally | Smith | Female | 83.05 | Sheffield triathlon club |
| 35 | Tracy | Woodward | Female | 95.50 | Penistone Footpath Runners |
| 36 | Steph | Allen | Female | 96.43 | |
| 37 | David | Bocking | Male | 96.47 | Steel City Striders |
| | Julie | Hurley | Female | 1 lap (55.50) | Striders/Totley AC |
| | Rebecca | Pollitt | Female | 1 lap (55.51) | |
| | Yvette | McCracken | Female | DNF | Smiley Paces |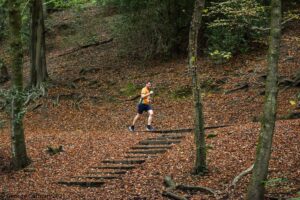 Please look at the Steel City 10 FB page for more photos, results and info