Race date: Saturday 12th June 2021
This was my first trip of the year to Kirkstall and the Leeds to Liverpool Canal, I was promised a good race. The route was described as flat and good to get a PB.
Registration took place at the LPSA – Dave and I ventured into another social club, but quickly realised we were in the wrong place.
Dave Beech and I came to do the 20mile but the event covered all distances from 5k to Ultra. Fellow Strider Ady Good did the half.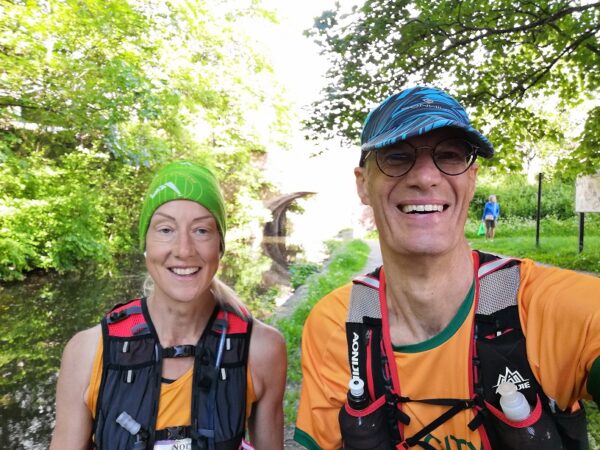 The 20miler took us to Kirstall, Saltaire and back.
Each event started in waves and we quickly got in front of the 20 miler pack. On route there were water stations and great marshals. The day was hot which made it a bit of a struggle.
There was gorgeous scenery on route which was a good distraction along with the barge boats.
At Mile 19, my legs had had it I had no energy. I was relieved that I was in front, as I couldn't give it any more.
Dave was in 2nd position; however the 3rd Male runner came from behind. Dave, then out of nowhere, went on full charge and sprinted ahead at cheetah speed. The 3rd male runner came up behind me and lifted his head and spoke the words "Where is he (Dave)?" I replied that he had sprinted off. His face said it all! He said, "I thought that when I had caught you up, he (Dave) would have been there. I just can't catch him now!"
He ran ahead of me and apologised for leaving me. I jogged/hobbled to the finish line, where I was greeted by a sea of cakes!
At the end, there was a cake stall with the most delicious flapjack and brownies! Every competitor got a medal, so it was a must for me as an avid collector of "bling".
I even got a trophy for finishing "1st Lady". Dave rightfully got "2nd male", however he has received "3rd Male in 5k!" Hopefully, the correct trophy will reach him soon.
The full results are here.
Table of Strider results:
Half Marathon:
| | | | |
| --- | --- | --- | --- |
| P | Name | Cat | Time |
| 23 | David Hewitt | M | 01:57:50 |
| 45 | Adrian Good | M | 02:51:49 |
20 mile:
| | | | |
| --- | --- | --- | --- |
| P | Name | Cat | Time |
| 2 | Dave Beech | M | 02:59:20 |
| 4 | Sarah Percival | F | 03:00:43 |
Special mention for Sarah – First lady home and Dave, Second man home.  Great results.