Report By: Rob Cook
Race Date: 21st  November 2021
Cross country season continued last weekend with the third race held at Campsall country park. Once again the weather gods were smiling on us with crisp, dry conditions. The Campsall course is a pretty unique one, with several sections of trails and single-track long with the more typical open parkland around the start and finish. The course also included a deep ditch to run through, or you could chance it and go around the log balance beam around the edge!
Despite some parking related stresses, striders had a good turn out with two strong teams tackling the 6.5km and 10km courses for the women and men respectively.
In the 6.5km women's race (won by Keiva Rennocks of Rotherham) striders were again led home by Abbie Pearse and Caroline Brock, with Abbie coming out on top in 6th after a race long battle, and Caroline close on her tail in 7th, also picking up 2nd FV35 honours. The scoring team was completed by Fiona Jeffries in 29th & Jacqui Herring in 34th.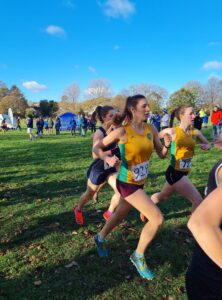 There were 117 finishers overall in the women's race. In the age groups, a top 3 placing was also achieved by Kate Scott (56th overall, 2nd FV55). A decent turnout of 9 striders was completed with Charlotte Civico (40th), Caroline Greenough (43rd), Lucy Berry (50th) and Angela Jackson (82nd).
In the 10km men's race (won by Jamie Hall of Hallamshire Harriers) the leading Strider home was again Philip Cooper in 12th place having a close race with those around him. Paul Middlemas was next in at 25th and 3rd V40, and Sam Brown also made it into the top 30 (29th). The team was completed by Stephen Schuebler with a very fast last lap (33rd), Robert Cook (38th) and Seth Kirby (44th). There were 178 finishers and overall in the men's race.
The other striders racing were Ben Jones in 48th, having a good race with Seth most of the way around, Louis Wood in 50th, John Kilcoyne (56th), Tim Holt (67th), Malcolm Baggaley (80th), Ian Stinson in (83rd), Neil Schofield (86th), Chris Lawson (102nd). Chris unfortunately pulled his hamstring in the final mile but still finished it off! Then it was Keith Bell (104th), Alex Shepherd (105th), Martin Greenough (126th), Andrew Rowland (148th), Paul Chapman (161st) and Jim Eberlin (174th).
It was a good day of racing, and hopefully everyone's shoes and socks are dried out from the ditch! Next up is the final SYXC fixture at Graves park. Team scores aren't up at the moment but it has been tight all year and Striders are in the running for a team podium position.
Link to full results here.
Striders Ladies results – 6.5km
| | | | |
| --- | --- | --- | --- |
| Pos | Name | Time | Cat |
| 6 | Abbie Pearse | 28:40 | FS |
| 7 | Caroline Brock | 28:42 | FV35 |
| 29 | Fiona Jeffries | 32:55 | FV45 |
| 34 | Jacqui Herring | 33:58 | FV45 |
| 40 | Charlotte Civico | 35:16 | FV35 |
| 43 | Caroline Greenough | 35:23 | FV45 |
| 50 | Lucy Berry | 36:12 | FS |
| 56 | Kate Scott | 36:48 | FV55 |
| 82 | Angela Jackson | 41:49 | FV55 |
Striders Mens results – 10km
| | | | |
| --- | --- | --- | --- |
| Pos | Name | Time | Cat |
| 12 | Philip Cooper | 38:39 | MS |
| 25 | Paul Middlemas | 40:18 | MV40 |
| 29 | Sam Brown | 40:46 | MS |
| 33 | Stephen Schubeler | 41:15 | MV40 |
| 38 | Robert Cook | 41:35 | MS |
| 44 | Seth Kirby | 42:18 | MS |
| 47 | Ben Jones | 42:26 | MS |
| 54 | Louis Wood | 43:22 | MV40 |
| 65 | John Kilcoyne | 44:49 | MV40 |
| 67 | Tim Holt | 45:06 | MV40 |
| 80 | Malcolm Baggaley | 46:20 | MS |
| 83 | Ian Stinson | 46:32 | MV50 |
| 86 | Neil Schofield | 46:44 | MV50 |
| 102 | Chris Lawson | 48:00 | MV50 |
| 104 | Keith Bell | 48:19 | MV40 |
| 105 | Alex Shepherd | 48:27 | MV50 |
| 126 | Martin Greenough | 50:00 | MV50 |
| 148 | Andrew Rowland | 53:40 | MV50 |
| 161 | Paul Chapman | 56:40 | MS |
| 174 | Jim Eberlin | 62:07 | MV50 |