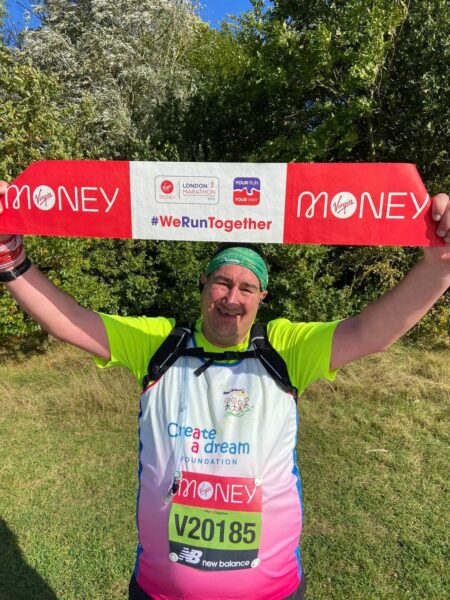 Race date: 3 October 2021
Report by Ady Good
February 17th 2021 I was really struggling with my fitness and running, just getting out the house was a challenge. For some reason probably after a few beers, I decided to enter the virtual London marathon which would be my first ever marathon. The first thing I did was buy two marathon books: Vassos Alexander's "how to run a marathon" and Chris Evans "119 days to go". I realised the marathon would be one week after the Sheffield half marathon which I was also running for Charity (Create a Dream Foundation charity) so I decided it would be good to add the marathon towards the charity too. After reading both books I found the 119 days one more up my street and easier to follow so my training would start 31st May.
The first few weeks went OK with 4 active days and 3 rest days a week with lots of walking/running activities, unfortunately I didn't stick to the plan for long and missed important training days then had a few niggles and before I knew it the Sheffield half marathon was upon me.
With my mind on the marathon I decided to take the half very easy and ended up walking most of it finishing in 2hr 46min but enjoyed the day. With that out of the way it was time for marathon route planning.
Planning a 26.2 mile route round Sheffield is a task in itself considering all the hills we have. My original plan was doing 8 and half parkruns but relying on public transport would have been time consuming. My next idea was to include the 9 mile star walk route which I won in 1999 but that would have meant climbing Barnsley Road and finding another 17 miles from somewhere. I finally decided the Trans pennine trail would be my best option between Treeton Dyke and Poolsbrook Country Park.
The day arrived and I was quietly confident and excited about it. The weather was perfect so on with my number, backpack and earphones. I used the official London marathon app which was brilliant. It started off with Steve Cramm and Paula Radcliffe welcoming you to the London marathon 2021 then a countdown, starting pistol and the marathon theme tune. I set off really steady which was hard as the first mile was down Normanton Hill and into Shirebrook Valley. The app told you when every mile was completed and kept giving out trivial questions which kept your mind busy. I reached my only climb in to Woodhouse so took it steady then a lovely downhill all the way to Treeton Dyke. I was still feeling great half way around the Dyke when I was informed I had reached 6 miles and would be passing the Cutty Sark. At the exact same moment a speed boat came past on the Dyke (not quite the Cutty Sark but it made me chuckle). I joined the TPT and went through Woodhouse Washlands Nature Reserve and before I knew it I was at 10 miles reaching Rother Valley, after seeing a few other virtual runners and waving to 2 Striders also doing it, I rejoined the TPT and headed towards Poolsbrook Country Park. I reached half way and my app told me to stop for a London Bridge half way selfie. I checked my watch – 2hrs 35min (a whole 11min quicker than Sheffield half) – then realised I still had another 13.1 miles to do. I kept on heading towards Poolsbrook with the odd walk now and again getting lots of encouragement from other runners and cyclists. I arrived at Poolsbrook after taking just 1 wrong turn down a dead end street. I did 2 laps of the lake then headed back to the TPT, Rother Valley and most importantly the finish. Had a little walk at 18 miles and video called the wife who informed me I was doing amazing as she was tracking my progress. It was mainly walking now as my legs were starting to tell but it was a fast walk. I got to mile 20 and thought to myself just a 10k to go you have got this. I had run out of water, gels and gums so was running on empty but made it back to Rother Valley where I felt my first bit of real pain as a blister on my heel decided to give me grief. I had 3 miles left (1 lap of Rother Valley) and the sight of my wife and daughter brought the first tear to my eye, I was so close to completing my first ever marathon. I grabbed a hug and a drink and set out on my Victory lap of Rother Valley. The app informed me I was 700 yards from the finish then finally after what felt like a lifetime they informed me I had finished. A punch of the air and a little skip took place, although my watch still said I had half a mile to go so carried on. I spotted my wife and daughter again who were cheering and waving a finish line at me I somehow managed to find enough energy to sprint the last 50 metres and straight into the arms of my daughter.
That was it, I had completed a marathon. 26.2 miles and you know what I had loved it. I was overcome with joy. I had no idea about time before I set out and said anything under 7 hours so smashed that and also raised over £400 for my charity.
Striders results
| | | | | | |
| --- | --- | --- | --- | --- | --- |
| P | Name | Cat | Time | Gen P | Cat P |
| 288 | Seth Kirby | M18–39 | 03:14:46 | 245 | 113 |
| 1222 | Sam Needham | M18–39 | 03:43:06 | 1005 | 399 |
| 1871 | Jacqui Herring | F45–49 | 03:53:29 | 374 | 72 |
| 12236 | Sara Copp | F45–49 | 05:41:08 | 5145 | 1084 |
| 14724 | Ady Good | M40–44 | 06:14:35 | 8110 | 1543 |
Full results: https://results.london-marathon.co.uk/2021/