Race Dates: 18 April and 01 May 2021
Race Report by: John Nicholson
"Duathlon is a good run spoiled" Discuss!
Duathletes are often seen as the pariahs of the multisport / running world.  Looked down on by Triathletes because we don't swim (although we know running twice is far harder than swimming and running once each) and treated as curiosities by purist runners or cyclists.  That's perhaps why there's such a tight-knit duathlete community and why the team spirit was so palpable at the recent GB Age Group (AG) Qualifier races at Darlington (Yorkshire Duathlon – also the National Championships) and Berkhamsted (Ashridge Duathlon)!
Both events adapted admirably to COVID-19 restrictions.  There were regular reminders to socially distance (generally respected by the 350 and 220 competitors at the respective events), and chip-timed "Time Trial" starts replaced the usual mass start waves.  The only other noticeable difference was the absence of medal ceremonies, but that tends not to concern me anyway.
For those who don't know, to paraphrase Mark Twain's comment about golf spoiling a good walk, how duathlon supposedly spoils a good run, the Standard Duathlon format is a 10km run, followed by a 40km bike ride, topped off by a final 5km run (or hobble, as it's affectionately known).  The two changeovers (Transitions T1 and T2) are a critical part of the event.  Finding where your bike is waiting for you, or needs to be re-racked, in a sea of others is fun enough.  Remembering to swap shoes, put on / take off a helmet and find the exit from the transition area just adds to the fun.
The 10k runs at both Yorkshire (sunny and warm) and Ashridge (cloudy and nippy) were multiple laps of a mixed tarmac, trail and grass circuit with no hills to speak of.  Running my pre-planned pace and resisting the temptation to (try to) run away from others in my AG (and risk going into the red) took some discipline, but I found myself in T1 pretty much on schedule on both occasions.
The bike legs were like chalk and cheese. Yorkshire started and finished with laps of the very fast Croft Motor Racing Circuit either side of 23kms on undulating public roads.  Overall it proved a very fast bike leg where I managed to better my target time.  Ashridge's three-lap on-road course included one uphill stretch worthy of Sheffield that saw the odd competitor getting off and pushing by lap three.  Lap two provided some light relief – a farmer determined to unload hay bales across a steep downhill section so that the "bloody cyclists" had to screech to a halt and manoeuvre round his tractor.  Fortunately, one of the event's motorbike marshals arrived to broker a peace agreement.
I remembered the trick of dropping to a low gear and spinning at 90rpm in the final 500m or so of the bike leg to get the legs ready for running off the bike and avoid the amusing-to-watch, but painful-to-experience, jelly leg effect.
"Time for the run of death" said the guy I ran out of T2 alongside at Yorkshire.  And he wasn't wrong.  Running over not-very-flattened grass in the HOKA Clifton 6s I'm currently using to prevent a recurrence of recent plantar fasciitis was not conducive to a good time (well, that's my excuse).  They were marginally better suited to the more beaten trail at Ashridge, but my legs clearly weren't.
Age Group racing involves competing in 5-year bands (20-24; 25-29; etc up to 85-89).  When it comes to qualifying for European or World Championships, your time is compared with those who will be in the same AG as you in the year the Championship takes place.  So, whilst coming sixth in my AG at both Yorkshire and Ashridge, I was second at Yorkshire and fourth at Ashridge in the AG I will be in in 2022 and achieved my goals of qualifying for the European AG Championships in Spain and the Worlds in Australia.  Seems this Peak District training is paying off.
At Yorkshire, there was one other Strider (Abbie Pearse) who recorded a magnificent 2nd place in her AG in her first duathlon, and I was the sole Strider at Ashridge.  If any other Striders are inspired to give duathlon a go, I'll happily form a support group to provide advice, and help you cope with the comments and strange looks you'll get from fellow Striders when you admit to them that you've crossed to the dark side!  It'll be well worth the ostracism, honestly, and it's definitely not a good run spoiled!
Yorkshire Duathlon results: http://results.smartiming.co.uk/view-race/trihardyorkduastandard/
Ashridge Duathlon results: http://results.eventchiptiming.com/results.aspx?CId=16202&RId=5028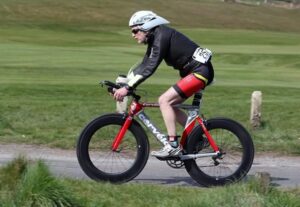 Not something we're accustomed to seeing on these pages – two wheels! (Ed)