Sunday 6th February .
Report by Dot Kesterton.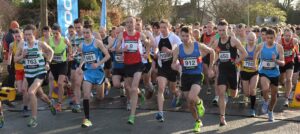 A popular early season 5 mile road race organised from the Alsager Leisure Centre with a mere 17 metres of ascent. 955 people took part including 4 Smiley Striders who braved the gusty winds and squally showers to try out a new challenge.  Just 90 minutes South west of Sheffield, near Congleton, Alsager provided a fast five miler on mostly urban roads as an early race in the calendar.
Kate Morris, F55, Fiona Jeffries, F50, Jo Battersby F55 and Dot Kesterton F65 accompanied by 20 or so Smiley Paces friends joined the melee at the start hoping for a following wind to hasten them to a new year pb. My aim was to improve on the Preston 5 mile race from last August when with little competition experience coming out of Covid restrictions I had recorded a 38:06 time coming second in age.
Kate blasted in in a stunning time of 33.30 chip, matching the winning F55 but losing on gun by 2 seconds. Fiona, struggling a little after C19 infection recorded 37:51 and Jo Battersby got  pb with 42:48.
I went out a little too fast and had to rein it in in mile 3 in an attempt to finish strongly. The wind was pretty powerful but I was able to knock around 40 seconds off my 2021 Preston time in 37:32 chip, giving me first F65 and a second Striders F65 5 mile record in my last couple of months before a new age group.
Clashing with Dewsbury 10K, there were no other Striders at the race but I do recommend this one as an enjoyable outing on a fast course.
The race winners were Richard Allen, Leeds AV in 24.25 and Kate Holt, City of Stoke AC in 26:49.  955 People ran
For full list of results see https://results.sporthive.com/events/6896054543348643072
Pos
Cat
Cat Pos
Time
183
Kate Morris
F55
2
33:30
314
Dot Kesterton
F65
1
37:32
325
Fiona Jeffries
F50
9
37:51
530
Jo Battersby
F55
15
42:48