Race date: Thursday 2 June 2022
As the Platinum Jubilee celebrations were just getting going (including an inconveniently timed parade through Hathersage), 18 Striders enjoyed a short, sharp fell run in the blazing sunshine. It was race number 4 in the 2022 Striders Fell Race Championship. At 7.2k with 305m of ascent it is a BS category fell race.
The route is fairly straightforward (unless you take an obvious wrong turn, add half a mile and lose 35 places as a handful of runners did). It's a fast, flattish mile and half from Bamford Recreation ground to the bottom of Parkin Clough. Then a brutal, thigh-busting climb to the top of Win Hill, where you round the trig point before making a plummeting descent through the fields back down to the Recreation Ground.
Race report from Cara Hanson:
Bamford fell race is a 4.5 mile race up to the top of Win Hill via Parkin Clough and back down the side. It is part of the Bamford Sheep dog trials; the race is included in the £5 entry into the show. It is held in Bamford recreation ground, there were craft stores, cake stores and even plants for sale as well as the sheep dog trials and sheep shearing.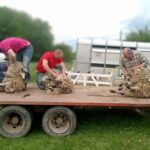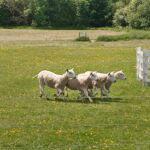 I came down with my family who enjoyed the non-running parts of the show and also met up with a few Strider mates.
I'd done this race before back in 2019 but finished with an injury that stopped me running for 3 months, so on the day I was feeling a bit anxious about doing it again, that on top of the usual anxiety about running fast or running uphill.
It was a lovely hot sunny day and my plan was to take it steady, like I do most fell races.
The first mile or so is slightly uphill but is very runnable as it's on good terrain. As planned I took it steady as I knew the next bit climbing up Parkin Clough to the summit of Win Hill would be tough and tough it was! Even at a slow walking pace it was hard, I'm not sure if my legs were still tired from doing my ultra, less than two weeks earlier or if they were tired from chasing Steve Blake down Stockarth lane like an aggressive Penguin the night before. It was a slow, hot and sweaty slog up to the top but the views were incredible and I really enjoyed it. I took advantage of the slow pace to take a few pictures.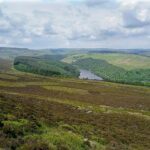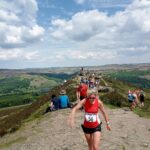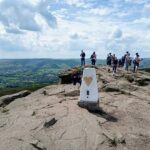 Once up the top and after turning round at the trig point, we were treated to a much gentler decline going back down, running across fields it was easy to pick up the pace and I enjoyed overtaking a few people. That was short lived though as a few of us soon discovered we had gone the wrong way, we totally missed the confidence tape as it blended (very nicely) into the background, so we had to climb back up to join the rest of the race, adding a few minutes onto our time, not that I was bothered.
Going back downhill towards the finish I was again enjoying over taking a few people, until I got to a T junction where I didn't have a clue which way to turn, with no tape, no arrows, no marshal's I had to stop and wait for the next runner to tell me which way to go, looking back though it was obvious. Off I went again, (going the right way) to the finish where I was greeted with cheers from other Striders. Now time for post-race chat, ice-cream and to watch the sheep shearing.
I would definitely do this again, and would recommend it to anyone ( not everyone went the wrong way), even if you haven't done a fell race before ( it was Kevin Wong's and Nada Ross's first fell race). It's a brilliant day out and running was just a small part of it!
The race was won by Dan Haworth (Matlock AC) in 29:28. First woman was Antonia Fan (Ambleside AC) in 38:15. 263 runners took part.
Striders results
| | | | |
| --- | --- | --- | --- |
| Pos | Name | Cat | Time |
| 34 | Seth Kirby | Senior M | 38:26 |
| 50 | Louis Wood | MV40 | 39:41 |
| 86 | Ian Stinson | MV50 | 43:55 |
| 98 | Mark Platton | MV50 | 45:03 |
| 150 | Christopher Brown | Senior M | 49:40 |
| 153 | Dave Beech | MV60 | 49:55 |
| 163 | Darren Pallett | Senior M | 51:04 |
| 169 | Sally Twigg | Senior F | 51:56 |
| 178 | Kate Scott | FV50 | 52:56 |
| 183 | Cara Hanson | Senior F | 55:14 |
| 186 | Kevin Haighton | MV60 | 56:10 |
| 208 | Tessa Bainbridge | Senior F | 58:07 |
| 220 | Rachel Rea | FV40 | 1:01:02 |
| 225 | Nada Ross | FV50 | 1:01:35 |
| 239 | Kevin Wong | MV40 | 1:04:30 |
| 241 | Joanne Gleig | FV60 | 1:05:20 |
| 248 | Paul Shelton | MV70 | 1:07:42 |
| 257 | Eleanor Bull | Senior F | 1:16:11 |
Full results on the Bamford Sheepdog Trials webpage