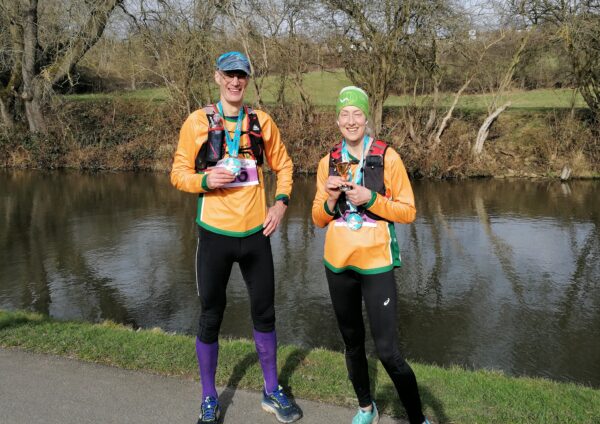 Bingley Bo**ocks Races
Race Date: Saturday 26th February 2022
Race report by Dave Beech
This event, organised by the It's Grim up North team, is in fact a series of races all starting and finishing next to the Dowley Gap lock on the Leeds-Liverpool canal near Bingley, West Yorkshire. Each of the races – ultra, marathon, 20 miler, half marathon, 10 miler, 10km and 5km – was an out and back route along the canal towpath taking in Bingley's famous flight of five locks and some stunning scenery. The five-rise locks, a major feat of engineering at the time, opened on 21 March 1774 in front of a crowd of 30,000 people. It's the steepest flight of locks in the UK with a gradient of about 20% – a rise of 59 ft 2 in (18.03 m) over a distance of 320 ft (98 m) – and because of the complications of working a staircase lock and because so many boaters are inexperienced, a full-time lock keeper is employed and the locks are padlocked out of hours.
I ran with Sarah Percival in the 20 mile race and the club was also represented in the half marathon and 10 miler by David Hewitt and Helen Strong respectively. Sarah finished first female in our race adding to her growing collection of trophies and I finished 4th male setting a new club record in the male vet over 65 category for this distance, the first time I've held a club record in the near 40 years that I have been with the club. David and Helen finished 16th and 7th in their respective races.
Anyone who has entered a Grim up North event will be familiar with the quirkiness of their races which gives them their charm and appeal. The organisation isn't as slick as that of one of the large city centre races rather they are low key, friendly events. Each finisher gets a large blingey medal, chocolates, a drink and a plentiful supply of home-made cakes, flapjacks and delicious roast potatoes. We even got to run a bonus 0.3 miles on top of the 20 miles!
For the 20 miler:
Adam Fox (unattached) won the race in 2:35:16, Sarah Percival (Steel City Striders) was first female in a time of 3:00:00. Striders results were as follows:
| | | | |
| --- | --- | --- | --- |
| P | Name | Time | Cat P |
| 4 | Dave Beech | 2:59:58
(MV65 new club record) | 4th male |
| 5 | Sarah Percival | 3:00:00 | 1st female |
For the half marathon:
Terry Forrest (Cairngorm Runners) won the race in 1:20:32, Hayley Howarth (Thornton Cleveleys Running Club) was first female in a time of 1:45:51. Striders results were as follows:
| | | | |
| --- | --- | --- | --- |
| P | Name | Time | Cat P |
| 16 | David Hewitt | 1:55:03 | 13th male |
For the 10 miler:
Peter Martin (Stadium Runners) won the race in 1:12:27, Emma Levelle-Wood (Unattached) was first female in a time of 1:13:19. Striders results were as follows:
| | | | |
| --- | --- | --- | --- |
| P | Name | Time | Cat P |
| 7th | Helen Strong | 1:26:44 | 4th female |
Results link: https://bookings.itsgrimupnorthrunning.co.uk/uploads/results/2022/Provisional%20%20Results%20Bingley%20Boll+@ks%202022.pdf