Sunday 17th April
Fast, flat and a long way from home, the Round the Houses 10K road race, hosted by Falkirk Victoria Harriers at Grangemouth Stadium was the setting for the twice postponed British Masters 10K Championships on 17th April 2022.
I entered this race for 2020 as an F65 but C19 and its fallout meant I finally ran it in my new F70 age group.
The course is a one lap route out of the stadium, round a housing estate and back via a small park. The backdrop of the dockyard on the Firth of Forth is unlovely but on Sunday in a very warm setting the breezes from the estuary were quite welcome.
My main competition in the race was from a very speedy Ann White, Garscube Harriers, Scotland, also new to the age group. I recalled chasing Ann around the Cross Country courses of Swansea and Aintree in Home Internationals before Covid locked us all in. She was and is the one to watch.
Around 900 athletes filled the stadium for the 12.30pm start. It's difficult to get the nutrition right for a lunchtime race. Breakfast was some hours earlier so I couldn't eat again. Snacking on bars and bananas and keeping up the hydration was the best I could do.
I ran the first 5K in 22.46, probably too fast for a 10k race but I had to keep Ann in sight if I was to be a contender for the title. After that my average pace gradually slipped while she remained consistent. Anne finished in 71st place of 106 British Masters and gold F70 medalist in 45.49 which sends her to the top of the F70 British Rankings. I managed a short burst as we came into the stadium to finish in 77th place and second F70 in 46.54, silver medalist and 3rd place in the British rankings after Ann and Yuko Gordon, former Olympic marathon runner.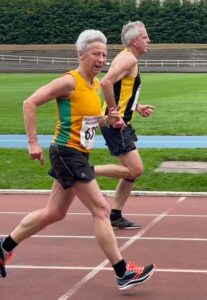 One Strider ran.
Postition
Cat
Time
Cat Pos
77
Dot Kesterton
W70
46:54
2
;
My thanks go to Falkirk Harriers who hosted a very efficient and well organised race.
Winner was Peter Avent, Shettleston Harriers in 30:23
First woman and course record went to Annabel Simpson of University of West Scotland in 33.25.
Alastair Walker, M65 earned a new age group World Record in 34:32.  For full results see http://bmaf.org.uk/results/res2022/2022_GBR_bmaf-10km_results.pdf