Race Date: Saturday 23rd April 2022
After some encouragement from Tim Holt (thank you so much Tim for getting me out of my comfort zone in the nicest possible way – encouragement!) I applied to be part of the relay team at the Road Relays in Sutton Park, Sutton Coldfield on 23rd April.  I wasn't sure I would be fast enough but then received an email saying I would be part of the FV65 team.  Each team had three runners who all ran one 5k loop each.  There were four teams, FV45, FV55, FV65 and MV55
After some questions about whether there would be a coach (there wasn't) Tim linked people happy to drive with people who preferred not to.  I was fortunate to be offered a lift by Lucy Broom who was also taking Steph Street.  Tim is great at organising I have learned!
I had not met Lucy before and was hoping we would spend the journey (about 1.5 hours) talking about the relays, how it all works , etc.  Basically I needed some tips!  Turns out the three of us were all new kids on the block for this event!
Here are my thoughts as a new kid on the block as it were!
Format thanks to the Saturday Guardian
My Blind Date with Road Relays
What were you hoping for?
To meet other Striders
To have a good day out
To not embarrass myself or let my team down (I realised I was running with Steph Street and Dot Kesterton – to say I was worried is an understatement.  (Update on this comment later.)
First Impressions?
Great arriving early (always works for me) and getting a good parking spot
Plenty of loos
The Striders tent – wow, never seen a muddy tent before but imagine that is due to cross country events – it was a cold morning though so I was glad to be able to change in there and leave my bag
Lots of runners around – all club runners, no fancy dress.  Wow this looks serious, should I be here?
What did you talk about?
Car journey going – all sorts, how long have you been a Strider, have you done this event before, how are you feeling (all of us it is fair to say were absolutely fine and relaxed until we turned off the motorway at Tamworth – then it was all about needing the loo and wondering what was going to happen!)
At Sutton Coldfield – warming up, shorts or not, how cold is this, how do the pens work for the change over, (what if I let the team down – this was me but I was very quickly reassured that this was about a day to have some fun and lets see what happens)
Car journey home – what an amazing day we all had.  The bling (more later).  The Cat Lane Canter the following day which Lucy was involved with organising.
Any awkward moments?
No, everyone was so friendly, encouraging, supportive – basically Steel City Striders!  How lovely to get to know a few more of you!
Best thing about the Road Relays
It all ran like clockwork – I soon realised I did not have to be in control of this at all, just had to follow instructions
There was chance for a warm up (with hindsight I needed more than a mile but I am inexperienced in this distance, I don't do Parkrun, I had no idea, similarly I had no idea what to eat and when.  I will learn these things, there is more to running than marathons!)
It was great fun
We won some bling!!
FV65 team won gold (Steph Street, Kate Waddicor, Dot Kesterton)
Dot Kesterton won gold for being fastest FV65
Steph Street won bronze for being third fastest FV65
Kate Morris won gold for being fastest FV55
FV45 7th place out of 19
FV55 5th Place out of 10
FV65 1st place out of 4
MV55 31st place out of 34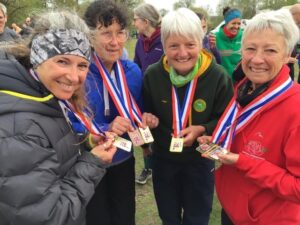 Striders Results:
| | | | |
| --- | --- | --- | --- |
| Pos | Name | Cat | Time |
| 7/19 | Fiona Jeffries | FV 45 | 22.58 |
| 7/19 | Sarah Moss | FV 45 | 22.28 |
| 7/19 | Lucy Broom | FV 45 | 21.08 |
| 5/10 | Kate Scott | FV 55 | 23.41 |
| 5/10 | Karen Clark | FV 55 | 24.22 |
| 5/10 | Kate Morris | FV 55 | 21.13 |
| 1/4 | Steph Street | FV 65 | 26.00 |
| 1/4 | Kate Waddicor | FV 65 | 26.59 |
| 1/4 | Dot Kesterton | FV 65 | 22.55 |
| 31/34 | Peter Brown | MV 55 | 23.20 |
| 31/34 | Andrew Rowland | MV 55 | 23.51 |
| 31/34 | Kevin Haighton | MV 55 | 24.46 |
Would you introduce the Relays to your friends?
The runners, yes.  Why was I worried?  It was just such a great day, everyone was friendly and supportive.  If in doubt, just do it!
Describe the Relays in three words 
Fun, Exciting, Worthwhile
What do you think the Relays made of you?
They gave me a gold medal so I guess I was okay!!
Did you go on somewhere?
We waited a long time for the presentations but that was good because it meant we could see the Men's race. (Sadly no photo opportunities).  It was getting late so we headed straight home after that
If you could change one things about the day what would it be?
Warmer weather!
(Personally – that I had not waited so long to get involved)
Marks out of 10
A solid 10
Would you do it again?
Yes, definitely, Tim – you can quote me on that!
Additional comments
I am so pleased that I said 'yes' to this!  I was worried, I have mainly been a solo runner for almost 40 years.  During lockdown I saw fewer and fewer people and have just become that runner who goes out and runs, enters races, turns up, runs then does it all over again.  I would not be so nervous in the future and would be more prepared to give things a go.  I would definitely encourage anyone who has not entered any of these events to have a go.  The community that is Steel City Striders Running Club is great, so friendly and supportive.  It is okay being part of a team, the main thing is to give it your best, no one will worry about it.  It is about running and having fun (winning is good too but the fear of not winning or letting the team down should not stop you (or me) having a go).
I need not have worried about being part of this championship and being part of the FV65 trio, Steph and Dot were wonderful team mates!
Interesting fact
Sutton Park was Dot's playground as a child!  It is a huge park with plenty to offer.
There was a great write up in Athletics Weekly!
Full results: British-Masters-Road-Relays-2022