Race Date: Sunday 18th April 2022
Some years ago we had more than a feeling that Boston Marathon would be good. It is one of the major marathons with London, Chicago, New York, Berlin and Tokyo.
It is relatively easy to get good for age. For instance , Male 60-65 has 3hrs 50mins which is achievable to most average club runners who can avoid injury and embrace the mind numbing relentlessness of marathon training. The only issue with getting there is the cost of the event ($270) and the obvious spend on a trip to Boston.
Boston marathon is the oldest marathon in the world, first taking place in 1897. It's a world renown run which has gained notoriety as a classic event while also being remembered for stopping women running in 1967 and having been subject to a terrorist attack in 2013. 3 striders attended this year to run the marathon, Luke Tipping, Darren Barnett and Richard Pegg. All qualified as good for age for the Monday marathon. Nancy Stuart and Richard Pegg also entered the 5k Saturday race.
The races are over Easter weekend. The weekend we attended was extremely busy with the running festival, Red Sox playing Minnesota Twins at Fenway, Celtics in basketball play offs and Bruins in Ice Hockey play-offs.
The 5k is run around the finish of the marathon. It's a great way to get into the running mood. It's well organised with an easy city centre course. Nancy and Richard ran it before getting an Uber out to Cambridge for the Danehy Park parkrun. A nice low key friendly run that would allow us to start extremely late!!
There was little socialising between Saturday and Monday runs unfortunately as runners were either cautious about not catching anything or already had something. No one tested positive for Covid while in the US. However, on return, there have been some positive Covid tests.
For the marathon, runners get shipped out to Hopkinson in hundreds of school buses from the city centre. At the start there are ample toilets and water before the waves of runners set off down the hill back to Boston.
At each town on the way to Boston there are thousands of residents line the streets. It's not one for a quiet low key trot into Boston.
The course is a challenge. It downhill for a lot of the way until it opens up into some nasty hills, including one called Heartbreak Hill (to be fair nothing like Blake Street). On the day of the event we ran into a cooling strong breeze with bright sunshine on our backs. So we returned home with sunburn on one side of our bodies!
At the end our runners got stuck into ample liquid refreshment at the Sam Adam's tap room and the Lansdowne Public house at Fenway. Unfortunately Darren did not meet us as he was delayed from the hotel and had to get his flight back. Luke, Richard, Nancy and Luke's partner Meghan enjoyed being treated like heroes at the Lansdowne where rehydration was achieved.
For the record…
Marathon
Male winner
Evans Chebet of Kenya 2hrs 6mins
Female Winner
Peres Jepchirchir of Kenya 2 hrs 21 mins
Our participants results
Luke Tipping 2hrs 44mins
Darren Barnett 3 hrs 17 mins
Richard Pegg 3 hrs 51 mins
5k
Male Winner
Charles Philibert-Theboutout of Canada in 13mins 45 secs
Female Winner
Senbere Teferi of Ethiopia in 14mins 49 secs
Our participants
Nancy Stuart 30mins 21 secs
Richard Pegg 27mins 43 secs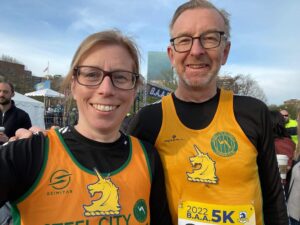 All in all a fantastic trip recommend to anyone who can pay out extortionate money and, in this case, suffer from sunburn bordering on sunstroke, exposure to Covid germs and stinking hangovers.
Full results: Here