Saturday 16th July 2022 
Dingle Peninsula , Ireland
Report by Jane Huws
We were planning a family holiday touring round Ireland in the campervan and the teenagers decided they wanted to do a race.  There was a surprising dearth of races to pick from.  Quite a few in Dublin and a few marathon and endurance events, but not many 10k  or similar.  It makes me appreciate our easy access to a vast array of races.  I found Brandon Bay race -I'd never done a race on a beach and it seemed fitting for a summer holiday so we picked that one.
MY training ticked along as usual.  The younger teenager (16) who had done 2 parkruns ever was a bit distracted by GCSEs and only managed a 1.5 mile run beforehand 'just to see if he could run'.  At this point I was wondering if the entry fee was money well spent.
On race day we rocked up and parked in a field.  It was sunny, everyone was very friendly and because we had a toilet in our van, I can't comment on the toilet queues.   It was a small event.  There was a Half Marathon setting off before us and the 5k and 10k set off together.  Due to the tide, the race didn't start til 11.30.    It was hot.  But the scenery was amazing – a a massive bay, edged by mountains in the distance, and blue sea.   Glorious !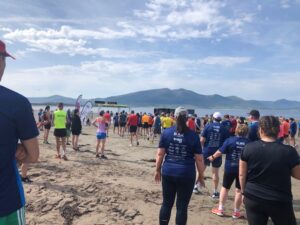 It was a there and back race – 3 miles out and 3 miles back.  A bit tough on my motivation.   I focussed my mind on getting to the cars parked on the beach which meant 'drinks station'. Most of the sand was quite hard packed so it wasn't too energy sapping.   Younger teenager struggled a bit for the first half, but then caught us up.   Older teenager was doing OK until about 5 miles and then faded.  Muttering 'mum, wait'.  It was at the point when I would have naturally picked up the pace a bit to use up what was left in the tank but for family harmony, I held back.    We came into the last 200m as a family group of 3.  Lovely I thought.  But wait… they started sprinting.  By the time I realised what was happening, I didn't have time to catch up, and they beat me by 6 seconds.  Next time I won't wait.     Soup at the finish.  Medals were delayed at the manufacturers and will arrive in the post (possibly)
If you're in Ireland I'd recommend this race.  Low key (only 218 did the 10k) and friendly and a great excuse to see amazing scenery
The race was won by Brian Sheedy MSen (Ennis Track) in 38:55 and by Susan Glennon FSen (Mullingar Harriers) in 44:11.  I was the only Strider.