The Yorkshire Vets' Athletics Association holds a range of championships each year for members of affiliated clubs aged 35 and over, which includes Steel City Striders. Our very own Richard Pegg organised the Cross Country Championship at Norfolk Park back in March, very successfully; more recently, the 5 Mile Championship was hosted at the Brontë 5 (or "Full Brontë") in Haworth.
As a club with runners covering the full (adult) age range, I really think we should try to have more of a presence at these. They're always friendly events that do well to encourage and celebrate the achievements of runners who aren't 25 anymore. With trophies for the top three men and women in five year age bands, there are good opportunities to bring home a memento too. It would be great to add some more names to the Steel City Striders roll of honour on the YVAA website. (I should declare an interest at this point: I'm on the YVAA committee.)
The only downside is that Yorkshire's quite big, and a lot of the events are just that bit further away. Nevertheless, I suggested going to this on Facebook, and Kate Scott said she was up for it. So we signed up and then on a Thursday evening found ourselves setting off stupidly early for a 50-mile trip to allow for traffic around Leeds. On arriving at Haworth Cricket Club, the event HQ, we had the pleasant surprise of finding Karen Clark had made the trip too. So the Striders squad was small, but with plenty of quality (on the women's side at least).
Before the race could start the field was walked a few minutes down the road to a particular manhole cover that served as a start line. The course turned out to be lovely, two laps around rural lanes with a particularly beautiful view of a reservoir at one point. It was undulating. Each lap began with an uphill drag that then eased off before striking back with a final 300m wall at 10%+. Rumour has it there was some walking on that section, but I wouldn't know anything about that.
At most races I do, I'm more interested in time than position. Here, having scraped a couple of 3rd places at YVAA championships before, I felt like I was in a race (even though I knew I'm a lot less fit now than then). Every time I passed someone, I tried to get a good look at their face, to judge how old they were and whether we might be in direct competition. I was happy enough with my run, breaking my 5 Mile PB by a minute, but only because the only other time I've done a 5 mile race I spent most of the day in bed with a temperature first. But on this occasion it would've taken a ~29 minute run to win a M40 prize, which is well out of my league, so I needn't have put so much thought into guessing people's ages.
However, the main event for us was the F55s, so once I'd finished I quickly headed back to the spot where the course entered the run-in to the finish. I knew the winning F55 time in previous years had been just under 40 minutes, and right on schedule Kate appeared, with no obvious competition to sprint against. Another woman of about the right age appeared about a minute later, then Karen, pursued by someone who looked younger, but you never know. Kate and I screamed encouragement at Karen, who seemed to lift her pace and just hold off the charge. We thought maybe our support had helped her hang to her place, and just maybe to a podium position. It turned she was completely oblivious, and had no idea she was in a sprint finish. The other woman, unsurprisingly, turned out to be an F40. But it all added to the excitement.
There was then a nervous wait for the prize-giving, as officials checked the results and tried to pick out the runners eligible for the championship. When the prizes were handed out, they didn't all go to the right people, partly due to some number-swapping, partly due to half a dozen runners who'd failed to indicate their eligibility on the entry form. Not ideal, but it all got sorted out later. When the dust settled, Karen had come 3rd in her category (shown here with a nice 2nd place trophy as a prize), and Kate was confirmed as this year's Yorkshire Vets' 5 Mile champion. I was left deservedly empty handed.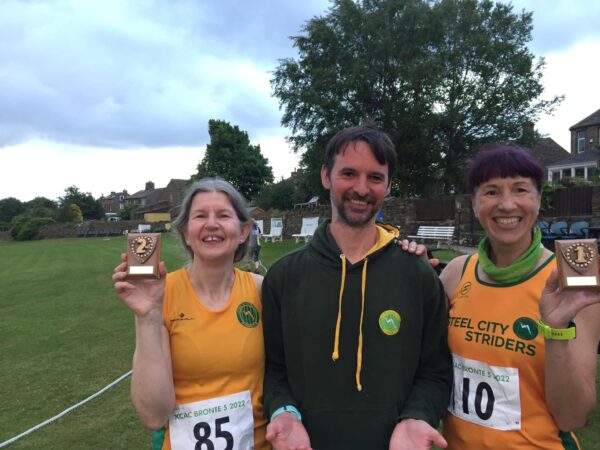 The full Brontë 5 results are here, and the Yorkshire Vets results are here. Thomas Hodgson of Halifax Harriers was 1st male in 27:35. Helen Smith of Ribble Valley Harriers was 1st female in 29:55.
| Pos | Cat | Cat Pos | Name | Time |
| --- | --- | --- | --- | --- |
| 31 | M40 | 6 | Tim Holt | 35:33 |
| 67 | F55 | 1 | Kate Scott | 40:13 |
| 76 | F55 | 3 | Karen Clark | 41:59 |