Race Date: Saturday 18th June 2022
Buckden Pike is usually a very quiet fell race that is incorporated into the Buckden Gala (make sure you say Gala like Gayla otherwise you will be corrected by a local). It usually has about 70 entrants in total. However, this year it was chosen to be in the English fell race champs so we ended up racing against the best of the best.
Official distance was 3.7 miles (6km) with 1594 ft (486m) of climb. To put it bluntly, it was steep! The women's race went first and we watched them struggle up the hill thinking, 'OMG, what have we entered this for, we could be having a pint!'. At this point, I'd like to point out that there were 23 of us on this weekend away, 5 had entered the race but only 3 ran! The rest decided to be the support crew. You judge them as you think fit 🙂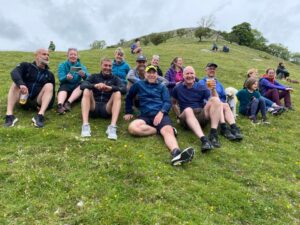 The race route goes like this – massive up, up again and up some more (2 false summits) then flat followed by a long and very steep descent. To finish, you must hurdle a wall on jelly legs and run into the finishing funnel. I thought it was hilarious. Not sure Warren did. The supporters decided to do some auditioning for specsavers (see Rob's video: https://www.facebook.com/robert.davies.14473426/videos/5422514241138094
The men's race was won by Finlay Wild (Lochaber AC) in a new course record of 30.39. The women's race was won by Hannah Russell of Helm Hill in 37.11.
Striders results:
| | | | |
| --- | --- | --- | --- |
| Pos | Name | Cat | Time |
| 185 | Nick Burns | MV 50 | 48.41 |
| 205 | Warren Brown | MV 50 | 51.22 |
Full results: