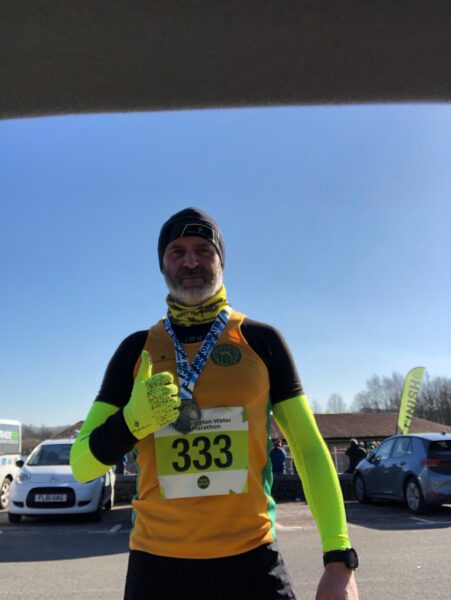 Race date: 27 February 2022
Race report by Des Ryan
The Carsington Water Half Marathon & 10k event was run on both Saturday & Sunday. I was scheduled for the Sunday Half Marathon.
The weather was amazing. Blue skies, sunshine & a slight breeze. The drive to Carsington was epic…..beautiful scenery bathed in morning sunshine.
As I approached Carsington I realised 'wow that is a big lake'….a bit bigger than Rother Valley 😂
Got parked seconds from race HQ, so number collection was simple. There was a lovely buzz there, chatting runners, supporters, kids & dogs.
I sat in the car for a bit, energy gel, some banana & water. I opted to bring a full water bottle because was not entirely sure of the water station situation. Some gentle stretching then off for a half mile warm up run around the car park & to the loo. Classic PA system 'boo boo ba boo'….no idea what was said so started running when the people in front did 😁
The first mile was tough (always is)….hard packed gravel, muddy stretches and unexpected 'undulations'. Quite a few walkers, cyclists and a giant horse 😂 But everybody giving each other room.
I was aware of the beauty around me but couldn't quite embrace it due to putting in run effort.
I started the run wearing hat & gloves but they came off within the first mile. Soon after I was thinking that my race vest only would have been better. It felt like mid-summer in sections. At least I was wearing shorts.
We sorted ourselves out quickly with one group about 50m ahead. I had a guy using me as a pacer for 10 miles which was a bit distracting given he was really really close…..but I took us through some big puddles that I jumped and heard a satisfying splash & squawk 😁
Coming towards the end of the lake circuit was via an exposed path….lake to the right, and drop to road on the left. The breeze was noticeable here (coming from my right) so positioned myself so my tailer couldn't use me to shelter 😉
Back through the carpark, mile 8, we then charged out onto the 'out & back' 10k route. This was tough because I knew what lay before me. My tailer took the lead at mile 10, just before the turning point. At the turn I finally saw what my tailer looked like….no further comment 😂 The final 3 miles were tough but that last mile was 'its ok to walk a bit' but no, what kept me focussed was the fact I was wearing our club colours…..💪
Some really muddy sections on the final charge in, but glad I opted for road running shoes. Final push to the finish line and yes made it in a respectable time. Water, jaffa cakes, requested 3 finishers medals….because that's what it felt like. A firm no received 😂 5th in age group made me feel a bit better and I know other Striders did really well over the 2 days 😊
I found the undulating course really tough, but will go back to do a steadier training run and appreciate the scenery in due course.
I chatted to some Striders before & after the race and to be honest seeing other Striders on the route was awesome 😁
Race winners were as follows:
Saturday 10k: William Hunter, unattached, 36:40; Charlotte Buck, Redhill Road Runners, 43:25; 248 finishers
Saturday half: Andy Harding, Heanor AC, 1:13:44; Anna Harding, Belper Ten Twenty Triathlon Club, 1:40:08; 258 finishers
Sunday 10k: Matt Draper, unattached, 41:08; Sarah Earnes, Totley AC, 42:46; 108 finishers
Sunday half: Daniel Soltys, unattached, 1:16:28; Amy Wheeler, unattached, 1:36:49; 159 finishers
Striders results
Saturday 10k
| | | | | | |
| --- | --- | --- | --- | --- | --- |
| P | Name | Cat | Time | Cat P | Gen P |
| 147 | Georgina Bell | FV50 | 1:01:23 | 5 | 50 |
Saturday half
| | | | | | |
| --- | --- | --- | --- | --- | --- |
| P | Name | Cat | Time | Cat P | Gen P |
| 13 | Wei Chen | MV50 | 1:32:24 | 3 | 13 |
| 90 | Karen Clark | FV55 | 1:53:23 | 2 | 17 |
| 208 | Nicole Nield | FV65 | 2:21:36 | 1 | 70 |
Sunday 10k
| | | | | | |
| --- | --- | --- | --- | --- | --- |
| P | Name | Cat | Time | Cat P | Gen P |
| 58 | Caroline Barnsley | FV40 | 00:58:24 | 5 | 28 |
| 60 | Corinne Howse | FV45 | 00:59:11 | 5 | 30 |
Sunday half