Race date: 6 November 2022
Race distance: 6 miles / 274m ascent
Report by Matt Broadhead
Lots of people don't like lap races because they're boring and dispiriting. I disagree: they're great. You always get a load of PB segments the first time you run it, and psychologically it provides useful milestones as well as letting you know where the easy bits will be so you can aim for the next rest.
Talking of disagreements, according to the Striders Trail Championships website's description of this race, "they call this a fell race, but we disagree". No wonder (SPOILER) Meltham AC didn't give us any prizes, with an attitude like that. I didn't know it was in the trail champs or that I didn't agree it was a fell race so I did it in fell shoes and they were perfect.
After a jolly journey to Meltham with Jim, Laura and Kev, we followed a sign that said "numbers and chips". It had been a while since breakfast, so I was gutted wihen it turned out to be just numbers. They gave me a particularly cool one though. (I ended up beating number 86 by 59 seconds.)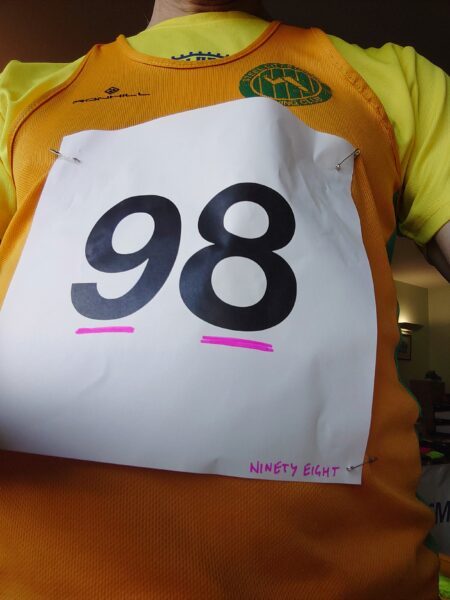 Once we'd been sent across the start line and then sent back so they could see how many of us there were, we went across it properly and into the bottlenecky first bit of the lap, which waves around a selection of little trails and steep fields to the top of the course, before turning left across a dam wall and then a very greasy, grassy and evilly cambered field that you had to do in both directions to make sure each ankle got a turn. A buzzard circled over us as we climbed, waiting for one of us to die. By the time we got to the top it was below us, and although I waited in turn for it to die, I was forced to go on without my mid-race carrion. Once you're out of the field and over a very slippy ruined wall, the last mile of the lap is a dead straight mad dash down the hill broken only by the fact some twerp had parked a pickup right across one of the gates. The momentum was so great that I got a couple of hundred of yards into lap two without realising, then promptly fell over.
The climb on lap two was slower even though I wasn't stuck behind anyone, because I'd given it a fair bit of welly on the first go and I was tired. When the rain started at the top it was a bit of a relief and I did manage a faster downhill than lap one. At the bottom this time, we turned right, back toward the start and into an uncomfortably long sprint, with just enough blind bendiness to convince you you're almost there and Steve Frith to make sure you smile. I could hear someone close behind so I just flung myself at it and somehow stayed ahead.
This was my second Meltham race, and they have both involved bewildered horses, burning smells and fast downhills. Although lots of the course was unmarked and there were quite a few minor road crossings, there were lots of marshals and no chance of getting lost. I would recommend starting near the front if you're looking for a decent place, because a lot of the first mile is narrow. Fell shoes were probably about right for me, because I have a tendency to slip and slide, but trail would have been OK and maybe even road if the ground were dry.
After all the Striders had come in, we shuffled off to the bar (clean shoes only please) for our no prizes. To compensate, we gorged ourselves on competitively priced cake in preparation for the car cake which is an excellent feature of any race travel with the Rangeleys. Then it was back over the hills, planning our trip to the Meltham (Tough) 10k in January. Striders website reckons it's dead easy that one.
Footnote: this was the Yorkshire Veterans' Athletics Associations fell championship race. So definitely a fell race.
The race was won by Jordan Eastwood of Slaithwaite Striders in 38:34 (4th place was 38:40!) and by the very H-ey Helen Haigh of Holmfirth Harriers in 45:32. 160 runners finished.
Striders results
| | | | | | |
| --- | --- | --- | --- | --- | --- |
| Pos. | Name | Cat | Gen P | Cat P | Time |
| 12 | Seth Kirby | MS | 12 | 6 | 42:58:00 |
| 20 | Neil Schofield | MV50 | 19 | 6 | 46:00:00 |
| 50 | Ian Stinson | MV50 | 44 | 11 | 51:32:00 |
| 53 | Robin Nelson | MV45 | 47 | 6 | 52:01:00 |
| 66 | Paddy Treehowes | MV55 | 57 | 5 | 53:35:00 |
| 74 | Laura Mella | FV35 | 14 | 4 | 54:39:00 |
| 79 | Matt Broadhead | MV45 | 64 | 10 | 55:32:00 |
| 83 | Jim Rangeley | MS | 66 | 14 | 56:12:00 |
| 109 | Helen Royles-Jones | FS | 27 | 5 | 01:00:01:00 |
| 123 | Kevin Haighton | MV60 | 91 | 10 | 01:03:17:00 |
| 137 | Christine Booth | FV45 | 39 | 9 | 01:06:46:00 |
| 149 | Elisabeth Briggs | FV35 | 47 | 5 | 01:09:37:00 |
| 152 | Nada Ross | FV55 | 49 | 5 | 01:11:51:00 |
| 154 | Laura Rangeley | FS | 51 | 10 | 01:14:20:00 |
| 157 | Nicole Nield | FV65 | 53 | 4 | 01:16:21:00 |
Full results: https://racebest.com/results/r86k4