Report By: Tessa Bainbridge
Race Date:  13th August 2022
When I first looked at this event on the internet words like 'summer trail', 'lovely' and 'beautiful' popped out at me from the page and I signed up straight away. I ignored other words such as 'challenging', '840m ascent' and 'navigation skills desirable', so once I reread the event page in more detail, and as race day approached, I had plenty of pre-race nerves and moments of 'what was I thinking?!'.
Race HQ was at Holmesfield Village hall, which had plenty of parking, toilets and, most importantly during an amber heat wave warning, shade! The organisers had brought the race start forward slightly to 8:45am in the hope that we would all be finished before the day's temperatures hit 37 degrees C as predicted, and before the 7 hour cut off time. The mandatory kit had also been changed from waterproofs to sunscreen and a minimum 1 litre of water.
Prior to the day we were all emailed a gpx file and printable maps of the 20 mile route. The majority of the route is unmarked except a few places where multiple paths converge, in which case there were very small orange arrows we had to spot to ensure we stayed on track. There were also honesty books at two places on the route to make sure we did not take any shortcuts, as tempting as that was at times! This was a new thing for me so I was quite excited to find out it was just a random novel tied to a post which I had to rip a page from (this felt disproportionately naughty, I mean who rips pages from books!) and then hand to the next marshal.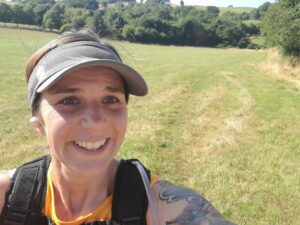 There were two checkpoints on the course at 8.5 and 14.5 miles, and as an extra precaution on the day a team drove around the route with a plentiful supply of water for runners. The checkpoints were very well stocked with an array of snacks including chocolate bars, cake, sweets and fruit along with energy bars and electrolyte tablets.
A brave group of 30 runners started the race and 30 runners completed it, which in the heat was a brilliant achievement for all. There were points in the race when I felt so happy and like I was having the best time of my life. We ran along beautiful fields and woodlands on trails and paths which tooks us around the Cordwell Valley and over to Linacre Valley and back; there were stunning views all round!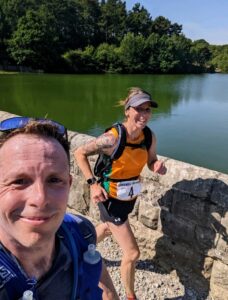 The last 5 miles were when I needed to dig deep, with the heat becoming stifling and I am sure my feet actually got heavier. However, I was determined and managed to keep running for more of the final hill than I walked, until I pulled out a slow sprint to the finish line. The final section of the run followed the Dronfield Way route so I was familiar with that last hill.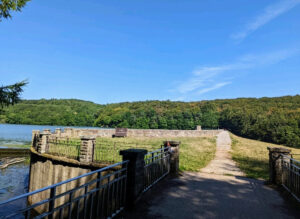 We were greeted back at the village by a good supply of food and drinks and a lovely medal which we could all wear with pride.
The Cordwell Colossus is organised by First Light Active, a small independent event company, and I was very impressed with how well the race was organised and by the supply of food and drinks, did I mention there were lots of snacks?! I would happily do the race again and hopefully won't be the only Strider next time.
First home was Michael Kenyon in 2:57:20 and first lady was Collette Gains in 3:36:50. Tessa was an excellent 6th and second lady in 3:59:52.
Link to full results here.
| | | |
| --- | --- | --- |
| Pos | Name | Time |
| 6 | Tessa Bainbridge | 3:59:52 |