Sunday 6th March 2022
Report by Jane Huws
This was the first race I'd done by Dark and White Peak Events.  They are really popular with a relatively small field so entries get snapped up quite quickly.  (not talking Percy Pud quickly, but still).  There were 2 distances – 3.5 miles and 9 miles both starting and finishing at the same place in Cave Dale, just above Castleton.   The majority of runners did the longer route.   Kit lists sent out before the race were ignored by some runners who were convinced they weren't going to need any full leg covering or jacket.  There were some disappointed runners who weren't allowed to start.  The poor lady on the start was having a difficult job.
The weather was fantastic – cold and windy but bright, and the views were long.  I felt like I hadn't seen the White Peak for ages and it was glorious running.  Jo Gleig and I were doing the shorter course and we both really enjoyed it.   Gradual hills, short cropped grass, a track, a bit of mud, and a lovely tricky rocky downhill finish.  The runners who did the longer course mostly looked very happy too (possibly a bit muddier).  5 Striders ran.
It was really well-organised – parking, good facilities, range of dietary options for cake/crisps – the important things covered.    There were quite a few people on the longer course who were disqualified for cutting off 1 mile of their route.  I'm not sure how that happened as our route was well really well signed.  I rushed home to sign up for more of their events.    Thanks Dark and White Peak  for finding my mojo.  Photo of Jo coming into the finish.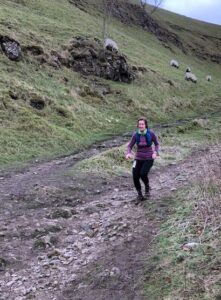 Long
15km 384m
Pos
Name
Class
Time
Award
7th
Michael Cockings
Long MV40
01:15:37
Gold
82nd
Sally Twigg
Long F
01:44:06
Silver
98th
John Armitage
Long MV50
01:49:20
Bronze
Short
5.6km 183m
Pos
Name
Class
Time
Award
11th
Jane Huws
Short FV50
00:44:24
Silver
18th
Jo Gleig
Short FV60
00:47:38
Silver
The Winner of the Long Course was Andy Harding (M) of Belper Ten Twenty Tri Club in 1:04:49.  First woman was Helen Thompson (F) of Poynton Runners in 1:23:01.  The winner of the Short course was Szilard Krizmanics (MV40) in 25:41.  First woman was Helen Longden (FV40) of Totley RC in 31:50.