Sunday June 19th
Report by Jo Gleig
This was a Dark and White Peak Events Trail race- there was a short and a long route, which is how they usually organise their races. This time, short was 7.45 miles, with 974 feet of elevation, so worth driving to Hayfield for. (as past short routes have only been about 4 miles). The Long route was 15.7 miles, but Pippa Moorhead, Jane Huws and I opted for short route, just long enough for a hilly run at a busy time of year running wise. Alyson Evans did the long route
It was well organised as usual, register and collect map and dibber, and set off within a 20 minute window, so quite laid back. The first mile was flat, along the Sett Valley trail, so a good warm up, before the route began to climb, firstly on a road, then a rocky bridleway. After 4 miles we turned off to the south up to Chinley Churn, all on rocky-ish trail. At this stage runners from the long route started to pass, who had started earlier and done a northern loop first, around Rowarth. This made it a bit more interesting and meant you could see how fast it was possible to go, so actually spurred you on a bit!
After the summit at 5 miles, there was a great descent, which was very runnable, back down to the Sett Valley trail, then back to Race HQ at the Scout Hut at Hayfields, where there was cake, crisps, drinks and free t shirts from past years events. (PS Jo didn't mention that the very runnable descent was actually very steep and led to painful quads next day for me anyway – Jane)
It was a good morning out, with a chance to see a different area,- a bit of a drive, but we all had an enjoyable run, in nice cool weather.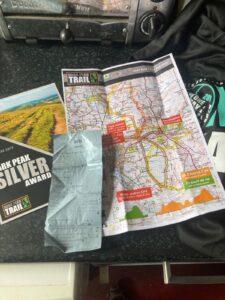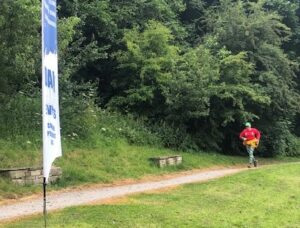 They split the Awards into Gold, Silver and Bronze based on times. Jane and I got Silver, and Pippa and Alyson got Bronze.  So 4 Striders ran.  157 runners competed on the Long Course and 70 on the short course.  Long course was won by Phil Larratt (MSen) (Chorlton Runners) in 1:55:23, and by Stacie Hodge (WSen) (no club) in 2:25:56.  Short course was won by Matt Crabtree (MSen) (no club) in 56:16, and by Eloise Billington (FSen) (Vegan Runners) in 1:12:38.