Sunday 3rd April 2022
The third and final event in the Spring Series was held over in the Staffordshire Peak District.  Jo Gleig and I did the short course (6.6k) – a route round Tittesworth Reservoir.  The long course (16.8k) then went up the Roaches.   We got entries from the waiting list (definitely worth putting your name on the waiting list as entries seem to come up without fail)   Although on the map it looked like a fairly tame route, the roller-coaster hills were fairly demanding, at parkrun pace.   Weather was great for us later starters -a great morning out.  Points for the series have been added up,  and congratulations to Jo for her FV60 Short Course Series win.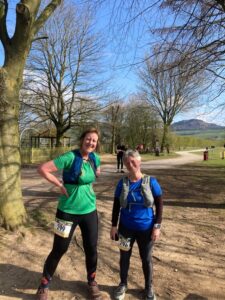 The Short course was won by Szilard Krizmanics (MV40) (no club) in 27:10s, and by Wendy Swith (FV50) (Staff Moorland AC) in 29:47.   2 Striders ran.