Sunday 16th October 2022
Report by Fiona Tweedie
This a trail half marathon by Trail Outlaws from Lauder to Melrose via the Southern Upland Way, in the Scottish Borders,  plus a loop to the top of Eildon North hill.  The weather the night before was horrendous with gale force winds and driving rain, but the day itself was dry, bright and cold, if still windy.
This was the first race I'd actually repeated, and I'd had a consistent few months of training, so I was hoping to improve on last time.   Registration in Melrose, then bus north to Lauder and a mass start at 10am.   Straight up a hill to the west and into a fierce headwind.   Meep.    A mile or two later we found ourselves in a big queue for a trickier-than-usual stile.   The route south is beautiful, particularly after we turned south and the headwind became a crosswind. T  rees turning red and orange, blue skies, rolling countryside (think Peak District).    I'd been so convinced it was going to be cold that I forgot we were running south, into the low sun and a visor would have been helpful when shifting in and out of sunlight and shade when the path conditions were variable – lots of mud after the rain and also stony sections.
We ran south on the Southern Upland Way (check out GB Ultras Race Across Scotland if you want to do it all at once!), which at some points is VERY straight.   Then I realised we were heading directly for the former Roman Camp at Trimontium, just to the east of Melrose.  We had to be running down a Roman Road, almost 2,000 years after folk probably ran down it with messages etc!
The route then drops to the Tweed, which was really high, and while it's flat for a period.  There were lots of tree roots to avoid, and places where you wanted to make sure you weren't about to fall in the swift-flowing river.   Across the Chain Bridge and within sight of the finish, but then we turned east along the river again before heading up Eildon North.    I found the hill way harder than I'd anticipated.  In 2019 they had dropped loads of boulders on the path which we had to climb over.  This time they were turned into helpful steps. As I approached the top I realised the surprisingly speedy runner behind me was the sweeper and I was last (again!)   This was not part of the plan – I was supposed to be better than last time.   But, I did get to the top and met the lovely people from Borders Mountain Rescue who were marshalling.   I must have recovered some sort of second wind because I overtook three people on the descent and finished strongly in 3:53.   Half an hour slower than in 2019 when I'd really hoped to be faster.   Ugh.   Shiny medal with Melrose Abbey, plus T-shirt and bag
However, one of the reasons for running this was to see if I had endurance to run a 29 mile trail marathon at the start of November.   So, after a very welcome full-fat Coke and a sandwich, I headed off back to the hotel along St Cuthbert's Way, and finished the day on 30km.   I was really down about the result, but was reminded that half marathons and 29 mile runs were different sports, and I finished the 30km strongly and could have continued. So, I'm planning the ultra    it was my first run over marathon distance back in 2018 – will report!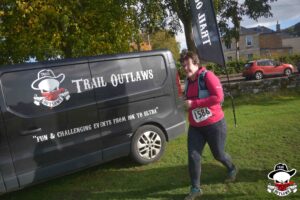 The race was won by Edward Wellmore (no club listed) MSen in 1:48:12, and by Linda Duncan (no club listed) WSen in 2:09:08.  One Strider ran.
Pos
Name
Class
Time
124
Fiona Tweedie
W50
03:35:12