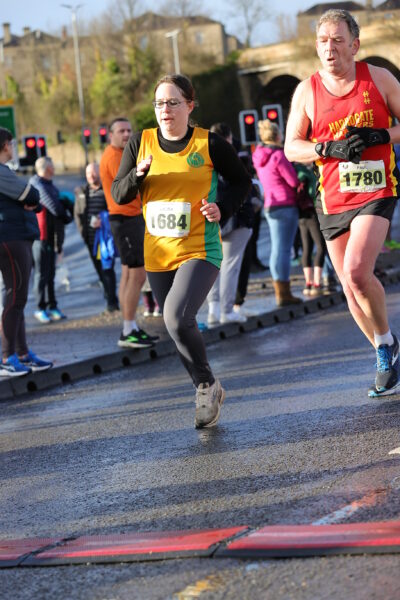 Race date: 6 February 2022
Race report by Laura Rangeley
"You get to run on a dual carriageway to Batley and back. You'd be an utter fool to miss it." How could I NOT be tempted by the Dewsbury 10k after this review from the inimitable Rosie Smith?! This race has been on my radar for a while, known for being fast, flat and with great PB potential, and having hit good form (for me) over 2021 I was keen to give it a go. Race prep didn't go quite to plan however as the day before we were invited on a boozy day trip to Nottingham. Beer is a carb at least, so a jolly time was had followed by a surprisingly sensible train home – clearly I'm taking this running lark pretty seriously!
The day dawned a little brighter than expected following a stormy Saturday, blustery but nearly sort of dry. There was no real race HQ to speak of, just a row of portaloos and a few flags marking out rough starting areas, but nonetheless there was a nice atmosphere and plenty of friendly chat as we waited to set off. As 9am approached, the sky darkened and rain began to fall, coupled with some almost gale force gusts of wind which accompanied the start of the race as we began to heard north out of Dewsbury. The weather dampened my expectations somewhat and I decided I'd be more than happy with a sub-55, 2.5 minutes slower than the PB achieved at 2021's Percy Pud.
I managed to not get carried away and set off at a sensible pace, possibly a race first for me. As I hit 1 mile down, I heard a familiar voice call "Go on Laura!" and spotted none other than Dave Birch, who I am beginning to feel is a miraculous mirage that my brain conjures up every time it needs a bit of encouragement as I am sure Dave is at all the hardest bits of every race I do! (Thank you Dave, if you're reading this!!)
The course was actually a bit more picturesque than I'd been anticipating, there were even some waterfowl to look at around the half way point and plenty of pockets of support including some brilliant drummers and great marshals throughout. And I may be in the minority here but I love an out and back course, probably because I'm very nosy and like to spot Striders whizzing past in the opposite direction – I spent kilometres 3.5-4.5ish competing for the "loudest yell at clubmates" prize with an equally enthusiastic Rothwell Harrier.
A drag which felt much more uphill than it should have (possibly due to a still very horrible headwind) took us to the 5k point, and I was on track for a somewhere-around-PBish pace and feeling strong, so tried to keep it consistent as I headed back towards Dewsbury town centre. A minor setback occurred at the 6.5km mark when another runner tripped me up – I managed to avoid going completely flat on my face but it knocked me off my stride a little. Luckily, there was the lovely Dave again, who I am sure I could hear throughout the entirety of the last km! I had enough left in the tank to pick up the pace and crossed the line in 51.42, a 48-second PB and a time I am still genuinely astonished by. I wasn't the only Strider ringing the PB bell either – 15 of us took part, and I know of at least 5 including myself who achieved a personal best. Well done, everyone! We were rewarded with a fetching orange t-shirt and a Dewsbury Road Runners water bottle.
It seemed a very competitive field with a lot of exceedingly speedy runners participating. The race was won by Joe Sagar of Spenborough & District AC in 30.37, with Rhianne Hughes of Leeds City AC being first female (34.33). First Strider across the line was Liam Walker in 33.07. 2026 runners completed the course.
Striders results:
| | | | | |
| --- | --- | --- | --- | --- |
| P | Name | Cat | Time | Cat P |
| 18 | Liam Walker | MSEN | 33:07 | 13/229 |
| 52 | Paul Middlemas | MV40 | 34:11 | 10/191 |
| 116 | Adrian Fisher | MV45 | 36:08 | 8/198 |
| 132 | James Fulcher | MV35 | 36:31 | 26/178 |
| 212 | Tom Bassindale | MV45 | 37:56 | 21/198 |
| 320 | Ben Stittle | MV35 | 39:39 | 48/178 |
| 358 | Alex Shepherd | MV50 | 40:22 | 28/165 |
| 509 | Peter Keats | MV45 | 42:33 | 65/198 |
| 519 | Bethan Varney | FSEN | 42:46 | 27/153 |
| 611 | Matt Broadhead | MV45 | 44:03 | 74/198 |
| 737 | Jim Rangeley | MSEN | 46:06 | 168/229 |
| 753 | Paul Mcwhirter | MV40 | 46:25 | 123/191 |
| 1132 | Laura Rangeley | FSEN | 51:42 | 79/153 |
| 1360 | Caroline Brash | FV45 | 55:14 | 69/152 |
| 1562 | Ruth Tucker | FV35 | 59:10 | 88/144 |
Full results: https://racebest.com/results/xw2az