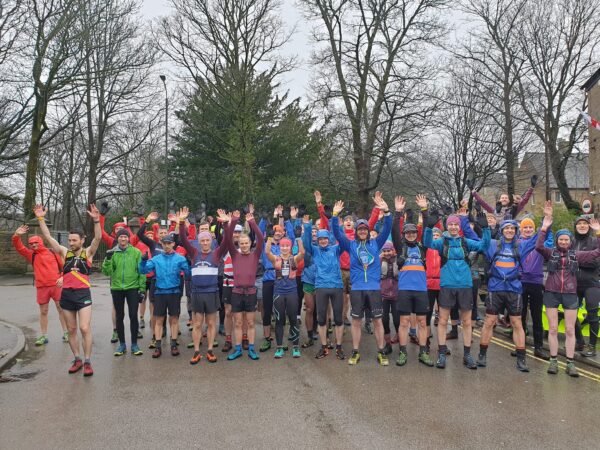 Race date: 20 February 2022
Race distance: approx 6¾ miles
Race report by Matt Broadhead
Before the start of this race I was discussing with another runner the fact that it had been shortened from the intended 20k-ish, for reasons of access (Natural England were concerned about erosion). I couldn't decide whether I was disappointed, given the weather. In hindsight, this indecision was naive.
The drive from Sheffield to Glossop over the Snake Pass was rotten. There was water everywhere after days of storms, and I ended up driving across Ashopton viaduct on the pavement because there was so much standing water. I do not know how you flood a viaduct. Best ask the highways people. Later in the day the road would be closed. It still hasn't reopened owing to damage.
The weather in Old Glossop (best said in a pirate voice) was quite a relief. There was very little rain, and it was quite warm as I compared Snake Pass notes with Gillian Allen and Rosa from Totley. The race organiser warned us of grim conditions up top, as reported by marshals, but at least one runner decided to go for it in a vest. I went with shorts and waterproof top, but fully expected to overheat and have to lose the waterproof a couple of miles in. This did not happen.
The new route was an out-and-back with a bubble in the middle. The outward leg was pretty much the same as the Shelf Moor Race, which I did in 2018 and enjoyed. It's fairly gentle farm-track and path to start, before a stinker of a climb up something called James's Thorn, where you pass one of the Peaks' old plane wrecks. That was the point where a marshal shouted "it levels out soon" before throwing us into one of the toughest terrain/weather combos I've encountered. There was a relentless wind throwing rain that felt like hail sideways into any exposed skin, as you tried to find a balance between the solid skiddy bits and the not-solid calf-deep bits, all the while trying to stay upright and not lose sight of the runner in front.
Eventually we hit the top, the Higher Shelf Stones, where two marshals (The marshals for this race have my absolute respect, they were out in some properly vile weather.) huddled in the lee of the stones and I almost didn't manage to touch the trig point because of the wind. According to Andy Buck's 2017 Shelf Moor report: "The views from the trig point there on a clear day are quite extensive." No doubt.
Up to now I'd been quite close behind Gillian, but as soon as we hit the turn-off for the return part of the "bubble", which was a perilous descent I only didn't fall down because the wind held me up, she was away in a display of extraordinary and terrifying hurtling, while I concentrated on not losing my footing, my way or my hat. I soon hit the bottom, only for the race to throw one last nasty my way. The lovely farm track from the way up was now a gnarly knobbly thing that stuck its nasty knees into my aching feet at every stride, determined to keep me from finishing.
But eventually it was over, and I could start remembering how much I enjoyed it. I collected my complementary soup and stood in the drizzle outside the pub, wondering how on Earth I was going to get home…
61 of us made it round. The fastest was Chris Phillips of Saddleworth, in 50:19. Fastest woman was Martha Tibbot, also of Saddleworth, in 55:34. Strider Gillian Allen was second woman home in 1:12:01.
For the avoidance of doubt, thank goodness they shortened it. It was ace though. And vest guy did the whole thing in his vest.
Striders results