Dovedale Dipper Trail Race – 26-ish or 15-ish miles
Saturday 6th August 2022 ,Hartington, Peak District
Report  by Abi Norman
This was the first year Peak Running has organised this event, but not the first time they have been involved with it…Andy Brooks, the event director and organiser has run this race, been a record holder and won it on more than one occasion…he and his partner in crime were the perfect duo to take on this well-loved and well-supported race and take it forward after the Rotary Club of Matlock hung up their coats after a good innings!
I have run the 15-ish mile race once before in 2019 whilst it was still being organised by the Rotary club, and back then it was to be my furthest ever distance, so I was excited (and nervous) to come back after 3 years to see how I fared on a course I know fairly well now (many recces have taken place since my first outing).
The morning was thankfully a good one for trail running, temps were a bit lower than they had been, some good cloud cover, blue skies and sun. A field of nearly 300 runners and hikers took to the hills of Dovedale in either the 26-ish miler or the 15-ish miler…you could choose either distance and either discipline, and you could also choose to start early if you were a walker or a slower runner…something I really like as I get out there early, watch all the faster front-runners zoom up the hills ahead of me, and also finish before things have started to be dismantled!!
Registration took place in the Village Hall, and car parking was plentiful in a nearby farmers field. Great facilities in the hall as you had a place to sit, nip to the loo, stash your stuff for after the race and also enjoy the post-race glow whilst tucking into your jacket spud and chatting to other finishers.
I started my race at 10:30am ahead of the main competitive race at 11am. After I had managed to navigate myself out of the village (why is trying to find your way OUT of the village always the hardest!?), I headed for the fields and onto my first climb…I do like racing alone, whilst also being in the midst of loads of other runners and walkers…I'm on my own little adventure going at my own pace, but I still feel part of a much bigger picture…I wave at some people I recognise who push ahead of me…I drop down and bump into small early walkers group all pouring over the map and I cheerfully tell them "it's this way" ☺️ I should say the routes are not marshalled but the written instructions are excellent (it's what got me round first time on my own), and the GPX route was great to have on my phone as back-up, plus you have to carry a physical map too (whether you know what you're doing with it or not!) 🤣
On the shorter route you pass through 3 checkpoints, all very well supplied with food – sweet, savoury, plenty of fluids…and the all important water melon! You are clocked in at each and your progress monitored all the way round by the event organisers at Race HQ. There are public toilets also on the way round…either in the villages or the local pubs, which the race director has (more than once!) had a cheeky half in mid-race!
The route (as I already knew) is a stunner…lots of ups and downs (Ecton Hill is always a "highlight"), amazing views, lovely folk to chat to on the hiking sections…I witnessed loads of clubs from all over, and a lot of them treating it a bit like a day out…they all seemed to stick together and support each other. I pushed myself (I hadn't planned on doing so…I'd told myself I was just going to have a jolly, no pressure)…however as I started to overtake the odd person here and there, the competitor in me took over and I didn't let myself take it easy at any point until I collapsed over the finish line…with a fab PB of over 25 minutes!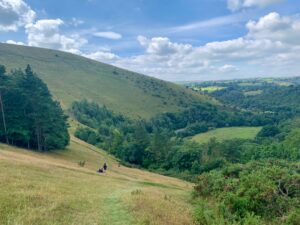 Post-race shenanigans saw me hanging out on the grass sharing stories with other runners, tucking into my tasty spud, and partaking in a beverage or two from the Dovedale Brewing Co. provided by the Village Stores, who were also selling baked goods and crafting the incredible top finishers trophies.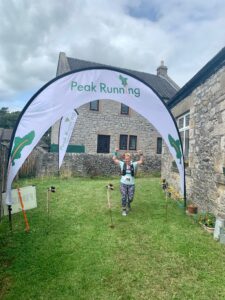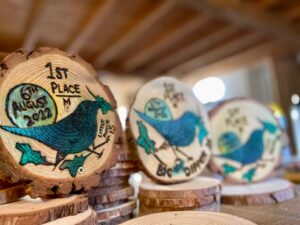 I will do this again next year without a doubt, but whether I will race the short course again or attempt the long course in hiking mode is yet to be decided!
First Male (26-miles): Greg Hopkinson (MSen) (Matlock Athletic Club): 3:45:00
First Female (26-miles): Julia Mardo (FSen)(no club): 4:59:48
First Male (15-miles): Andrew Snook (MV40)(Axe Valley Runners): 2:13:37
First Female (15-miles): Molly Browne (FSen)(BRAT): 2:14:54
Abi Norman was the only Strider.  Her course was 16 mile and there were 129 runners/walkers
Position
Name
Cat
Cat Pos
Time
72
Abi Norman
F40
13
4:06:14