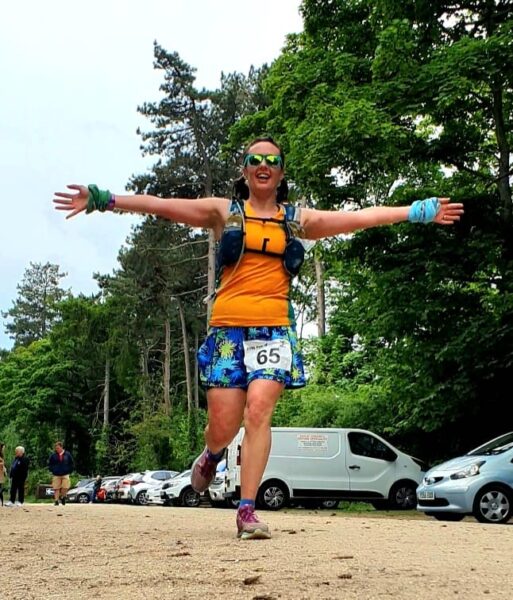 Race date: Saturday 21 May 2022
After completing my 3rd marathon in sub 4 hours, I decided that was it for marathons and needed a different challenge so I entered my first ultra, the Dukeries 40, there's normally a 30-mile option but that wasn't on this year so 40 it was.
The route is a fully marked and is mainly off road. It starts in Walesby then heads to Sherwood Forest passing the Major Oak, then up to Cresswell Crags skirting the edge of the Welbeck estate, it then goes down to Clumber Park and back to Walesby. My Strava measured it as 41.25 miles with 1500 feet of elevation, flat compared to Sheffield.
Training – I don't follow training plans so wasn't going to for this either, besides any training plan would have me running mega long training runs which I didn't want to do. Knowing what I needed to do, I had my own plan in my head. My longest runs were 13–14 milers but a lot were only about 10 milers (with an exception of Grindleford Gallop back in March), doing them on consecutive days to get used to running on tired legs. I'd do hilly one day, then flat the next but with lots of Jeffing and walking hills, luckily leading 7 in 70 meant I didn't lose my ability to actually run up hills. I also kept up with the speed work to get used to feeling uncomfortable.
A big thing I wanted to train was my mental strength, I did this by doing a lot of runs with laps, my best was 60 Laps of Cookson Park resulting in a half marathon PB!
Eating was probably the hardest thing to practice but I got there in the end just by learning to slow down to eat.
On average I did 35-40 miles a week and loved every single run and had some great adventures with good friends. I did pick up a minor calf strain with 3 weeks to go but a few days off and a massage helped as did laying off any fast running.
Race day – I got a lift down with Al Cook, being an experienced ultra-runner, he had plenty of good advice, thanks Al. We were lucky to have perfect weather conditions. Registration was quick and easy; we got there early so had plenty of time to make sure we were ready.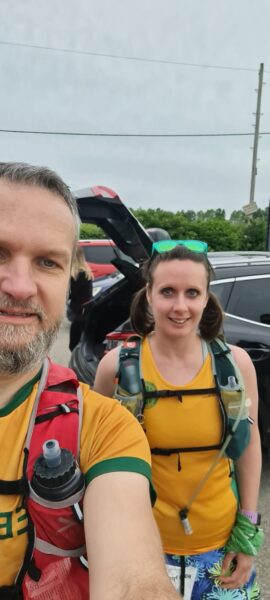 I'm not going to bore you with a blow-by-blow account of the whole race, that would be long! I ran the first 7 miles at a nice easy pace to the first aid station, after that I started Jeffing making sure I walked the hills or if there weren't any hills, I made sure I walked a bit on each mile, this helped massively with energy levels and my legs never felt too bad meaning I was able to do this all the way to the end. There were four aid stations, I stopped at ever yone, the volunteers were so cheerful and helpful. I was loving the Rola Cola, crisps and jam sandwiches.
At the 3rd aid station (mile 23) my awesome running buddies (below) were waiting for me with a massive cheer and hug this helped massively as did the Percy Pigs, but I was sad to leave them and carry on.

My hubby, Mum and kids were waiting for me at mile 33 by Clumber Lake with a welcome change of shoes and I had a little walk with my daughter and step daughter chatting about the swans. By this point I was craving more Rola Cola, not the energy drink they offered, luckily the last aid station was only about a mile away.
With "only a club run to go" I was still waiting to hit the wall but it never happened, I can honestly say I loved every minute and met some lovely people. The only issue I had was a little side stitch and a near fall when I tripped over. Not sure if it was the paracetamol or the adrenaline blocking out the pain of any suspected niggles.
I finished in 7 hours 9 minutes, a lot quicker than the 8 hours + I imagined.
I would fully recommend this as a first ultra, lovely easy-going route and well organised. I really believe anyone could do this, you just have to want to do it and enjoy it. Now I've done it I'd be happy to give anyone tips or advice 😊.
First home was Stephen Shanks(Victoria Park Harriers and Tower Hamlets AC) in 5:32:56. First woman was Claire Howard (Totley AC) in 6:02:46.
Striders results: