29th May 2022
Report by Helen Smith
Sit down with a cuppa this could take some time!
Edinburgh marathon is the UKs second biggest marathon festival with over 35,000 runners racing in 5k,10k on the Saturday and a half marathon and marathon on the Sunday.
Edinburgh was my first marathon! How do you sum up the nerves and anticipation of your first marathon? Well for me it was a full 18 weeks of nerves alongside a Hal Higdon training plan which I'd followed as best as I could with a busy work schedule.An easy intro into marathon running apparently. There was no specific speed sessions just a "marathon pace run" each week (and my initiation to the Neepsend triangle -thanks Nancy for the introduction)
The last two weeks of taper had been full of self doubt as id struggled with mental strength on a few of the long runs and I just couldn't imagine being able to run the last 6 miles when my long runs had often resulted in a diva type melt down at some point. I'd spent the last few days trying to convince myself that I could finish it…and to finish it was enough.
Anyway on to race day.
I woke up to cloudy skys (fabulous) and the obligatory premier inn breakfast (porridge and a banana) then made my way over to the other side of town to join the others to walk to the start. Zoe Dickinson was my voice of reason on that walk over as she organised me and Mandy with bag drop and the usual queue for the loo (surprisingly for a race the toilet queues weren't too bad) soon I was joined by Ruth who id trained with and we went to the start pen saying good bye to Zoe.
Edinburgh is a big event so the pens walked towards the start in a really organised fashion..I was determined not to waste energy by running before the start line….then in a flash we were over the start line…nerves settled,here we go, no turning back now. We passed Nancy on the side of the road then Catherine. Then Nancy's parents who gave us a big cheer. A great start and really encouraging to have familiar faces in that first mile.
The first 5 miles of the race are down hill, the view as you run down the Royal Mile  and towards the parliament building with Arthur's seat behind is spectacular (the cobbles less so). I knew I might bank a few seconds each mile in the first 5, and the first two miles I definitely banked (a lot!!) only time would tell if that was a fatal error but by the time I realised it was too late. The next 3 miles took us along to the seafront and the sun came out (this was not good, beautiful blue skies and no shade) we saw Ruth's mum and sister at around mile 6, they were so encouraging I loved it! Not having my own family there it was good to adopt everyone else's!
The next 5 miles went pretty quick, we met a royal marine attempting a world record of the fastest marathon wearing a 100lb weight on his back…Ruth and I felt strong and spent those miles along the coast trying to find shade where we could, chatting when we wanted to but running in silent companionship when we didn't.  We were maintaining a 10.15-10.30 (ish) minute mile which was significantly faster than I planned but I decided at this point to try to run to feel and I felt good.
A welcome distraction was seeing the front runner come past, slightly less welcome was the sight of the second place runner walking, not the first person to get caught out by the unexpected heat and sun.
I lost Ruth at one of the water stations around mile 14 one minute she was with me and the next id lost her…now was the time to focus and do the rest on my own. Luckily with the route being out and back there's plenty of opportunity to play spot the runner you know…I saw Lucy Woodward from HRRC and heard the encouraging sound of Peggy shouting my name at around mile 16 I knew the turn point was near…I'm nearly on my way home!
At mile 17 you turn and head into Gosford House… (a quick wave to Ruth as I turned and saw her coming along behind me) then welcome shade for a few 100yds, less welcome the dirt track with potholes! Back on the road home it was time to crack on and keep the positive mental attitude I'd found but which had let me down on so many of my training runs.
Miles 18 to 20 flew by as I wondered when I'd start to really feel the much quicker than I'd planned pace I'd managed to maintain. At this point I was surprised to still feel pretty good.
I'd always told myself I could put my music on and resort to a run/walk after mile 20 but I HAD to run to 20…I put my music on at mile 19… I was missing Ruth's company and I needed a boost. I ran every step to the mile 22 water station when someone stopped dead in front me and forced me to stop…I walked as I drank… I knew in my heart at that point I'd never get running at my previous pace, having stopped so abruptly I'd lost momentum.Like a switch the discomfort started, my feet were on fire and the sides of my thighs screamed with every step when I ran. I kept going for another mile but it was getting increasingly uncomfortable (read painful!)
At mile 23 the run walk strategy started….fast ish run for 1 song on my playlist then a walk and repeat…..and repeat and repeat..I was going to finish this! I calculated I was going to miss 4.35, I wasn't going to let 4.45 out of my grasp (who knew I'd be thinking of the 4.40s when I'd set out for a 5 hour target)
It's at this point where i noticed how many people were walking, limping or the worst, collapsed at the side of the road…I thought about how I didn't feel so bad after all, I'd fuelled well, I'd hydrated at every water station and I was still moving and I could manage a 3 minute run even if I couldn't maintain it.
My watch was showing 25.35 when I hit the 25 mile marker (or wheelie bin with a sticker on!) damn I thought I'd got less than a mile but I've got 1.2 to get through, head down one foot in front of the other, the crowds built at this point and I do love an audience…a slow shuffle to the turn on to the finish straight, then…boom! I'm sprinting this even if it kills me. I couldn't help but smile and lift my arms in the air as the crowds were cheering and banging the Hoardings, the noise was overwhelming…I crossed the finish line and wow, just wow…I actually sobbed! How could I have done that, me, the slow one who struggles to keep up sometimes, who has struggled to keep going on long runs and who was never first pick in PE?
I hung on to the railing and cried, pain, relief, pride and a whole load of other emotions spilled over as I clung onto the railing not really sure if I had the strength to let go in case I fell…obviously appearing to be in a bit of trouble .a volunteer came over and gave me the biggest hug… what a guy…he helped me calm down and catch my breath then off  to get my medal! And just like that it was over…I'm a marathon runner!!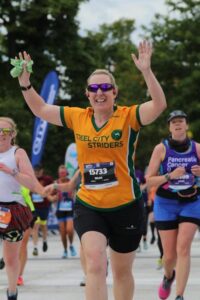 There were 4 striders running Edinburgh Marathon (although the results have missed running club off a lot of people )
Pos
Time
Cat
Cat Pos
316
Wei Chen
02:59:24
M50
13
2652
Richard Pegg
03:52:59
M60
43
5894
Helen Smith
04:40:24
W40
197
6192
Zoe Dickinson
04:46:25
W45
218
The winner was Matthew Gillette (unaffiliated) 02.17.57
First female
Virginie Barrand Metro Aberdeen RC 2.45.01
Full results -see here https://www.edinburghmarathon.com/results