Race Date: Saturday 5th November 2022
The English Cross Country Relays were held at Berry Hill Park, Mansfield. The senior women run 3 x 3k legs and the senior men 4 x 5k legs.
This year Striders were able to field 3 women's teams and 3 men's teams. I've listed our runners from the results but these should be taken with a pinch of salt – apparently I ran and I know I wasn't there…
Some great running from all teams, well done!
And as Caroline B said in her FB post 'A brilliant day, bargain hoodies and lots of laughs. Everyone giving it their best! Come join us next year!'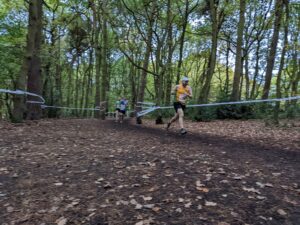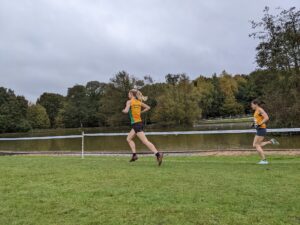 Results here.
Striders results
Mens
Winners Leeds City AC in 1:01:85
Steel City Striders A  113/198 in 1:19:31
Steel City Striders B 133/198 in 1:25:26
Steel City Striders C 155/198 in 1:36:27
 Womens
Winners Charnwood AC in 29:33
Steel City Striders A 40/139 in 34:37
Steel City Striders B 101/139 in 43:29
Steel City Striders C 118/139 in 46:55
Mens A
| | | | |
| --- | --- | --- | --- |
| Leg | Name | Time | Team Pos |
| 1 | Louis Wood | 19:49 | 146 |
| 2 | Keith Bell | 17:50 | 108 |
| 3 | Malcolm Baggaley | 20:25 | 114 |
| 4 | John Kilcoyne | 21:26 | 113 |
Mens B
| | | | |
| --- | --- | --- | --- |
| Leg | Name | Time | Team Pos |
| 1 | Al Cook | 21:19 | 169 |
| 2 | Ian Stinson | 22:12 | 160 |
| 3 | Chris Lawson | 21:02 | 150 |
| 4 | Neil Schofield | 20:51 | 133 |
Mens C
| | | | |
| --- | --- | --- | --- |
| Leg | Name | Time | Team Pos |
| 1 | Jim Rangeley | 22:44 | 184 |
| 2 | Alex Pegg | 22:19 | 168 |
| 3 | Kevin Haighton | 26:49 | 170 |
| 4 | Richard Pegg | 24:34 | 155 |
Womens A
| | | | |
| --- | --- | --- | --- |
| Leg | Name | Time | Team Pos |
| 1 | Caroline Brock | 11:10 | 52 |
| 2 | Hannah Mainprize | 11:38 | 42 |
| 3 | Gillian Allen | 11:48 | 40 |
Womens B
| | | | |
| --- | --- | --- | --- |
| Leg | Name | Time | Team Pos |
| 1 | Jacqui Herring | 13:07 | 106 |
| 2 | Laura Rangeley | 15:59 | 111 |
| 3 | Kate Scott | 14:23 | 101 |
Womens C
| | | | |
| --- | --- | --- | --- |
| Leg | Name | Time | Team Pos |
| 1 | Carol Beattie | 16:39 | 135 |
| 2 | Angela aka Holly Burbridge | 15:31 | 128 |
| 3 | Karen Clark | 14:45 | 118 |