Race Date: Saturday 19th March 2022
 Race report by Dave Beech
It's Grim up North team specialise in low key, quirky, multi-distance and friendly trail races held in some of the most scenic locations in Yorkshire. This was another of their events and it didn't disappoint. The backdrop was the beautiful Fewston and Swinsty reservoirs in the stunning Washburn Valley half way between Otley and Harrogate. These reservoirs, built in 1978 by the Leeds Waterworks Company, form part of a quartet of reservoirs in the valley which provide water to the people of Leeds.
The route was quite technical and had a mix of trails, rocky paths, muddy woodland paths and even a little section of tarmac thrown in for good measure. It was two laps for the 13.4 mile route and 4 laps if you wanted to run the full marathon distance.
I ran with Sarah Percival in the half marathon and once again she finished first female in our race adding to her growing collection of trophies and I finished 4th male. At the end all finishers got the usual large blingey medal, chocolates, a drink and a plentiful supply of home-made cakes, flapjacks and croissants.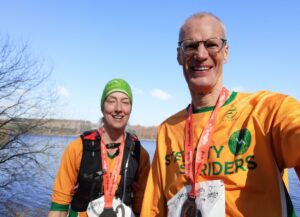 Michael Noonnan (Harrogate Harriers) won the race in 1:41:24, Sarah Percival (Steel City Striders) was first female in a time of 2:01:21. Striders results were as follows:
| | | | |
| --- | --- | --- | --- |
| Position | Name | Time | Cat Position |
| 4th | Dave Beech | 1:58:24 | 4th male |
| 7th | Sarah Percival | 2:01:21 | 1st female |
Full results here. (The results cover 7 days of races, Dave and Sarah ran on day 6.)