Report By: Kevin Haighton
Race Date: 22nd May 2022
Having become completely addicted to running,  motivated by the SCS competitions I'm involved with the first time and inspired by numerous new found friendships, I have fully immersed myself since both  Christmas 2021 and Covid took their toll. I'd been gradually moving up the distances, again inspired by some amazing performances from club members, and decided that in May I'd do a trio of halves; a sandwich if you like with this race; Manchester; providing the filling for the rather more picturesque bread of Eyam and Buxton!
I'd bitten the bullet and decided to really splash out and treat myself to a weekend away; train there and back; 2 nights in a hotel literally on the start line with theatrical and concert hall treats thrown in for good measure (Beauty and the Beast at the Palace and Tchaik V at the Bridgewater Hall respectively). Nonetheless, having absolutely loved the experiences leading up to Manchester (Dronfield; Cat Lane; Holymoorside; Eyam, SCT10s etc etc) and all of the avant / apres-ski with my new friends the thought of travelling over the hill and competing on my own did cause a little anxiety.
That said, the bullet had been bitten so I set off stoically, only to encounter the first of three mishaps due to inexperience of solo travelling / online booking; that being despite on good advice booking an open return, clever me, I discovered that I wasn't so clever after all, having purchased a ticket for  Northern line and travelling on a Trans-Pennine Express! Oops!
I perked up on arriving at my hotel, the location confirming my hope that it was on the start line; no rushing to the portaloos for me No Sir.
I settled in and found the nearest water as is my spiritual need, on this occasion the canal basin at Castlefield I set off to enjoy my theatrical treat, whereby I promptly encountered mishap number two; my ticket was for the matinee! Had I have reverted to old school and printed off a hard copy which was my usual style I'm sure I would have spotted this but no, this was my brave new world of independent travelling and mobile phone usage. A wonderful box-office lady successfully transferred me to the evening performance, and gosh it was good!
Race day dawned bright and surprisingly chilly; well I was up and about at 7am, the Half Marathon due to start at 8.30am, the early start welcome as the day was to get progressively warmer. Despite knowing I was in the right place due to road closures, marshals galore and additional security people I still had to do my usual of seeking reassurance from an official; cracking, I was in the right place and despite the early hour serious runners were already warming up.
The Great Manchester Run as the event was called consisted of the Half Marathon (my race) at 8.30 followed by a huge 10k which set off in various waves throughout the rest of the morning. With well in excess of 20,000 runners competing the only downside was the lack of avant / apres-ski with fellow striders. The what seems obligatory mad dervish microphone shouting gradually wound us up and the pos music warm-up act were on form.
As the clock ticked down to kick off I noticed the announcer adopt a more sombre tone with a gradual hush descending on the assembled throng. He was talking about the fact that today was the 5th anniversary of the bombing of the Ariane Grande concert; oh my. A well received minute's round of applause allowed us to pay our respects before the race hype recommenced.
And then, it happened, we were off! Strategically placed barriers allowed runners to funnel through several queues and we crossed the official chip time start surprisingly quickly. Too fast? Should I have taken the warm up more seriously? What on earth am I doing? You know, the usual! Amazing support even at this early hour as we were in the city centre. Mile 1 took us past our first musicians, small brass section a la Stevie Wonder playing something heroic, Rocky theme music I think, took us up to a roundabout and then a left turn on to, bizarrely, the M57! On a flyover we were level with some workmen (double time I hope) watching from scaffolding. They whooped and cheered and the response from one runner, "get some bloody work done", was met with great hilarity!
The route is basically two out and backs; each to a football stadium, the first slightly longer than the second. On the way out to the first, we had our second musical treat, a samba band. Fantacca. The first stadium, I later discovered, was Man City's Etihad. Seeing the elite runners on their way back filled me with awe and I couldn't help but clap each one individually, until their numbers swelled. If they were on their way back we must be turning soon. Where's the turning? How much further until we blooming well turn round? My God, how good were they?! Finally, the stadium hove into sight and it was really exciting running up and down the entrance ramps, turning quite sharply amid a blaze of colour. I love the science of that approach to the turn, the closer you get to it, the less speedy are the runners going in the opposite direction, until suddenly, you are one of the runners going in the opposite direction; indeed the huge bulge of the bell curve distribution is still to arrive. Are they looking enviously at me I wonder!
Throughout the race I was constantly on the lookout for green and gold, and later discovered that I was one of three Striders. I only saw one, and am struggling to put into words how excited I was to see a fellow Strider. Too excited really; I screamed like a demented child, apologies Chris Harvey! I decided to adopt a more stentorian baritone next time I saw a Strider but sadly it was not to be.
I run naked, sans technology; just laziness really, but my body's messages coupled with a normal watch / basic maths allows good enough race management for me. Given my hectic summer schedule, today being the aforementioned trio sandwich filler, and June looking even busier, I hadn't planned a fast race; certainly not a PB attempt. Nine minute miling is where I'm miling at the moment, nice easy maths as well! 9/18/27/36; works well on an analogue watch! So a comfortable 2 hours or thereabouts is what I was looking for, and I seemed to be taking that in my stride as it were. All good.
I love mile 7. All downhill from here! And the basic maths again; 7/6; 8/5; 9/4 etc. Back past the samba band. Fantacca. And then heading out on the 2nd big loop to what turned out to be Old Trafford; ah so the first stadium must have been the other one then. Another musical treat at this point by way of a female rock choir; yee-hah!
It started to get tough now. At mile 9 someone fell badly right in front of a St John's ambulance station crew. They sat and watched, shocked I think that they might be called upon. Had they been needed I have no doubt they would have been wonderful but the fallen runner rolled and recovered with such agility that all they could do was join the applause. This temporarily perked us up before it got even tougher, not helped by me mistiming the squirt of a huge glug of water from a bottle whilst inhaling! It did make me giggle though watching how runners enjoy lobbing bottles into bins from a great distance, the same becoming a sport in its own right.
Having previously turned round immediately on arrival at The Etihad Stadium to not do the same now at Old Trafford, despite runners going in the opposite direction, proved very tough indeed. The final turning point never seemed to arrive; but of course arrive it eventually did and then spirits lifted as the final return to town commenced, with the insider knowledge that it wasn't actually that far.
I hadn't come across any of the pacers with their associated groups of runners aiming for whatever they were aiming for, until mile 11, when the 1:55 pacers could be heard behind me. This lifted spirits further. Assuming they were right, and why wouldn't they be, I was now marginally ahead of my 9 minute miling plan. Also, I realised that my legs felt good; had the toughness just been in my head? Re-energised I spent the final mile reeling in runners, much to my surprise and delight and as the hullaballoo of support grew as we re-entered the city centre and I kept reeling with, I think, only one runner reeling me.
I have a trademark final sprint, which whilst of course is nothing special compared to some, does serve me well; and despite the final 400 meters being slightly uphill I was able to continue accelerating; breathing 2 + 2 steps, 2+1 steps and single step for the final blast, crossing the finishing line suitably breathless but feeling elated; again just missing a bit of green and gold! However, I did get my PB! Woohoo!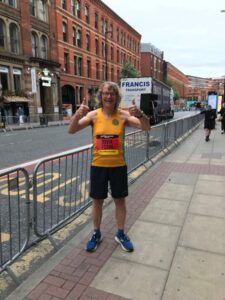 The spectacular support remained top notch for hours to come as the Half Marathoners finished followed by the successive waves of 10kers and the carnival / festival atmosphere lingered well into the evening, the roads remaining closed to welcome the many thousands which I later learned included Jessica Ennis, Eilish McColgan and Andy Burnham.
All that was left was for me to enjoy my Bridgewater Hall concert; that surely wouldn't be a matinee too would it? It was; but 4pm and I'd checked my phone ticket at 3.40! Thanks goodness the hotel was so close. I'd got away with only two mishaps then! Until the leg cramps hit during a pianissimo adagio passage where you could hear a pin drop!
Buxton here we come!
The race was won by Chris Thompson (Aldershot Farnham & District) in 1:04:29 and first woman was Sarah Webster (Northern (Isle of Man) AC)  in 1:16:41.
Link to full results here.
| | | |
| --- | --- | --- |
| Pos | Name | Time |
| 1678 | Kevin Haighton | 01:51:42 |
| 1924 | Steve Yeoman | 01:54:01 |
| 5007 | Chris Harvey | 02:39:35 |