Race date: Tuesday 31 May 2022
Race distance: 3.25 mile
Race report by Jo Gleig
I will try to write about this without going through every minute of the evening, so as not to bore people senseless, but it might be quite difficult to keep it brief and not waffle!
For people not familiar, it's a very old race, run continuously every year for 160 years except for during the World Wars and COVID, and most importantly it is a HANDICAP race, otherwise of course I wouldn't have won it. So when you enter you are asked to give times for recent Parkruns or local Fell Races, and I gave my recent Graves course PB, and the Tiger's Tail Totley Race, which I was actually quite pleased with, so I certainly didn't give low estimates. (Just being slightly defensive here, will explain later!)
The organisers have a handicapper, who then tries to give everyone a starting time that will result in a really exciting finish, with loads of runners racing round the cricket pitch and overtaking each other at the last minute.
So for example, if they think you might do it in close to 20 minutes they might start you right at the back with a 22-minute handicap, whereas, if they think you would do it in 38 minutes you would get a 4-minute handicap. My handicap was NIL minutes, which meant I started first, on my own, with the next person starting one minute behind me etc, right back to Seth Kirby and Paul Middlemas at just under 22 minutes later.
The start is the cricket field at Crosspool, and people spectate at various points around the course, like the top of Den Bank, the Rivelin pub, and up at Stannington church, which is the turnaround point. It was a nice evening, been a bit showery in the day. I met a few Striders on the way in, and thought What Am I Doing This For. But everyone was very nice, as ever, and said anyone can win this, and I got some strategic advice about running downhill through the narrow stiles, as in Don't Give Way, just go for it, and making the most of the downhill bits.
We all went across to the far side to line up, and I was quite nervous about starting off first, especially round the field. The sun was in my eyes, and I thought I was going to look very stupid and miss the gate out to the street but I didn't, luckily. Then you have to run straight across Sandygate Road, and down Coldwell Lane, where Colin Hardy and Laura Rangeley were shouting encouragingly (as Jim had given his Rother Valley parkrun time for the handicap process, Laura had quite a long wait to see him set off!) So I tried to recover from my jelly legs and just run fast while I was ahead and going downhill.
Then I realised what it must be like to be a front runner in races- Big pressure! As I'm used to just slotting in towards the back of the throng and keeping up, it was very strange to be the first one to arrive at every little group of people. And because it's a famous race there were loads of cameras out. But I got used to it and started to quite like it!
So, the route is basically steep down to Rivelin Valley, up through fields to Stannington, and back down and up again. There is a cup for getting to the halfway point first. So I did that, which just meant keeping ahead of the people who started around 10 mins behind me I guess, as the really fast runners would only just have set out at that stage. It was great going past the Rivelin pub, I could hear Kate Scott shouting excitedly above all the other voices and loads of cheers, which was brill.
On the way back down, I passed all the speedy people coming up, with Seth and Paul near the back, suffering from being given their massive 22-minute handicap, although they were gaining on people.
The climb back up Den Bank is so steep that pretty much everyone walks, so I just tried to walk as fast as possible, but was wondering when people would start to overtake. Then at the top you hit the street again, but its quite a long drag up from there to the finish.
This was when it dawned on me that I might actually possibly win. Colin was there, shouting Hurry Up, Don't Slow Down, Keep Going etc, so it turned into the hardest Speed/Hill session I have ever done, as I still expected to hear pounding feet behind me, and just tried to keep going up for about 5 long minutes up Hagg Lane and Coldwell Lane. The roads aren't closed, although the marshals try to stop the traffic, so I relied on them and just kept going across the main road. Eventually I could see the door to the cricket pitch, but I really don't enjoy finishes running round grass, so I couldn't relax until I was almost at the end, then I just crossed the line, with no one in sight behind me, and thought oh my god I won! It was quite a quiet finish, as most spectators were still out on the course, the timekeepers wrote down my number, and Laura Rangeley excitedly took photos for Facebook.
If everyone's times had been a minute less, Matthew Burgon from HRRC would have been only 13 seconds behind me, and I really don't know if I would have caved in under the pressure of his approach! Chris Reece of Striders also did really well, he was gaining on me and was just overtaken by Matthew in the last few yards to come third by 8 seconds.
Russell Stevenson got VM 40 winner, and Paul Middlemass got 2nd fastest actual time at 24:51, only 8 seconds slower than the fastest. (i.e. if it was a normal race he would have been second – but it wasn't!)
Then loads of Striders arrived and it was all a bit of a blur, but a happy blur. I then had the slight stress of talking to a Look North guy dressed as an HRRC runner (or the other way round), and I don't think I made much sense, but I told him Striders was the best running club in Sheffield anyway.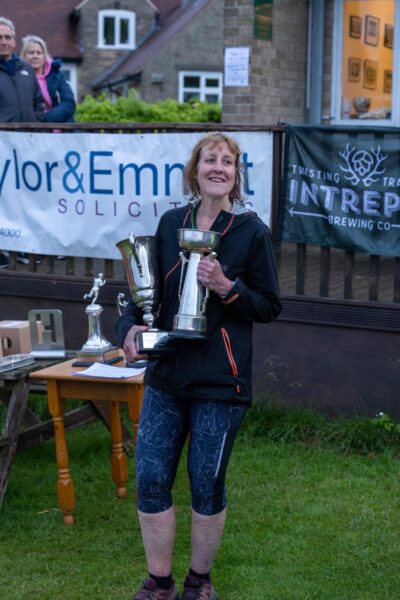 Then eventually they gave me two massive cups, which I held for a bit then gave back, as they need to get them engraved. The organiser said to me "I think we got your handicap a bit wrong," which I was slightly miffed about, as it sort of suggested I had an easy run, which I didn't. I suppose they just want a close finish, possibly they were a bit disappointed that I didn't provide a very exciting finish being over a minute ahead of the next little group – well that's just tough, because it was exciting enough for me!!
But its an interesting race, I will definitely do it again next year, and I look forward to seeing what handicap they give me in 2023! So next year give it a try, as its true Anyone can win!
Striders results
| | | | | | | | |
| --- | --- | --- | --- | --- | --- | --- | --- |
| | | | Handicap race | | Results by time | | |
| P | Name | Cat | Time | Gen P | Time | P | Gen P |
| 1 | Jo Gleig | VF60 | 41:54 | 1 | 41:54 | 55 | 12 |
| 3 | Chris Reece | VM70 | 43:15 | 2 | 39:15 | 50 | 42 |
| 7 | Russell Stevenson | VM45 | 44:08 | 5 | 30:28 | 25 | 22 |
| 9 | Matt Broadhead | VM45 | 44:59 | 7 | 31:19 | 27 | 24 |
| 13 | Warren Brown | VM50 | 45:38 | 11 | 30:08 | 22 | 20 |
| 17 | Michael Twigg | VM55 | 46:03 | 15 | 40:03 | 51 | 43 |
| 19 | Kevin Haighton | VM60 | 46:07 | 16 | 34:47 | 43 | 36 |
| 24 | Paul Middlemas | VM40 | 46:21 | 20 | 24:51 | 2 | 2 |
| 29 | Eric Latham | VM45 | 46:31 | 23 | 32:11 | 32 | 28 |
| 36 | Al Cook | VM50 | 47:10 | 29 | 28:30 | 15 | 14 |
| 44 | Joe Dunne | M | 47:46 | 35 | 30:26 | 24 | 21 |
| 46 | Seth Kirby | M | 47:49 | 36 | 26:09 | 5 | 5 |
| 47 | Naomi Tuckett | F | 47:56 | 11 | 32:26 | 34 | 5 |
| 50 | Mark Platton | VM55 | 48:23 | 39 | 31:33 | 28 | 25 |
| 51 | Jim Rangeley | M | 48:38 | 40 | 31:48 | 29 | 26 |
| 52 | Fran Marshall | VF50 | 48:58 | 12 | 41:28 | 54 | 11 |
| 56 | Paddy Treehowes | VM55 | 52:17 | 43 | 36:37 | 49 | 41 |
Full results: http://www.thehallamchase.org.uk/resources/Hallam-Chase-2022/Combined-results-Hallam-Chase-2022.pdf