Sunday 20th March 2022
Report by Sally Lee
The Hendy Eastleigh 10k is one of the largest road races in the country with just under 3,000 runners taking part. Eastleigh, in the south of the country, is a long way to travel for a race but when your eldest sister lives there it's a perfect opportunity to combine a visit with a Sunday morning 10k and make a weekend of it. Our other sister joined us too.
I'm fairly sure I was the only Strider and representative from the North. Most running club vests were local to the area. I stood nervously behind an 'Itchen Spitfire' thinking 'they're bound to be speedy'. The event was very well organised with plenty of information, pacers, a water station at 6k, bright Pink or Lime Green t-shirts with a medal for participants and luckily for me the start was only a short walk away.
Anyone who knows me, will know how nervous I get before a 'race' but a flattish route far away from Sheffield seemed a good idea to gain some confidence in running at an event. I kept reminding myself this was no different to Monday night Striders 6 in 65 run and channelled run leader Helen Smith's motivational words and encouragement into my brain.
On a previous weekend visit, some time ago, I'd seen the 10k advertised as going ahead but it was fully booked so I opted for the Eastleigh Parkrun instead. The fact that the 'Hendy 10k' is billed as the 'home of the PB' because it's fairly flat appealed to me greatly. So I signed up.
It was an early race start at 9am but the sky was a beautiful blue and the sun was shining, perhaps a bit too much on the sunny side for me, but I found the shade along the course. The race starts and ends at the Places Leisure Centre near Fleming Park (home of the parkrun) with good facilities and open space to congregate.  The route is one big loop and one smaller loop. I liked the fact it was one lap only.
There was one small incline, a fellow runner referred to it as a hill but they obviously don't live in the Steel City. There was a steady upwards stretch but it didn't last for long. That was quickly followed by a long stretch of road lined by masses of lovely, golden daffodils blowing in the breeze; perfect for a spring morning. There were plenty of spectators lining the route and fabulous roadside clapping from my two sisters.
It wasn't quite the 'home of the PB', for me, this time. I'm still chasing that elusive sub 60 but it felt like home with the support of family and made for a great weekend away. I definitely recommend it if you are ever down that way.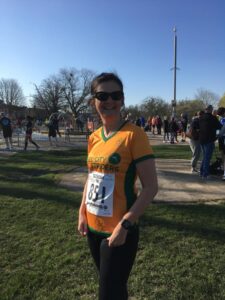 The race was won by Alex Lawrence (MSen) of Victoria Park Harriers in 29:28 , and by Sarah Astin (FSen) of Belgrave Harriers in 33:17.   Only one Strider ran.