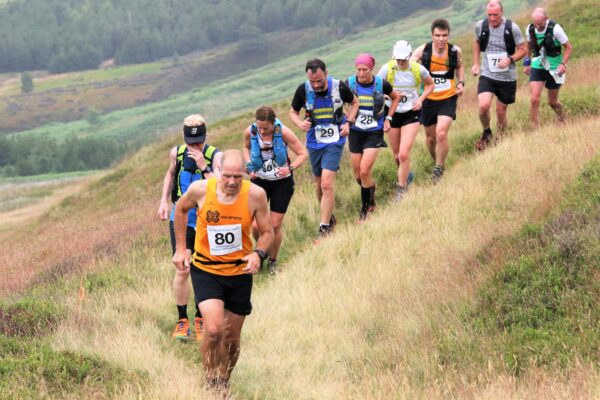 Race date: 24 July 2022
Race distance: 28.5km/1285m climbing/AL category
Race report by Matt Broadhead
A few days before the race, the organisers emailed to say it was "probably" cancelled owing to the dry conditions. After a bit of rain midweek, though, the organisers gave the go-ahead on the Friday, with the forecast for a warm day with some light rain later on.
There are several very entertaining race reports of this course from previous years on the Striders website (I recommend not reading any of them, or this one, before signing up for this race: you might change your mind), so I will keep mine short.
I'd been after doing an "AL" category for a while, and given this one was nearby, and I'd done a couple of longish and hilly trail runs this year, I figured what the hell. I packed FRA kit into a race vest, thinking that it would be a waste of time in this ridiculously hot summer, but they had said there'd be a kit check, so…
Registration was quick and friendly, on the cricket field at Cartworth Moor. I got my number, got my raffle ticket and queued three times for the bog. Then it was time to walk the half mile or so to the start. I decided to pace off Jennie Stevens and Lee Mills for a bit, mostly because I'm congenitally incapable of pacing properly off myself. We set off across a steady uphill bit of track, then some trail, and I wondered how far in all the steep bits people had been telling me about would be. And then oh look, the ground's gone away and we're scrambling down a 40% gradient to the bottom of the first climb. Lee took a bad tumble part way down, and although he managed to drag himself to the first checkpoint, that was his race done. After the descent it was a steady-ish fast-ish climb to checkpoint 1 at the Holme Moss car park, the steel transmission tower looking splendid in its moorland isolation. A couple of little (for this race) upsy-downsies and we were on to the first unmarked section and main descent of the day, the 300-odd metres from West End Moss to Crowden. I'd pulled ahead of Jennie by then and it had started to rain. I wasn't in sight of anyone in front, but all of a sudden I totally lost confidence in my navigation and had to stand around like an idiot till she came up behind me and pointed me down the hill.
The run down to Crowden takes you up to about 7.5 miles and is quite nice fun, not horrifically technical although the last bit's very steep. The two miles after that though are just bonkers. Up Bareholme Moss you go first, lalala, 46% gradient and a false summit, then round the top to where I had my second navigation wobble. This time the person who caught me up was a stranger, and to my shame I lied and pretended I'd just rolled my ankle and was giving it a minute to see if it was OK. He didn't really know either, so we just pelted down the hill, him a lot faster than me, and eventually we saw some people going up the other side and followed them. The "other side" is Laddow Rocks, an even more nonsensical climb. I learned fairly early on in fell running that some of it was fell walking, but this was fell hanging-on-grimly-to-a-bit-of wet-heather-while trying-to-get-your-foot-onto-a-chest-high-rock-without-falling-down-a-100-metre-drop. I genuinely can't remember if I was enjoying it at this point, but I feel quite gleefully giddy remembering it.
After that the next few miles were a welcome anticlimax. Given we'd only just passed half way, perhaps the organisers realised we'd need a bit of mercy, so they let us have a go on the Transpennine Trail all the way to Black Hill (or Soldier's Lump). That was nice, and I reeled a runner or two in as the gloom gathered and the wet weathered. The section from Black Hill back to Holme Moss leaves the Transpennine and goes through a sensitive bog. I must have looked at it funny, because I was soon on my arse and covered in peat. It's also possible this was because I was wearing my cursed fally-over shorts.
The route is a loop on a stick, so I got to say hello again to the marshals at the Holme Moss car park, where someone seemed to have cropped the top two-thirds off the mast. I set off for home in the hope that the first hill had just seemed steep, because I'd not seen the other ones yet. I managed to catch another couple of runners on the way to the bottom, but it didn't help. It was still bloody steep, and I was getting tired. It took me ages to get to the top and say hello to the huddled marshals.
I came off the top of the climb, passed two bedraggled marshals and along the trail bit, then onto the track, and then the totally worst bit of the whole day happened: I remembered we had to run the extra half mile we'd walked earlier, because the finish was at the cricket club, not at the start. I've long had a tendency to grumble motivational foul-mouthed abuse at myself on climbs, but I really let rip over the next mile, especially over the 9-metre climb part way along. It's a good job there was nobody near me, because I was yelling a selection of the bad words at the absolute top of my voice, betrayed by the universe but determined to run every remaining step of this damned race. It worked. I did my fastest split of the whole race up that road, and I managed a smile and a nearly-sprint across the line.
As I headed off for the wee I'd been holding in for an hour, the lady with the raffle prizes stopped me to check if I had a ticket. I fished in my pocket and came out with some scraps of pulp. We assumed I hadn't won.
By the time I got to the very good buffet, I was soaking wet and barely able to string two chews together. I couldn't eat properly for about a day, and my legs were still aching after three. That was the hardest race I've done. Still, I reckon if the weather's OK I can knock half an hour off. See you there next year!
The race was won by Michael Kenyon of Dronfield RC in 2:45:45, and Helen Haigh of Holmfirth Harriers, in 3:17:57. 80 runners finished, of 90 starters.
A massive shout out should go to the organisers and marshals. They were friendly and cheerful in some rough weather and they did a proper job before and during the race, and no doubt in collecting their flags and clearing up after.
Striders results: