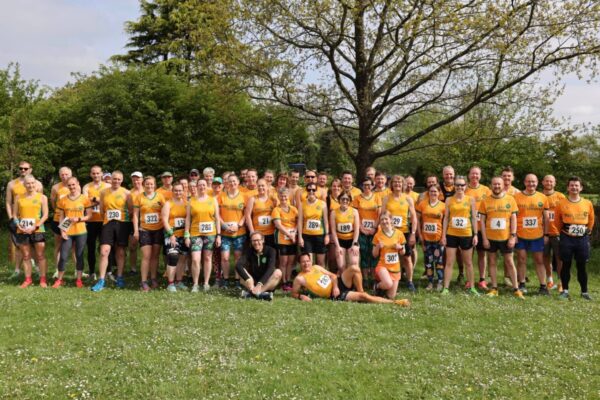 Race date: Sunday, 8 May 2022
The sun shone on the latest round of the Striders road race championship, and a bevy of Striders set their jaws, girded their quads and prepared to face That Hill.
First man home was Dave Archer (unattached) in 33:56. Our own Caroline Brock, who set a course record of 39:41, was first woman. Paul Middlemas was first M40 in 36:40. 71 Striders took part.
Striders results:
| | | | | | |
| --- | --- | --- | --- | --- | --- |
| P | Name | Cat | Time | Cat P | Gen P |
| 6 | Richard Pearson | M | 00:36:01 | 6 | 6 |
| 7 | Paul Middlemas | M40 | 00:36:40 | 1 | 7 |
| 8 | Stephen Schubeler | M40 | 00:37:20 | 2 | 8 |
| 9 | Seth Kirby | M | 00:37:34 | 7 | 9 |
| 15 | Adrian Fisher | M40 | 00:39:30 | 5 | 15 |
| 16 | Caroline Brock | F | 00:39:41 | 1 | 1 |
| 17 | James Storey | M40 | 00:39:57 | 6 | 16 |
| 21 | Tom Bassindale | M40 | 00:40:32 | 8 | 19 |
| 27 | Nick Booker | M50 | 00:41:37 | 3 | 25 |
| 28 | Jordan Moat | M | 00:41:46 | 12 | 26 |
| 30 | Darren Barnett | M40 | 00:42:21 | 12 | 28 |
| 34 | Neil Schofield | M50 | 00:42:40 | 4 | 31 |
| 38 | Tim Holt | M40 | 00:43:09 | 14 | 33 |
| 42 | Robert Hoffmann | M40 | 00:43:47 | 15 | 36 |
| 43 | Ed Startup | M | 00:43:53 | 17 | 37 |
| 44 | Malcolm Baggaley | M40 | 00:44:00 | 16 | 38 |
| 53 | Lucy Broom | F40 | 00:44:57 | 4 | 8 |
| 63 | Matt Broadhead | M40 | 00:45:48 | 24 | 54 |
| 73 | Sarah Allcard | F40 | 00:46:21 | 6 | 13 |
| 74 | Richard Carter | M40 | 00:46:21 | 26 | 61 |
| 77 | Charlie Field | M40 | 00:46:32 | 28 | 64 |
| 80 | Adam McAuley | M50 | 00:46:55 | 11 | 67 |
| 82 | Stephen Slater | M40 | 00:47:01 | 30 | 69 |
| 83 | Jim Rangeley | M | 00:47:05 | 26 | 70 |
| 92 | Neal Pates | M50 | 00:47:50 | 13 | 79 |
| 94 | Paul Bentley | M60 | 00:47:53 | 3 | 81 |
| 100 | Jacqui Herring | F40 | 00:48:33 | 7 | 14 |
| 101 | Steve Blake | M40 | 00:48:34 | 36 | 87 |
| 103 | Tom Cossham | M50 | 00:48:43 | 15 | 89 |
| 105 | Eric Latham | M40 | 00:48:54 | 38 | 90 |
| 107 | Katie Gill | F | 00:48:56 | 7 | 16 |
| 117 | Richard Pegg | M60 | 00:49:49 | 5 | 100 |
| 119 | Rachael Toon | F | 00:50:08 | 8 | 18 |
| 123 | Helen Royles-Jones | F | 00:50:30 | 9 | 19 |
| 130 | Sarah Percival | F40 | 00:51:05 | 10 | 22 |
| 136 | Mark Norman | M40 | 00:51:28 | 47 | 112 |
| 140 | Kate Scott | F50 | 00:51:45 | 4 | 26 |
| 143 | Matt Robinson | M40 | 00:52:03 | 48 | 116 |
| 146 | Philip Swirles | M40 | 00:52:28 | 49 | 118 |
| 149 | Kevin Haighton | M60 | 00:52:42 | 8 | 121 |
| 156 | Letitia Hancock | F | 00:53:19 | 14 | 32 |
| 159 | Tessa Bainbridge | F | 00:53:34 | NA | NA |
| 162 | Graham Hague | M70 | 00:53:50 | 1 | 129 |
| 166 | Dave Marsh | M | 00:54:14 | 39 | 132 |
| 169 | Mark Warriner | M40 | 00:54:20 | 57 | 135 |
| 171 | Stephanie Street | F60 | 00:54:31 | 2 | 35 |
| 173 | John Liddle | M50 | 00:54:33 | 28 | 137 |
| 177 | Brian Jenkins | M40 | 00:54:50 | 59 | 139 |
| 178 | Christopher Smith | M40 | 00:54:58 | 60 | 140 |
| 185 | Nada Ross | F50 | 00:55:28 | 10 | 42 |
| 186 | Clive Downing | M50 | 00:55:32 | 30 | 144 |
| 189 | Victoria Johnson | F | 00:55:40 | 17 | 43 |
| 191 | Kate Waddicor | F60 | 00:55:56 | 3 | 44 |
| 200 | Kevin Wong | M40 | 00:56:33 | 65 | 154 |
| 206 | Laura Rangeley | F | 00:56:53 | 20 | 50 |
| 213 | Simon Gleadhall | M50 | 00:57:38 | 32 | 160 |
| 218 | Ian Blackburn | M60 | 00:57:54 | 16 | 164 |
| 228 | Andy Telford | M40 | 01:00:02 | 69 | 169 |
| 231 | Caroline Brash | F40 | 01:00:30 | 21 | 62 |
| 233 | Vikki McAuley | F50 | 01:00:36 | 14 | 63 |
| 242 | Sara Copp | F40 | 01:01:08 | 22 | 69 |
| 243 | Niki Mills | F40 | 01:01:12 | 23 | 70 |
| 246 | Jane Huws | F50 | 01:02:11 | 17 | 73 |
| 252 | Rosie Smith | F | 01:02:28 | 27 | 78 |
| 254 | Jo Gleig | F60 | 01:02:46 | 8 | 80 |
| 267 | Lisi Briggs | F | 01:04:32 | 30 | 88 |
| 277 | Ellie Bull | F | 01:07:29 | 32 | 94 |
| 291 | Jane Wilson | F40 | 01:11:42 | 33 | 106 |
| 295 | Tracey Gledhill | F40 | 01:12:30 | 35 | 110 |
| 296 | Jude Bissell | F50 | 01:12:34 | 28 | 111 |
| 305 | Julie Armstrong | F50 | 01:27:43 | 30 | 117 |
Full result: http://www.holymoorside10k.co.uk/results.php