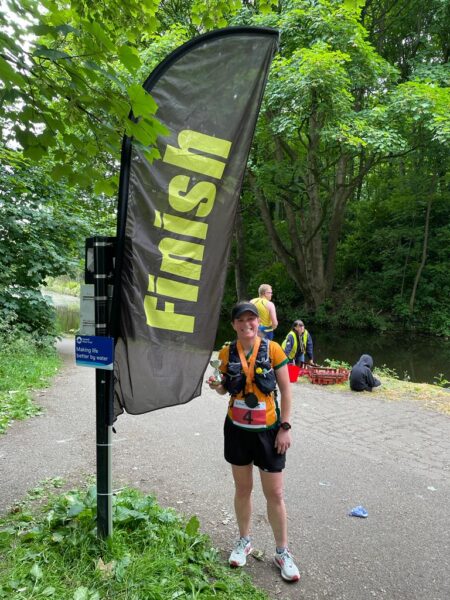 Race date: 11 June 2022
Race distance: 50 km (Hannah Milton); half-marathon (David Hewitt)
Race report by Hannah Milton
In a moment of pandemic madness I decided I needed a goal. I was worried that I wouldn't stand a chance of beating my pre-kids marathon PB so I googled ultramarathons. I stumbled across the It's Grim Up North Running website. They run multiple events throughout the year, so it didn't take long to find one on a suitable weekend. I paid my £48 and tried to convince friends that they should join me. No one obliged!
Their events are trail events graded on their 5 boot "grim scale". I picked a 1 boot "not so grim" as I wanted something nice and flat! The event started from Kirstall and was along the Leeds–Liverpool canal, so no navigation needed. I was sold. At staggered times there were most distances available: 5k, 10k, 10 miles, half marathon, 20 miles, marathon and a 50k ultramarathon.
I really like the low-key atmosphere with small numbers running each distance (only 7 runners for the ultra, I think around 30–40 for other distances). There's no standing in queues: just pick up your number, wander around to Morrisons for your last wee and then dump your bag in their van!
The route was adapted on race day because of canal path works, so it made for even more turnarounds than there were supposed to be, and after running a marathon I had to cross the finish line to do one more 10k lap. That was hard psychologically! But all the turnarounds meant for lots of mutual support and encouragement from the other runners. The scenery was really pretty and the path is wide and really good quality. I liked that it was very flat (less than 200 ft over 32.5 miles!) The event seemed very inclusive with all speeds of runners cheering each other. There were 3 food and water stations on the course with 3–4 miles between them, but you provide your own cup or bottle to avoid waste and litter. They had lots of sweets, jaffa cakes, crisps and cake available at each station.
My husband and kids were able to run across the finish line with me. I was presented with a small trophy for being the first woman! My first ever running trophy! OK, there were only 2 other women running, but I was delighted. All finishers get a medal, a big slab of dairy milk chocolate and a choice of beers and ciders (not that I could face alcohol). There was also a £2-a-burger barbeque at the end as well as free cake. And once I was able to stand up again, I could pop into the van for my bag and walk a few minutes back to the car. I now need to decide which of their events I want to do next!
The first woman to finish the ultra was ME! Hannah Milton in 5:07:47; the first man to finish the ultra was Mark Sander in 4:54:22.
David Hewitt ran the half marathon in 1:56:03, which put him in 9th.
Full results: https://bookings.itsgrimupnorthrunning.co.uk/uploads/results/2022/Summer%20Canal%20Canter%2022.pdf