Saturday 3rd September 2022 – Simister. Manchester.
Report by Tony Bell.
10 walkers did this race, 2 X out and back from Simister to Heaton Park. I stayed in the lead group from the start, from 3km I was in 2nd place following the leader. I stuck with the leader until the last turnaround in the park and then speeded up. I finally got clear just before the end winning in 1h06.45, 7s clear of 2nd place. 2.5km splits were 17.09, 17.11, 17.12, 15.13.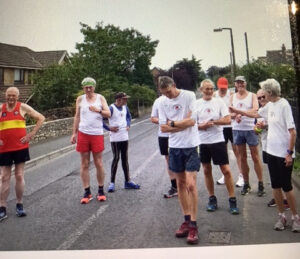 Photo shows walkers before start, I am wearing red shorts and a green Striders Buff headband.
One Strider in this race – the winner..
Pos
Time
1
Tony Bell
01:06:45