Wednesday 4th May – report by Robert Byers
Race distance: 5KM
The Loxley Lash is a series of three 5K races set at the Forge Valley school cycling track. Organised and hosted by Sheffield Running Club, it is a great place to chase after a shiny new 5K PB. The course itself is twisty with five laps, each having two notable hairpin bends and a slight hill – but overall it is about as quick as things get in a place as mountainous as Sheffield!
Each race is split into three heats based on your expected finish time: sub 17 minutes, 17-20 minutes and 20+ minutes. The overall environment is remarkably relaxed for a 5K though, with nice warm changing rooms available and a large grass track to spectate and chat in between the heats. I would highly recommend the event for runners of all abilities; especially those that aren't keen on the crowds and fuss that normally come with big races.
A keen and motivated bunch of 8 Striders attended the first event, I was the sole Strider in the first heat so arrived early and began a nervous warm-up jog around the track.
Heat 1 – The only thing I remember from the start of the first heat was myself asking Tim Robertson what kind of time he had in mind, to which he responded "I'm hoping to run a fairly relaxed tempo of sub-15 minutes". Once I'd finally managed to scrape my jaw up from the floor, we were off. I needn't have been nervous though, as almost immediately I was met with thunderous support from the other Striders who were lining the course. You guys made my night.
Heat 2 – By far the busiest heat of the evening, and with 6 striders running we saw some excellent performances. Firstly, Ade Fisher demolished his PB and set a new M40 club record of 17:39. Only seconds later Abbie Pearse stormed home in 17:55, setting a new FSEN club record to match her fresh track 5000m record. Robert Cook did an excellent job holding on for a new PB (Correct me if I'm wrong there Rob!) of 18:07. Danny Bent then flew by in 19:17, fresh from his expeditions in the Himalayas he was clearly enjoying the abundance of oxygen back down at sea level. Katie Morris was just shy of her goal but posted an extremely impressive time of 19:43 followed closely behind by Colin Hardy, who metronomically posted 20 minutes to the dot.
Heat 3 – Yasmine Chaffer was the sole strider running in the final heat of the night, but with the sun slowly dipping behind the treeline she ran an extremely well-paced 5K PB of 21:12. This was also her first ever 5K race, which makes the feat even more impressive.
If anyone fancies it, the next race in the series is set for the 8th of June. There's no way to sugar-coat the fact that a 5K race is bound to hurt, a lot. But the atmosphere and support make the whole thing worth it!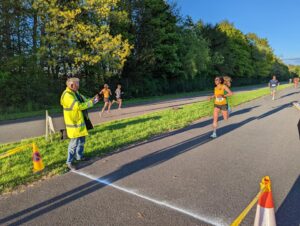 The Fastest man was Tom Riobertson of Tjalve FIF in 14:53 and the fastest woman was our own Abbie Pearse in 17:55.  8 Striders ran in 3 races.  Overall the placings were
| | | | |
| --- | --- | --- | --- |
| Position | Name | Category | Time |
| 2 | Robert Byers | MSEN | 16:46 |
| 8 | Ade Fisher | M40 | 17:39 (Club record) |
| 10 | Abbie Pearse | FSEN | 17:55 (Club record) |
| 13 | Robert Cook | MSEN | 18:07 |
| 23 | Danny Bent | M40 | 19:17 |
| 25 | Katie Morris | FSEN | 19:43 |
| 27 | Colin Hardy | M40 | 20:00 |
| 29 | Yasmine Chaffer | FSEN | 21:12 |
Other  Loxley Lash in the Series   8th June and 6th July, Wednesday nights from 6:30For a full list of results see  https://www.facebook.com/LoxleyLash.  These are provisional, and the finalised results will be posted on Powerof10