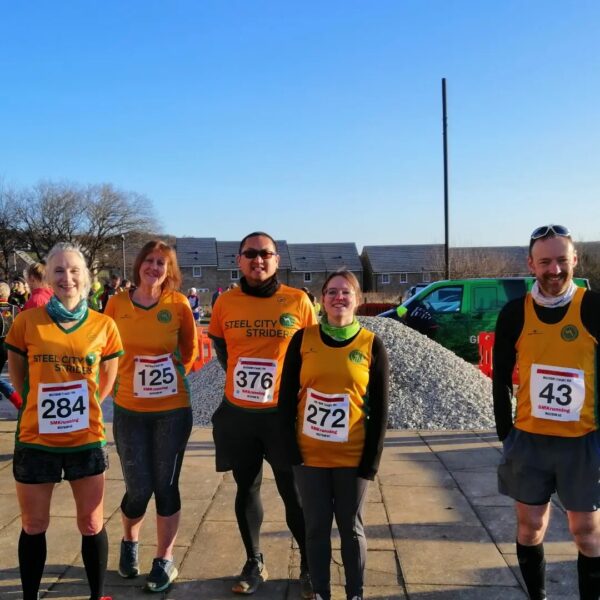 Race date: 30 January 2022
Race report by Matt Broadhead
Some things are tough: New Kids on the Block; old boots; Tonka trucks; a city slicker; the Meltham (Tough) 10k. But you've got to shrug them off or shut them off.
A decent turnout of Striders in sunny Meltham enjoyed chilly blue skies and warm bright sun. Some of them also gave me a lift and some stories of running this in rain and fog (thanks Jim and Laura).
As we lined up at the bottom of the cricket field, the race organiser announced that the race had been extended by 80m because of some temporary traffic lights. I like races that can happen to. Having also alerted us to a trip-hazard on the start-line, he launched us off, round a corner and up a nice chewy hill. I focused on plugging away and overtaking people gradually, including some poor soul who was muttering to himself that he hadn't "respected the distance". After a little walk past an unhappy horse, the quiet country road flattened out and we turned sharp left into a busier one, before a pell-mell downhill to Blackmoorfoot and the water stop. Then there was another nice climb and a fast descent before we turned left onto the third side of this triangular race, and up to the highest point. The last couple of miles were a knee-mangling downhill thrash in traffic, where I got my third-fastest-since-Strava mile. Then it was left into an enormous cloud of smoke from someone's garden bonfire, right past the football pitches and a sprint finish back to the trip hazard, where we were handed some rather nice gloves and Laura R passed round birthday cake.
It's a good course if you like a runnable hill and don't mind the roads being open. Plenty of marshals, although they did get a bit flustered by the double decker bus coming up the narrow road near the end.
The race was won by Scott Hinchcliffe of Barnsley AC in 33:03 and Rebecca Whalley of Horsforth Harriers in 41:45. 342 runners finished.
More importantly, we had a Striders category winner! Stephanie Street cruised to victory in the F65 category, well clear of her nearest rival.
Striders results
| | | | | | |
| --- | --- | --- | --- | --- | --- |
| P | Cat | Name | Time | Gen P | Cat P |
| 103 | M45 | Matt Broadhead | 00:48:09 | 90 | 16 |
| 153 | FS | Helen Royles-Jones | 00:52:28 | 26 | 9 |
| 177 | F65 | Stephanie Street | 00:54:22 | 41 | 1 |
| 195 | F55 | Nada Ross | 00:55:54 | 50 | 8 |
| 208 | M45 | Kevin Wong | 00:56:48 | 155 | 23 |
| 217 | FS | Laura Rangeley | 00:57:16 | 56 | 16 |
| 218 | M60 | Ian Blackburn | 00:57:24 | 162 | 9 |
| 308 | M40 | Adrian Good | 01:06:51 | 198 | 32 |
| 321 | F60 | Jo Gleig | 01:10:09 | 118 | 9 |
Full results: https://www.ukresults.net/2022/meltham.html