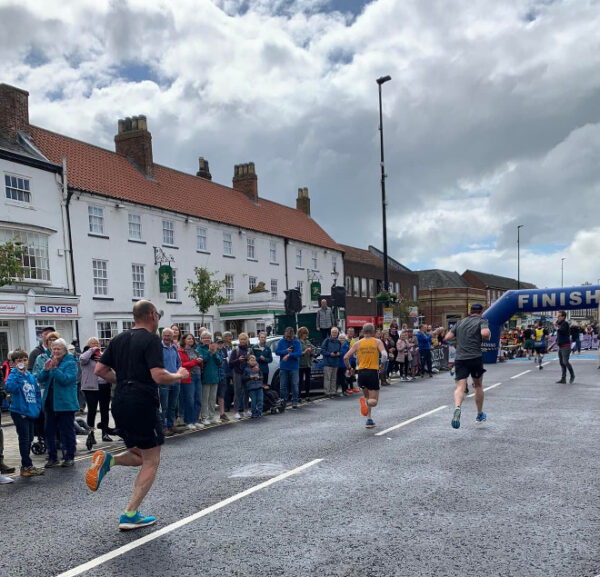 Race date: Sunday, 29 May 2022
Race report by Stuart Jones
This is what the Faster Five in Forty-Five group (Heeley, Mondays, 6:30 pm) is about – getting an improved 10k time.
There has been a 38-year gap since I last raced the Northallerton 10k. Back then, I finished in 52 minutes but achieved the personal goal of finishing ahead of the local charity fundraising legend bin man. The only chips in 1984 were served from the burger van. This year I finished a vital one second under 46 minutes on chip time, but was beaten in the High Street finish by a limping man. That's roughly nine seconds a year faster!
Recovery started straight away. A bottle of water to rehydrate, a piece of Millionaire's Shortbread from Gregg's to refuel. A walk round Cod Beck reservoir to stretch the left Achilles for 'active recovery'.
It is what happens to my body during sleep, or 'passive recovery', that interests me. Dr Matthew Walker, a neuroscientist, said, "sleep is probably the greatest legal performance-enhancing drug that few are abusing enough," and Morris, Aeschbach & Scheer showed that people require proper sleep for optimal cognitive, motor, and physiological functions (2012). The body releases hormones vital to recovery at night. One is the human growth hormone surge that occurs about every two hours during prolonged sleep. Growth hormone acts on many tissues to help promote healing, recovery, and growth, but it also helps to raise other hormones vital to recovery. This might explain why my legs always feel so hot the night after a race! Sleep-deprived men have impaired glucose metabolism, decreased testosterone, and increased afternoon cortisol. Men and women deprived of sleep were much more likely to make poor nutrition choices.
The route certainly was scenic – with plenty of flat hills, country views, a quarter-mile stretch on a muddy farm track and a good length straight finish with applauding crowd. When road racing I like running down the middle, where you can avoid the, always adverse, camber. I don't like it when you get forced to run on the pavement, especially with those ups and downs into driveways. There was a short (but essential) section of pavement running, which was pretty much the only negative.
I'm not sure I will still be running in another 38 years so I'll have to sign up for 2023.
I was first and only Steel City Strider, third in my age group and 97th finisher overall.
Full results here: https://www.ukresults.net/2022/north10k.html
First Male: Rob Scott of Richmond & Zetland Harriers in 31:28
First Female: Catherine Williamson of Loftus & Whitby AC in 37:49
Steel City Strider: Stuart Jones in 45:59 (97th place, 87th male, 3rd VM60 (no prize for that))
595 finishers in all.
I doubt that calling Northallerton the 'county capital' will increase its chances of earning city status. Northallerton is the administrative county town of North Yorkshire.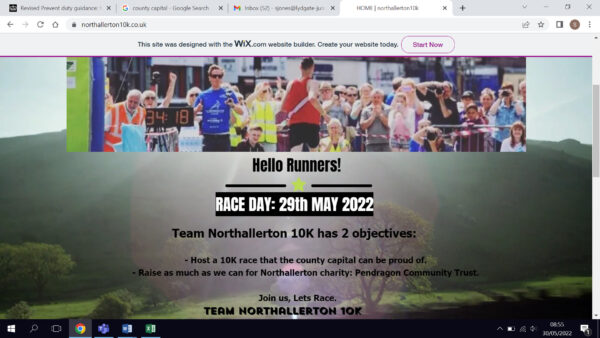 We saw one of those Hairdressers' Range Rovers parked in a disabled bay at Cod Beck Reservoir. It had a Gregg's bag on the dashboard in place of a Blue Badge; that'll work, right?