Saturday 21st May 2022
Report by Jo Gleig
Pen Llyn Coastal and Trail Series organise Ultras and various length trail runs on the Llyn Peninsula, a beautiful part of North Wales, so are worth looking at if you fancy a run in that area.
The 10k was the last of my Signed Up Pre-Lockdown races, which I wanted to do because I have been going on holiday there since being a child in the 1970s, then taking my children, and now my sister lives there, in Pwllheli. So I have walked there a lot, but never run. It started from the golf club behind the beach, and was an out and back 10k, along a trail with sea and mountain views, over a tiny headland, across fields, then a bit of beach to the turnaround point.
Then on the way back a lot more beach for the last mile, instead of trail, which slowed everyone down a bit as it was a bit shingly and soft in places. But different to recent hilly 10ks, so a nice change.
There weren't many runners, only about 25- partly because there was also a marathon and a half on the same day (both over a massive headland so I didn't fancy them while on a relaxing holiday), and also quite a few DNSs due to the delay of two years.
It was quiet, but well organised, chip timed, T shirt, and a bit strangely I was offered a choice of coke (fizzy) or water at the halfway point- never seen coke on offer before, maybe that's a Welsh thing? Made a change to have family at the start and end instead of Striders, my sister doesn't do running at all, so it was all a bit of a novelty for her listening to the jovial pre-race briefing, warning us of an eccentric lady, who might shoo us of her land, and possible cows.
As there was a small field I actually managed 10th overall, 3rd female, 1st  FV50,  1 hour 6 mins 14 secs which was ok for me considering the beach plodding bit.
Pos
Cat
Time
Cat Pos
10
Jo Gleig
FV50
66:14
1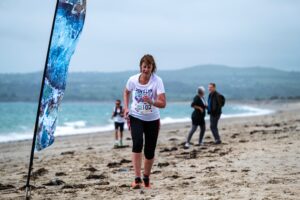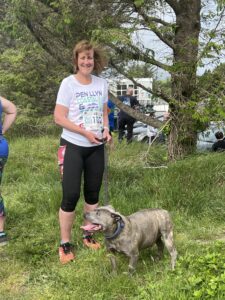 I was the only Strider.  The race was won by Joseph Mathews (MV40 of Betsi Runaways) in 42:59, and first female was Hanna Thomas (FSen Unaffiliated) in 62:37.                           Full Results here – The Pen Llyn Trail & Coastal Series Final Results – niftyEntries.com