Report By: Laura Mella
Race Date: 25th – 26th June 2022
Round Sheffield Run is a unique race that uses the route of the Round Sheffield Walk, covering about 15 miles of paths around some of Sheffield's best trails and parks. The route is split into 11 stages of running, with breaks in between where you can recover and walk. What an absolutely genius idea! The event takes place over 2 days and starts and finishes in Endcliffe Park. Runners use a dibber to clock in and out of each stage, and the data is collated at the end, giving you a printout of your times for each stage and your overall time across all stages.
This was my first time at RSR, and as usual I got myself into a tis about the logistics, meaning I arrived unreasonably early, giving myself an excessive amount of time to get nervous. Luckily, other Striders arrived fairly soon after, and I was able to bore them all with my questions about how the dibber worked, how best to carry said dibber, and debate whether or not to carry a water bottle (I decided not to).
After watching the elite wave set off at 8.30am (which included several speedy Striders), I didn't have long to wait until it was my turn at 9am. Once I was out of the park and had done my first dibbing at a road crossing, I realised it was pretty simple and that I could stop worrying about it and just enjoy the experience.
The race itself was absolutely brilliant fun. The atmosphere all the way round was great, with runners greeting each other as they passed, and sharing words of encouragement. Stage 1 passed relatively easily before the pain of stage 2, which takes you through the Porter Valley and up, up and up some more to Mayfield Alpacas, which was horrific! Somewhere on this stage I twisted my ankle and ended up hobbling for a bit, but I was still managing to pass a few people where space allowed, and managed to get to the feed station sooner than I had expected, where water and jelly babies were in abundance. Stages 3 and 4 are an absolute delight, descending through the Limb Valley and Ecclesall Woods, which must be one of the most fun trails in Sheffield. Popping out on Abbeydale Road South, we then faced a walk up 98 steep steps into Ladies Spring Wood, and I was thrilled to see Kevin Wong smiling at the top before I went on my way again. By the time I got to stage 7 in Graves Park, I was starting to feel tired, and refuelled with some banana before the walk towards Cat Lane Woods. This was one of the longer walking sections, and I could feel my legs starting to get stiff as I walked, making it harder to get going again down the next two descents through the woods and on to Meersbrook Park, which must have one of the best views of the city there is. Stage 10 was absolutely brutal, taking us up through Nether Edge and into Brincliffe Edge woods, which is yet more up, punctuated with some horrible steps that were rude and unnecessary. Finally we dropped back through Chelsea Park and into Endcliffe Park for a 'sprint' finish. My sprint was less than impressive, but I gave it a good go.
There was a nice crowd cheering us over the line at the finish, and the atmosphere was brilliant. I collected my medal (excellent double-sided design which also functions as a bottle opener) and handed in my dibber, which told me my time was 1.34.41. I had no time in mind and no expectation when I entered this race, but I feel pretty happy with how it went. Mostly though, it was just a brilliant experience, and I can't wait to do it again. I celebrated with pizza and beer in the park, which is set out like a mini festival, and was the perfect way to end the day.
On the Sunday I also had the pleasure of returning to Endcliffe Park as a volunteer. Once I got over the shock of the super early start and achy legs, I had a great day! Fellow Strider Tessa Bainbridge and I were working together on number collection for the pairs running in the later waves, and then we got the fun job of handing out medals as people crossed the finish line. It was so lovely to cheer people over the line and see the smiles, hugs and tears as people celebrated. The only slight sadness was seeing all the Striders who'd finished their race chilling out with a beer and only being able to wave from afar instead of joining in!
All in all, it was a brilliant weekend, and if you are thinking about whether to enter for next year (or the winter edition!), I would recommend it wholeheartedly. It turns out that running with little walks in between is loads easier than just running without stopping. Who knew?!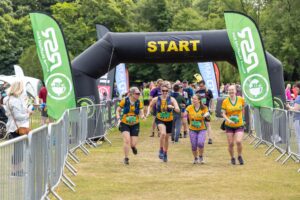 Results
For most this event is much more about the experience than posting a fast time but it's always good to pick up a prize or go faster than last time!
Fastest time over the two days was by Andrew Heyes (Hallamshire Harriers) in 1:01:39 and fastest solo lady was Alice Daniel (also HH) in 1:15:39.
I say 'solo' lady because the Striders mixed pair, Abbie Pearse and Danny Bent came home in the faster time of 1:15:20! Needless to say that Abbie and Danny won the mixed pair category.
Striders in the top three:
Rob Martin first MV60 (1:37:16).
Clare Gilmer second FV50 (1:37:13).
Paul Middlemas second MV40 (1:10:43).
Rebecca Pease third Senior ladies (1:18:59).
Abbie Pearse/Danny Bent first Mixed Pair (1:15:20).
Caroline Brock/Amy Earnshaw (just Caroline is a Strider) second Female Pair (1:22:29)
Gillian Allen/Frances Roberts third Female Pair (1:23:29).
There is a team competition which comprises the aggregate times of the top 3 pairs in your team or club. There are prizes for the top Female, Male and Mixed teams. To count towards the Striders team the pair had to be entered as Steel City Striders.
Striders were:
1st in the men's team (pairs William Brown/Matthew Chappell, Nigel Barnes/Warren Brown, Adam Newell/Rowan Cogger),
3rd in the ladies team (Gillian Allen/Frances Roberts, Claire Grisdale/Jeni Harvey, Catherine McKeown/Zoe Dickinson),
3rd in the mixed team (Abbie Pearse/Daniel Bent, Douglas Armstrong/Hannah Milton, Grace Fennelly/Lawrence Fennelly).
Full results here.
All Striders' results.  I've tried to include pairs where I believe at least one of the team is a Strider!
Female Pairs
| | | |
| --- | --- | --- |
| Pos | Name | Time |
| 2nd | Caroline Brock/Amy Earnshaw | 01:22:29 |
| 3rd | Gillian Allen/Frances Roberts | 01:23:29 |
| 14th= | Claire Grisdale/Jeni Harvey | 01:38:09 |
| 18th | Naomi Tuckett/Grace Tebbutt | 01:40:16 |
| 30th | Claire Wren/Ellen McLeod | 01:49:16 |
| 43rd | Bex Millar/Steph Millar | 01:53:29 |
| 44th | Leah Evans/Jane Evans | 01:53:49 |
| 51st | Charlotte Civico/Sian Gulliver | 01:55:45 |
| 88th | Letitia Hancock/Bethany Hancock | 02:04:41 |
| 116th | Catherine McKeown/Zoe Dickinson | 02:09:34 |
| 153rd | Sara Copp/Niki Mills | 02:16:32 |
| 165th | Corinne Howse/Jane Beagley | 02:18:47 |
| 185th | Karen Gardner/Melanie English | 02:22:33 |
| 186th | Helen Smith/Rachel Rea | 02:22:58 |
| 196th | Catherine Needham/Sarah Howson | 02:24:34 |
| 239th | Rebecca Robson/Jane Clawson | 02:45:33 |
| 242nd | Mandy Delaney/Julie Jones | 02:50:45 |
| 259th | Lesley Brosnan/Julie Armstrong | 03:28:20 |
Male Pairs
| | | |
| --- | --- | --- |
| Pos | Name | Time |
| 19th | William Brown/Matthew Chappell | 01:26:40 |
| 23rd | Sergei Shkul/Evan Shkul | 01:27:41 |
| 24th | Nigel Barnes/Warren Brown | 01:27:44 |
| 47th | Jonathan Legon/Kevin Firth | 01:36:42 |
| 60th | Adam Newell/Rowan Cogger | 01:39:24 |
| 62nd | Robert Davies/Mark Platton | 01:39:46 |
| 63rd | Paddy Treehowes/Tom Cossham | 01:39:48 |
| 86th | Andy Green/Mark Baines | 01:47:08 |
| 91st | Roger Purkiss/Roger Brookes | 01:50:01 |
| 106th | Martin Lane/Kevin Corke | 01:53:17 |
| 107th | Luke Eccleston/Felix Barr | 01:53:22 |
| 135th | Simon Nicholson/Andy Wier | 02:11:29 |
| 143rd | John Bridgman/Paul Bridgman | 02:16:38 |
Mixed Pairs
| | | |
| --- | --- | --- |
| Pos | Name | Time |
| 1st | Abbie Pearse/Daniel Bent | 01:15:20 |
| 26th | Deborah Richards/Billy Yates | 01:38:13 |
| 42nd | Steve Blake/Cara Hanson | 01:43:31 |
| 45th | Douglas Armstrong/Hannah Milton | 01:45:15 |
| 66th | Grace Fennelly/Lawrence Fennelly | 01:49:24 |
| 128th | Harriet Davies/Alex Green | 02:00:21 |
| 140th | Matt Broadhead/Elin Reeves | 02:02:10 |
| 178th | Caroline Brash/Isaac Smith | 02:06:31 |
| 201st | Guy Woodcock/Nicola Platts | 02:10:44 |
| 267th | Richard Cook/Melanie Cook | 02:22:29 |
| 269th | Nancy Stuart/Richard Pegg | 02:22:38 |
| 273rd | Natalie Khoaz/James Norton | 02:23:48 |
Female Senior
| | | |
| --- | --- | --- |
| Pos | Name | Time |
| 3rd | Rebecca Pease | 01:18:59 |
| 14th | Annie Chambers | 01:31:20 |
| 15th= | Kathryn Liddiard | 01:31:37 |
| 21st | Laura Mella | 01:34:41 |
| 30th | Chloë Barlow-Huurdeman | 01:37:33 |
| 92nd | Sally Twigg | 01:52:59 |
| 115th | Laura Fletcher | 01:57:29 |
| 133rd | Laura Rangeley | 01:59:50 |
| 140th | Emily Mackness | 02:01:06 |
| 215th | Rosie Smith | 02:14:03 |
| 230th | Lisi Briggs | 02:17:26 |
| 243rd | Ruth Tucker | 02:21:14 |
| 281st | Laura Greaves | 02:33:05 |
| 305th | Anne Petit-Jean | 02:49:10 |
Female V40
| | | |
| --- | --- | --- |
| Pos | Name | Time |
| 8th | Sarah Allcard | 01:33:40 |
| 10th | Jessica Brooks | 01:34:05 |
| 11th | Alison Barrett | 01:35:05 |
| 20th | Jacqui Herring | 01:40:18 |
| 25th | Abigail Hickinbottom | 01:41:22 |
| 72nd | Sarah Percival | 01:53:16 |
| 96th | Christine Booth | 01:57:26 |
| 169th | Kathryn Carter | 02:05:35 |
| 215th | Rachel Morrison | 02:12:11 |
| 219th | Paula Risby | 02:12:34 |
| 274th | Lindsey Banks | 02:21:44 |
| 325th | Sarah Soden | 02:30:45 |
| 330th | Tracey Gledhill | 02:32:48 |
| 336th | Megan Ohri | 02:33:25 |
| 337th | Abi Norman | 02:33:33 |
| 380th | Nicole Brown | 02:49:20 |
| 383rd | Sara Hinch | 02:52:50 |
Female V50
| | | |
| --- | --- | --- |
| Pos | Name | Time |
| 2nd | Clare Gilmer | 01:37:13 |
| 11th | Mandy Taylor | 01:43:51 |
| 14th= | Nicola Rafferty | 01:47:09 |
| 19th | Caroline Greenough | 01:49:04 |
| 20th | Kate Scott | 01:49:09 |
| 21st | Carole Haste | 01:49:17 |
| 23rd | Karen Clark | 01:49:38 |
| 31st | Heather Knott | 01:55:08 |
| 44th | Fran Marshall | 01:57:55 |
| 47th | Nada Ross | 01:58:46 |
| 59th | Joanne Battersby | 02:02:09 |
| 101st | Cath Ager | 02:16:03 |
| 144th= | Rosemary Royles | 02:26:42 |
| 162nd | Jessica Pemberton | 02:34:27 |
| 170th | Philippa Moorhead | 02:41:34 |
| 179th | Lynne Smart | 02:48:08 |
| 189th | Denise Adams-Jackson | 03:27:52 |
Female V60
| | | |
| --- | --- | --- |
| Pos | Name | Time |
| 12th | Jo Gleig | 02:09:10 |
| 13th | Kate Waddicor | 02:09:18 |
| 21st | Helen Eberlin | 02:19:45 |

Male Senior
| | | |
| --- | --- | --- |
| Pos | Name | Time |
| 6th | Robert Byers | 01:10:26 |
| 41st | Daniel Cubitt | 01:21:59 |
| 88th | Oliver Carlisle | 01:29:03 |
| 99th | Edward Startup | 01:30:55 |
| 133rd | Michael Wu | 01:34:17 |
| 146th | Sam Ainscough | 01:34:57 |
| 161st | Chris Boland | 01:37:00 |
| 187th | Jim Rangeley | 01:39:21 |
| 217th | Daniel Horner | 01:42:44 |
| 302nd | Marc Spencer | 01:55:24 |
Male V40

| | | |
| --- | --- | --- |
| Pos | Name | Time |
| 2nd | Paul Middlemas | 01:10:43 |
| 6th | Stephen Schubeler | 01:15:45 |
| 9th | James Storey | 01:16:25 |
| 15th | Darren Barnett | 01:19:08 |
| 19th | Michael Cockings | 01:19:58 |
| 51st | Malcolm Baggaley | 01:26:20 |
| 63rd | Peter Keats | 01:29:39 |
| 70th | Robert Hoffmann | 01:30:33 |
| 89th | Ben Corrigan | 01:33:13 |
| 91st | Stephen Slater | 01:33:25 |
| 127th | Robin Nelson | 01:37:37 |
| 150th | Paul Johnson | 01:39:21 |
| 151st | Chris Roberts | 01:39:22 |
| 163rd | Philip Kelly | 01:40:30 |
| 169th | Ian Black | 01:41:08 |
| 174th | Jake Phillips | 01:41:27 |
| 186th | Ste Doherty | 01:43:05 |
| 202nd | Steve Gourlay | 01:45:03 |
| 230th | Steve Yeoman | 01:47:17 |
| 236th | Dave Marsh | 01:48:23 |
| 246th | Shane Porteous | 01:49:27 |
| 249th | Mark Warriner | 01:49:49 |
| 305th | Matt Robinson | 01:55:57 |
| 322nd | Saleem Rafiq | 01:57:48 |
| 327th | Philip Swirles | 01:58:12 |
| 334th | Jason Kelwick | 01:58:52 |
| 343rd | Joel Driver | 01:59:46 |
| 355th | Benjamin Deen-Swaray | 02:01:54 |
| 356th | Jake Webb | 02:02:08 |
| 362nd= | Brian Jenkins | 02:02:36 |
| 366th | Kevin Wong | 02:03:34 |
| 377th | Billy Costello | 02:06:46 |
| 397th= | Andy Telford | 02:09:45 |
| 405th | Andrew Buckley | 02:13:47 |
| 427th | Matt Paice | 02:39:22 |
Male V50
| | | |
| --- | --- | --- |
| Pos | Name | Time |
| 10th | Wei Chen | 01:24:11 |
| 22nd | Al Cook | 01:29:31 |
| 28th | David Naisbitt | 01:30:52 |
| 45th | Keith Tud Jackson | 01:35:02 |
| | Jonathan Legon | 01:36:42 |
| 78th | Roger Walters | 01:43:59 |
| 86th | Ben Heller | 01:45:03 |
| 90th | Steve Haake | 01:45:32 |
| 105th | Richard Eastall | 01:48:45 |
| 129th= | Crispin Jones | 01:52:06 |
| 132nd | Phil Kelly | 01:52:28 |
| 139th | John Liddle | 01:54:12 |
| 155th | Trevor Cleveland | 01:57:25 |
| 157th | John Armitage | 01:57:40 |
| 164th | Simon Wiles | 01:58:31 |
| 181st | Christopher Smith | 02:00:54 |
| 191st | David Bennett | 02:03:20 |
| 208th | Gary Roche | 02:08:31 |
| 209th | James Eberlin | 02:08:48 |
| 227th | Nick Burns | 02:14:58 |
| 228th= | Simon Gleadhall | 02:15:08 |
| 254th | Michael Twigg | 02:43:06 |
Male V60
| | | |
| --- | --- | --- |
| Pos | Name | Time |
| 1st | Rob Martin | 01:37:16 |
| 9th | Kevin Haighton | 01:47:01 |
| 13th | David Beech | 01:48:30 |
| 33rd | Mark Jackson | 02:01:53 |
| 51st | Paul Shelton | 02:13:26 |
| 54th | Clive Downing | 02:15:35 |
| 79th | Michael Ingham | 02:56:31 |