Sunday 9th January 2022
Report by Jo Gleig,  photos by Stephen Schubeler
The few days leading up to the inaugural Winter Edition were quite dramatic, with the Event Facebook page alternatively filling us with trepidation and encouragement- one day photos of deep snow, the next day Matt Rimmer galloping fearlessly down Limb Valley bathed in a golden glow. However, Sunday morning dawned with ideal conditions- not too cold, and no rain, snow or wind.
The weeks before had made it muddy, but that was to be expected, and the only really icy part that slowed you down was the top of Limb Valley, so I think we got away with it quite well for January, and at least didn't have the draining heat of the summer. It would have been tricky without trail shoes but was quite manageable with them.
On arrival at Endcliffe park for my 8.45 start it was busy, but only small queues to get the timing device. Met a few Striders including Kevin Wong who offered to run with me, so we said we would see how it worked out, and I set off before him while he was faffing with his luggage (wasn't going to let him get away with an easy run all the way round!) He caught me up by end of Stage 2, that bit was hard, as it usually is, with different speeds going up the last rocky hill, and not much room to overtake for the faster runners. Then we stuck together, or rather he ran and I tried to keep up, then he waited at the end of the stage, quite a good system I think.
For me, it did actually work out how it describes in the blurb, which I was a bit dubious about beforehand, – but we did keep bumping into people at the walking points, which was a really enjoyable aspect of the event. By Chancet Wood a few later starters had caught up, Nada, then Chris and Cara, and we kept them in sight to the end. Once Graves was out of the way I was pleasantly surprised that I still felt human, and the Feedpoint there was bustling and sociable, with Sara Copp's using her vocal skills to get people to put their rubbish in the right place.
Norton Lees is a great section, I love that run down, as I did it a lot in lockdown with the Cat Lane Canter routes, then we met Kate Scott and Dave Beech and witnessed Kate's spectacular paratrooper roll down Meersbrook grass, she just bounced up and carried on. Then just Brincliffe Edge to do, where after seeing Cath Ager and Jo Rose marshalling cheerfully, I tried to pretend it was just the beginning of a Heeley Monday run. (except one where I was a bit tired)
At the finish it was well organised with plenty going on, although more of a Glastonbury in the mud festival than a sitting on the grass festival, just a bit cold to stay long really. But a great, really well organised event. I was happy with my time- I didn't know how it would compare to a Half Marathon time, as the distance is slightly less, and the walking breaks really help (for me anyway, maybe not if you just like to keep going), but the conditions are tougher. I was 10 mins less than a Half, so was happy with that, I think chasing after Kev helped!!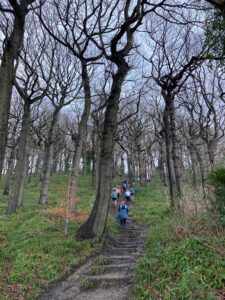 84 Striders ran during the race.  Mat Rimmer did a pre-race loop.    The race was won by Jarlath McKenna of Bristol and West AC in a time of 1:07:13.  Fastest lady round was our own Abbie Pearse in a time of 1:18:50 (mixed pair).  Fastest solo lady was Alice Daniel (no club) in 1:19:16.
Club Results – Top 3 Pairs of each category of the same club.  Striders came first for Male Team, and 2nd for Mixed Team.
Pos
Name
Class
Time
20th
Daniel Bent/Abbie Pearse
MIX
01:18:50
28th
Caroline Brock
F
01:20:46
29th
Steven Frazer
MV40
01:20:51
32nd
John Wilkinson
M
01:22:20
68th
Daniel Cubitt
M
01:27:54
105th
Sian Evans
F
01:32:03
121st
David Naisbitt
MV50
01:33:29
126th
Nick Burns
MV50
01:34:00
138th
Lee Kenton
M
01:34:47
152nd
James Hogg
M
01:36:43
166th=
Rob Martin
MV50
01:38:02
168th
Douglas Armstrong
MV40
01:38:03
177th=
Ben Heller
MV50
01:38:32
181st
Oliver Carlisle
M
01:38:35
200th
Naomi Tuckett
F
01:39:43
206th=
Jeni Harvey
F
01:40:20
224th=
Sam Ainscough
M
01:40:58
255th
Ben Corrigan
MV40
01:42:38
264th
Malcolm Baggaley
MV40
01:43:02
268th
Jim Rangeley
M
01:43:07
274th
Robert Davies/Mark Platton
MPAIR
01:43:52
279th=
Simon Chatten
MV50
01:44:01
281st
Adam McAuley
MV50
01:44:07
282nd=
Ian Richardson
MV50
01:44:10
292nd
Katie Gill
F
01:44:32
305th
Jessica Brooks
FV40
01:45:00
311th=
Shane Porteous
MV40
01:45:25
315th
William Brown/Matthew Chappell
MPAIR
01:45:29
331st
Stephen Slater
MV40
01:46:03
352th
Sarah Allcard
FV40
01:47:10
355th
Clare Gilmer
FV40
01:47:17
365th=
Stephanie Millar
F
01:47:44
383rd
Philip Kelly
MV40
01:48:18
403rd
Richard Smith
MV40
01:49:29
410th=
Andy Green/Maz Kaczmarczyk
MPAIR
01:49:41
416th=
Gary Mitchell
MV50
01:49:57
453rd
Grace Fennelly
F
01:51:57
463rd
Gemma Thorpe/Kate Fairhurst
FPAIR
01:52:27
474th
Simon Wiles
MV50
01:53:00
479th
Des Ryan
MV50
01:53:08
493rd
Sarah Percival
FV40
01:53:58
502nd
Liam Russell/Stuart Jones
MPAIR
01:54:06
513th
Jude Stone
M
01:54:41
516th=
Martin Lane/Kevin Corke
MPAIR
01:55:00
522nd
Richard Eastall
MV50
01:55:13
542nd=
Nicola Rafferty
FV50
01:56:18
563rd
Mark James
MV40
01:57:33
571st
Ryan Talley
MV50
01:57:58
588th
David Beech/Kate Scott
MIX
01:58:36
607th
Letitia Hancock
F
01:59:29
637th=
Nada Ross
FV50
02:00:56
653rd=
Harriet Davies/Alex Green
MIX
02:01:29
701st
Katelyn McKeown
FV40
02:03:05
712th=
Richard Adams
M
02:03:40
715th=
Karen Clark
FV50
02:03:41
760th=
John Nicholson
MV50
02:05:19
768th
Cara Hanson/Chris Smith
MIX
02:05:51
772nd=
Caroline Aylott
FV40
02:06:02
796th
Matt Broadhead/Elin Reeves
MIX
02:06:55
847th
Christine Booth
FV40
02:09:19
850th
Ella Monkcom
F
02:09:29
858th
Rachel Anderson
FV40
02:09:44
879th
Andrew Buckley
MV40
02:11:02
888th=
Mark Jackson
MV50
02:11:43
899th=
Kevin Firth/Mark Davies
MPAIR
02:12:05
933rd
Jane Evans/Leah Evans
FPAIR
02:14:01
935th
Kevin Wong
MV40
02:14:06
943rd
Andrew Pembroke
M
02:14:51
971st
Saleem Rafiq
MV40
02:16:04
976th
James Eberlin
MV50
02:16:31
1005th
Nicole Nield/Andrew Callaghan
MIX
02:17:35
1050th
Vikki McAuley
FV50
02:20:23
1078th
Paul Shelton
MV50
02:22:14
1104th
Jo Gleig
FV50
02:23:51
1108th
Mandy Delaney/Julie Jones
FPAIR
02:24:11
1139th
Kevin Haighton/Emily Haighton
MIX
02:26:22
1164th
Caroline Barnsley
FV40
02:28:08
1171st=
Angela Jackson
FV50
02:28:33
1198th
Catherine Needham
F
02:30:59
1200th
Sarah Howson
FV40
02:31:06
1232nd
Simon Gleadhall
MV50
02:33:36
1262nd
Stephen Schubeler
MV40
02:36:14
1286th
James Norton
MV40
02:39:58
1330th
Rachel Rea/Helen Smith
FPAIR
02:47:18
1352nd
Haley Moore
F
02:54:15
1380th
Maggie Vickers
F
03:10:34
1390th
Phillipa Thompson
FV50
03:30:28
Melanie English FV40 – DNF due to accident requiring stitches.  Best wishes for a speedy recovery.
For details of stage timings and full results see https://www.sportident.co.uk/results/Kandoo/2022/RSR-Winter/index.html